Virginie Razzano recalls her amazing home-court success over Serena Williams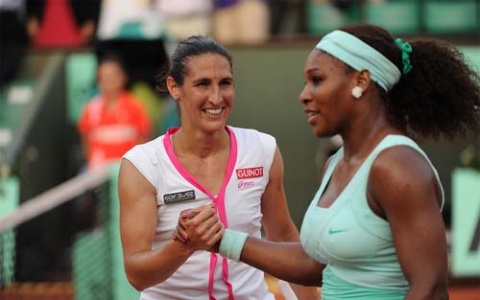 Virginie Razzano, an elegant player born in Dijon, France, calls herself "the girl with a smile." At last year's French Open, she had plenty to smile about as she handed Serena Williams a stunning first-round defeat. It wasn't just the upset of the tournament — it was the upset of Serena's career, the first time she ever lost in the first round of a Grand Slam tournament.
The second part of 2012 was marked by injuries that caused her ranking to fall, but she started 2013 feeling healthy and ready to climb the rankings again, with the goal of finishing the year in the top 20 or 30. At the beginning of the year, she announced that she was working with a new coach, former professional tennis player and fellow Frenchwoman Alexia Dechaume-Balleret
Tennis View magazine had a chance to talk with Virginie to look back on her memorable victory last year in Paris ahead of this year's French Open.
---
Tracey DeFrancesco: Take us back to that day when you beat Serena 4-6, 7-6, 6-3. What stands out in your memory?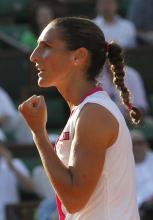 Virginie Razzano: My victory against Serena Williams at French Open for me is the most beautiful of my victories since I started my career in professional tennis. This amazing and fabulous match will remain etched in my memory for life.
I went through all the problems you can possibly have in this match – between being nervous and extremely tense, physical fatigue, bad cramps, a referee who punished me, the amazing fans and a wonderful atmosphere, and angry and excited stadium like you only see at a football match! I definitely felt all the energy that from the fans, and it really touched me the way they supported me throughout the entire match.
What were the keys to winning that match?
Believing in myself and telling myself that I was on the court for a big fight. I felt that during the tiebreak, the match turned in my favor. I took control, and I felt even stronger in my head for battle in the final round.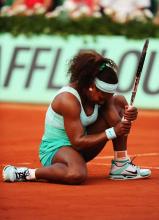 Serena rarely loses a match in a major after winning the first set, and she had never lost in the first round of a Grand Slam before. How did you stay in the match mentally, and how did you motivate yourself to keep competing?
I had one thing in mind, which was to beat her and to have fun no matter what happens, so I stayed focused on my goal. I also had a plan of tactical play to try to control the game, so I focused on that as well.
Did that match play any part in the injuries that you suffered for the rest of 2012?
I had to push my limits physically and psychologically to beat Serena, but I don't think that match caused all the injuries later. I took about three or four days to fully recover. I had a massage every day. [The injuries were] a combination of things, and unfortunately, these injuries set me back for most of 2012.
Will you have a hard time going into this year's French Open after having had such a memorable experience last year?"
It will be a new year for me and then another Grand Slam at the French Open. Thankfully, no tournaments are alike, so this will be like starting a new slate. The match against Serena will certainly stay in my memory as well as the memories of those people who saw the match. I would like to reach the second week at the French Open.
Birthday: May 12, 1983
Starting Playing Tennis: Age 7
Favorite Shot: Forehand down the line
Career-high Ranking: No. 16 [09.14.09]
Titles: 2 singles titles (2007 in Guangzhou and Tokyo); 1 doubles title (2001 in Paris)
Favorite Movie: The Sixth Sense
Favorite Actors: Julia Roberts; Bruce Willis
Favorite Food: Italian, Japanese, and Indian
"I love cod brandade (a specialty from Nimes, which is where I am from), Strasbourg sausages, lasagna and pizza (from my Italian side), sauerkraut made in beer or champagne from Alsace. Unfortunately, I don't know the recipes because I'm not a good cook."
This article is from the May/June 2013 issue

SOLD OUT

Subscribe now and you'll never miss an issue!