Latest News & Events
Point, Counterpoint: The Case For And Against Exhibitions
Exhibitions grow the game and expose a lighter side to the stars, but their implications should not be overlooked.
ATP Feat of the Year: Andy Murray Wins Wimbledon
A 77-year drought of British champions at the All England Club ended in a triumph that may redefine Murray's career.
ATP Predictions for 2014 (Part III): Bernard Tomic Breaks Through
The third installment of Matt Tewhatu's 2014 predictions series forecasts a bright season for an enigmatic youngster.
WTA Season in Review: The 10 Biggest Surprises of 2013 (Part II)
Our WTA columnists present the five most stunning plot twists of a season filled with drama.
Current Issue: Nov / Dec 2013




CURRENT ISSUE




$8.99

USA




WHILE SUPPLIES LAST!




Order Online or Call
1.727.827.7017
Cover Story
Tennis gave us some of the expected, some of the unexpected and much of the memorable in a 2013 filled with twists. here are tennis view's choices for some of the most compelling storylines of the year. read more
Gear & Style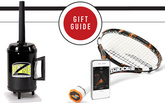 Holiday Gifts for tennis lovers come in all different shapes and sizes. Here are a few ideas to make shopping easy this season!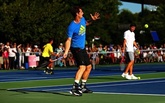 A tennis player's review of adidas' newest Barricade 8 shoe, as worn by the likes of Andy Murray.