A Michael Chang Tribute, 25 Years After His French Open Win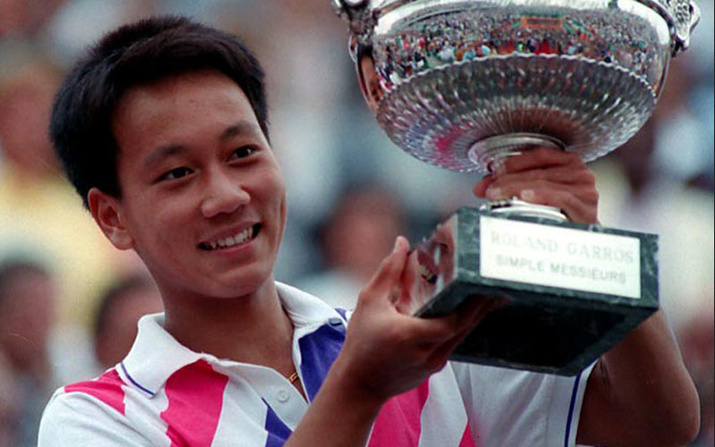 In June 1989, a fresh-faced 17-year-old Michael Chang stunned the tennis world when he defeated No. 1 Ivan Lendl in the fourth round of the French Open before ousting Stefan Edberg in a momentous five-set final. With the win, Chang not only became the first American male to win Roland Garros in 34 years but also became the youngest men's Grand Slam champion in history.
On this 25th anniversary of his title-winning run, we pay tribute to the living legend.
---
Tennis View Magazine: What emotions did you experience when you realized you had won a Slam and at the young age of 17?
Michael Chang: I wasn't thinking too much about the age factor. I was just excited about playing in a Grand Slam final. Just relishing the moment and the opportunity. When it was all said and done, it was just an incredible feeling of excitement, to be able to accomplish that.
TVM: How much did your life change after winning your first Slam?
MC: My life completely changed. My press requests went up. People began recognizing me all over the place, signing more autographs, and a lot more demands on my time. But I think one of the biggest things that changed was going from being the underdog almost every match to almost being the favorite in most of my matches. Guys were no longer looking at me like, "Who is that 17-year-old?" Instead, they were thinking, "This is an opportunity to beat a French Open champion." So, I had a lot more pressures to deal with, expectations and demands of my time.
TVM: During your career, you reached a high of No. 2 in the world. Did you ever feel like you fell short in not having attained the top ranking, or was it just a number?
MC: I'm probably one of the guys who got as close to the No. 1 ranking as you could. I had a great opportunity in the 1996 US Open final (lost to Pete Sampras) to become No. 1. But it wasn't meant to be. I worked my hardest and it just didn't happen. I think it was tough in certain aspects but when you know you've given your 100% best, that's all you can ask of yourself and that's all people can ask of you.
Looking back on my career, I never would have dreamed to accomplish a lot of the things that I accomplished in tennis. So you have to count your blessings and go out with a very thankful attitude. For me, I played 16 great years on tour and I am very thankful.
"Looking back on my career, I never would have dreamed to accomplish a lot of the things that I accomplished in tennis." – Michael Chang
Chang's Road to the French Open Title

R1 – d. Eduardo Masso, 6-7, 6-3, 6-0, 6-3

R2 – d. Pete Sampras, 6-1, 6-1, 6-1

R3 – d. Francisco Roig, 6-0, 7-5, 6-3

R4 – d. Ivan Lendl, 4-6, 4-6, 6-3, 6-3, 6-3

QF – d. Ronald Agenor, 6-4, 2-6, 6-4, 7-6

SF – d. Andrei Chesnokov, 6-1, 5-7, 7-6, 7-5

F – d. Stefan Edberg, 6-1, 3-6, 4-6, 6-4, 6-2

Career Records

Won-Lost: 662-312

Titles: 34

Prize Money: $19,101 ,349
This article is from the May/June 2014 - Roland Garros issue

SOLD OUT

Subscribe now and you'll never miss an issue!