Melbourne // Secrets from a local

GREAT EATS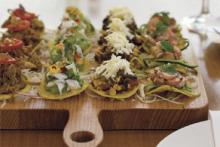 It's hard to walk past the popular and noisy Mamasita, the Mexican restaurant that never fails to make local top 10 lists. The name is Spanish for 'hot mama', and Mamasita has done its best to take Mexican food from a humble novelty to a full dining experience. Mamasita is reasonably priced and open late but doesn't accept bookings, so be prepared to wait during peak hours.
At first glance, Verge doesn't look like a fine-dining experience. Yet the modest interior in no way reflects its unique cuisine. Friendly service and an intricate wine list complement delicious contemporary food and garden views.
For an inexpensive, family-friendly, Australian way to dine, head to the supermarket for snags (sausages), burger patties, bread, tomato sauce and a bottle of Aussie wine. Pack the ingredients, along with glasses, knives, oil and paper towels into a picnic basket. From here, it is simply a matter of choosing a park. Most parks and riverbanks have free barbecues for use, and reservations are not necessary. One of the most popular destinations is the Yarra River. Overlooking Rod Laver Arena,
AAMI
stadium and the city, there is no better place to enjoy a classic Aussie meal and enjoy Melbourne sights.
While Melbourne welcomes tourists with open arms, it also likes to keep more than a few secrets. If the city appears dead on a Saturday night, that's because Melbourne's trendiest bars are hidden down unassuming alleyways, past piles of graffiti and behind unmarked doors. The city is scattered with such bars, and two of the very best are Berlin Bar and New Gold Mountain.
MELBOURNE

'S

TRENDIEST

BARS

ARE

HIDDEN

DOWN

UNASSUMING

ALLEYWAYS

,

PAST

PILES

OF

GRAFFITI

AND

BEHIND

UNMARKED

DOORS

.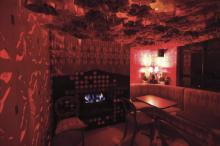 Berlin Bar is found in the heart of China Town. After climbing several stairs and ringing a doorbell for entry, the service is warm and welcoming. Berlin Bar is split into two rooms, East Berlin and West Berlin. While the West sparkles with chandeliers and plush carpets the East offers a bunk bed and an old tub as a chair and table.
New Gold Mountain is one of many Asian-themed bars, but it sets itself apart with intricate decorations. Chose between the soothing forest room and the intimate poppy room, the latter separated into sections by strings of beads and bathed in red lighting. Before
11
pm, expect exquisite cocktails delivered to your table. After
11
pm, the scene comes to life as the party begins.
There is always plenty to do and see in Melbourne, from plants to animals to art. Many tourists head to the Melbourne Zoo to get close to kangaroos, wallabies and koalas. For an out-of-the-ordinary experience, consider the
30
hectares bush land Healesville Sanctuary and the
225
hectares of savannah safari Werribee Open Range Zoo where Australian wildlife lives in a stunning, natural environment. Both zoos are unconventional in their approach to showcasing animals and will delight all ages. Accessible by public transport, children under
16
receive free admittance on weekends
Melbourne takes great pleasure being the cultural capital of Australia and when it comes to art you'll see some of its most famous not in a gallery, but from the street. World-renowned street artist
Banksy says the city is advanced in bringing dull concrete walls to life. ''I doubt it's something the authorities are particularly proud of, but Melbourne street art leads the world.'' For a taste of this underground art movement, take a tour at Melbourne Street Art Tours. Designed by the artists themselves, the tours ensure you'll feel you've stumbled into a very cool local secret.
Want to get a little exercise while seeing Melbourne's sights on the cheap? Thanks to Melbourne Bike Share, you can hop on one of the many blue bikes littered around the city at a starting price of $
2.50
a day. With more than
50
stations throughout the city, getting from point A to B couldn't be easier, more environmentally friendly and thrifty!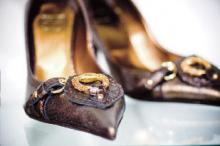 Melbourne is renowned for unique shopping, and some of the best buys are found off the beaten track. Sarah Willcocks of stylemelbourne. com suggests looking beyond local malls. "Melbourne's
charm is its hidden places; our secret laneways or undiscovered, underrated boutiques that ensure you find treasures that not everyone else is going to be wearing."
Willcocks suggests heading to "Greville Street for cool finds between cafes, Fitzroy's Gertrude Street, which is very arty and very 'Melbourne', Melbourne's
GPO
for Australian designers and Collins Street if you have the budget!"
Market shopping is also popular in Melbourne, and Willcocks recommends the popular Queen Victoria market, as well as Take
2
Markets for pre-loved clothing, the Melbourne Design market and the Hello Sailor Vintage Fair. Wherever you chose, you're bound to find something uniquely Melbourne to display back home.
---
>>Walking Shoes | Emphasis on comfort, sneakers are the best bet for getting around. Flats for women may be a good choice, too. Aussies live in thongs [aka flip flops in America] and are widely accepted in most establishments, except high-end bars, restaurants and clubs where a dress code is enforced.
>> Clothes for all Seasons | Fashion is light, breezy and casual. Denim shorts are popular, as are singlets and loose tees. Unless you're "corporate," wear shorts and a cotton top [a light color to mask sweat marks] to the Slam. Ladies should avoid dresses or skirts, as they're awkward when climbing steps and over rows of seats. Temps can dip drastically after sunset, so bring a jumper or hoodie and possibly a pair of trackies [sweats].
>> Insect repellent | Mosquitoes can be a nuisance during Australia's summer [December- February], so keep repellent handy to minimize swatting bugs! >> Adaptors Australia has different electrical plugs than other countries so bring an adaptor for cell phone, iPod, etc.
>> Medicine | Be prepared to buy antihistamines if you suffer from hay fever. Hot winds often inspire an attack of the sneezes. If you need to bring meds, research what is legal to transport into
Australia.
>> Sun Protection |
Situated under the ozone hole, Australia has the world's highest rate of skin cancer, so applying sunscreen (
SPF
30
+) to all exposed skin is essential. Apply it
20
minutes before going outside – even when the sun isn't shining. In summer, burn time is just a few minutes. For extra protection wear a cap, which is more fan-friendly at the Slam than a big brimmed hat that blocks spectator's view.
>> Food + Water | If attending the Australian Open, pack plenty of water. And for those who don't fancy the cost of concession stands or crowded lines, the event allows visitors to tote food inside the
grounds, as well.
This article is from the Jan / Feb 2012 issue

SOLD OUT

Subscribe now and you'll never miss an issue!