Are Court Surfaces Slowing Down the Game? Does It Matter?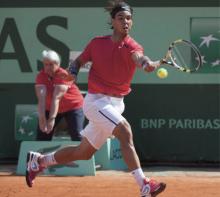 It is often said that tennis is a game of inches, and in professional tennis, a slight change of court speed can be the difference between an outright winner and a ball that is pummelled back.
Although court dimensions have historically stayed the same, different surfaces and playing speeds have made the game more challenging over time by encouraging diverse playing styles. For instance, with their respective green grass and red clay, Wimbledon and the French Open have long been considered polar opposites. To win in London and Paris is a significant achievement, which requires the type of uniquely flexible game that is both entertaining and inspiring to watch. While the challenge of winning on different surfaces is an integral part of the professional tour, all four Grand Slam surfaces appear to be gradually becoming more uniform. But as the hardcourts in Australia and New York are becoming slower and even the Wimbledon grass and the French Open class are beginning to play more similarly, players are beginning to speak out.
At the controversial 2011 US Open, many players complained that the court had slowed. Played on DecoTurf II since 1978, the US Open has traditionally been considered a fast hardcourt event. But adding sand to a court's paint can greatly affect the speed of the ball after it bounces, and Roger Federer was one player who believed this ratio may have changed in 2011.
"The issue for me more is maybe did they make a mistake. Maybe they did paint the court a bit too rough," Federer said after his first round win. "It's just unfortunate. I think that maybe all the Slams are too equal. I think they should feel very different to the Australian Open, and now [here] I don't feel it really does… . I'm not sure if it's really what the game needs."
Mardy Fish, who reached the fourth round of the 2011 US Open, agreed with Federer. "This was definitely the fastest Slam, surface-wise, that we've had," said the then-top-ranked American. "Now with it being much slower out here this year, it fits right in with Australia. There are a lot of really slow Grand Slams now surface-wise."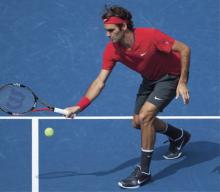 Another Grand Slam that many believe has slowed is Wimbledon. Once the showcase of serve and volley tennis, the grass courts now encourage long baseline rallies. It is likely that the courts slowed in 2001 when Wimbledon changed to 100 percent perennial ryegrass in order to minimize wear and improve durability. And the players have noticed. One such critic was Frenchman Michael Llodra, who said of Wimbledon, "Year after year, the courts are getting worse. I prefer [the clay courts of] Roland Garros. [Court Philippe-Chatrier] and Court One there, when they are dry, are much faster."
It isn't just the Majors that are the subject of debate. One event that was considered fast, the BNP Paribas Masters in Paris, was slowed considerably in 2011. Andy Murraydescribed the courts as "so slow, so much slower than last year."
Baseline tennis is, no doubt, here to stay, but six-hour finals like the one that captivated audiences at the 2012 Australian Open are dangerous for the sport and players alike if they occur regularly. Players and fans alike are concerned that slower courts – which mean longer rallies and more strain on the body – will lead to greater instances of injury. American Davis Cup stalwart Andy Roddick was asked after the 2012 Australian Open why so many players struggle to stay healthy.
"I think if you look at heavy balls and slower courts," Roddick said, "I think that might have a little bit more to do with wear and tear."
Interestingly, it can be difficult to pinpoint who, exactly, is responsible for the slowing of courts. The ATP sets the limits for court speeds, but the tournaments themselves determine the court surface and pace within those guidelines. A spokesperson for the ATP said, "Court surface speed has been a topic of conversation for many years, and will continue to be so in the future. It is important that surfaces are not only fair, giving players of all playing styles the potential to succeed, but also enabling players to showcase their fantastic and diverse skills on court."
The ATP is also quick to point out that weather conditions, such as temperature and humidity, can impact the speed of the courts. In fact, the weather was blamed for the slower courts at the US Open in 2011. Following the controversy, the U. S. Tennis Association released a statement explaining that because of heavy rain, the newly resurfaced courts had been used and power-washed less often, preventing the surface from becoming as slick as usual.
"We use the same mix/formula; however, many factors can affect the speed of the court, including heat and humidity, as well as how much play occurs on the court," confirmed a spokesperson for the US Open. "The more humidity, the slower the court. The more play on a court, the faster it gets. So it really is as much an art as a science."
US Open officials insist they have been aiming for consistent speeds by using the same court mix since 2004. After tweaking the courts slightly in 2002 and 2003, organizers hoped they had found the perfect speed.
"We felt that with a big-server like Andy Roddick facing a baseliner in Juan-Carlos Ferrero, that we had the best court formula that was fair for all styles of play," said a US Open spokesperson.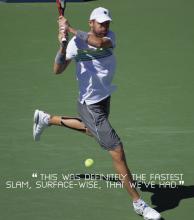 Wimbledon has also denied slowing courts via a statement on its website: "There has been no intention either this year or in previous years to produce slower courts or ones suited for a particular type of game. Perceived speed of a court is affected by a number of factors such as the general compacting of the soil over time, as well as the weather before and during the event." The statement also specified that atmosphere, weather conditions, and air temperature can all affect the way the ball and courts play.
Rafael Nadal, 2008 and 2010 Wimbledon champion, agrees with the tournament. "I started playing at Wimbledon in 2002, and since then, the court has been exactly the same," he said in 2011. "Before then, I can't make a comment. But to say it has been getting slower since then is wrong."
Court speed will continue to be a subject of intense debate. However, the conditions that cause courts to play the way they do are a complex matter and perceptions can vary wildly between players.
One thing does seem certain, however; players and fans hope that tennis will not irrevocably lose variety between court surfaces. A mix between slow and fast courts is the solution everyone agrees on.
This article is from the Nov / Dec 2012 issue

SOLD OUT

Subscribe now and you'll never miss an issue!