Young Guns // Ones to Watch in 2013

During the early rounds of a tournament, deciding which tennis match to watch can be like choosing a meal at your favorite restaurant. The tendency is to watch the same players compete just as you would choose your favorite food. Serena Williams, Maria Sharapova, Novak Djokovic and Roger Federer are players that crowds continue to flock to due to their skill, success and consistency. But sometimes, taking risks on new additions to the ATP and WTA menus can be more rewarding. You might discover a new flavor of the month that's worth sticking with.
We all know the top four on both tours provide great entertainment value, but here are some names you might want to consider paying more attention to in
2013
. They're young, they're talented and they've soared up the rankings in
2012
displaying a will to improve and the ability to remain calm under pressure.
---
Martin Klizan
: Klizan announced himself as a serious contender when he upset Jo-Wilfried Tsonga and Jeremy Chardy on his way to the fourth round of the
US
Open in
2012
. Two weeks later, the
23
-year-old Slovak proved that his success wasn't a one-off by winning his first
ATP
World Tour title in St. Petersburg, shooting his ranking into the top
40
. While the left-hander may have caught our attention on the hard courts of New York, he was a French Open junior champion and has multiple Challenger titles on clay. He credits his recent success to his coach, Karol Kucera, who has helped him focus on tactics and mental strength. His talent won't remain a secret for long; the
ATP
presented him with the
2012
Newcomer of the Year Award.
2011
Year end Ranking:
117
2012
Year end Ranking:
30
David Goffin
: Goffin was the luckiest of lucky losers at Roland Garros in
2012
; the unheralded Belgium player took advantage of his late entry to upset Radek Stepanek, Arnaud Clement and Lukasz Kubot on his way to the fourth round. He then showed the speechless crowd that he wasn't just lucky when he took the first set off Roger Federer. Goffin eventually lost to Federer in four sets, but he again proved himself a player no one wants to face in the early rounds by beating Bernard Tomic and Jesse Levine to reach the third round of Wimbledon. Goffin's favorite quote is "Impossible Is Nothing," an attitude the
22
-year-old clearly takes to heart.
2011
Year end Ranking:
174
2012
Year end Ranking:
47
Jerzy Janowicz
: Janowicz started the year unable to make it to Australia due to a lack of money and sponsorship, with his ranking floundering in the
200
s. Yet he proved that late is better than never when he became the story of the month in November. Coming through qualifying at the Paris Masters, he made it all the way to the final by upsetting Philipp Kohlschreiber, Marin Cilic, Andy Murray, Janko Tipsarevic and Gilles Simon with unpredictable, aggressive play (and a hit-and-miss drop shot). Janowicz was just as shocked as tennis fans worldwide, saying after beating Tipsarevic, "It's really not easy for me to realize actually what is going on in my life right now." The
22
-year-old Pole will need to adjust to the newfound attention in the off-season; all eyes will be on him at the Australian Open.
2011
Year end Ranking:
221
2012
Year end Ranking:
26
Sam Querrey
: Querrey's run up the rankings was halted in
2011
due to an elbow surgery that caused him to miss Wimbledon and the
US
Open. Querrey faced a long road back to the top
20
, but judging by his form in
2012
, his chances are looking good for improving on his career-high ranking of
17
. The California native made the third round at both Wimbledon and the
US
Open this year and claimed the Farmers Classic title, but it was at the Paris Masters where he truly announced his return. After losing the first set
6
-0
to Novak Djokovic in the second round, Querrey found his serve and forehand in a grinding three-set win. He went on to beat Milos Raonic before losing to Michael Llodra in the quarterfinals, pushing his ranking up to
22
. He enters
2013
with a renewed attitude and plenty of momentum to build on.
2011
Year end Ranking:
93
2012
Year end Ranking:
22
Kei Nishikori
: Much like Sam Querrey, plenty of hype surrounded Nishikori before an elbow injury forced him off the tour in
2009
. Nishikori has taken his time to get back to the top, but the
23
-year-old Japanese player had his best year on tour in
2012
. After making the quarterfinals in singles play at the Olympics, Nishikori pleased home fans by winning the Rakuten Japan Open in October, stunning Milos Raonic in the final in three sets. The win raised him to a career-high ranking of
15
and marked his first
ATP
500
series title and second title overall. Already a bona fide star in Japan, Nishikori may not be able to fly under the radar for much longer.
2011
Year end Ranking:
25
2012
Year end Ranking:
19
Varvara Lepchenko
: Lepchenko received long-awaited
U. S.
citizenship in
2011
after fleeing Uzbekistan in
2001
, and being able to play officially for her adopted country clearly looks good on her. Starting
2012
ranked
127
, she made the quarterfinals of Madrid and the fourth round of Roland Garros, upsetting Francesca Schiavone at both tournaments and Jelena Jankovic in the latter. She went on to make the third rounds at both Wimbledon and the
US
Open, cementing herself as a consistent competitor on all surfaces. Now ranked
21
, Lepchenko currently finds herself the No.
2
American player and was thrilled to be picked for Team
USA
at the London Olympics. The
26
-year-old prides herself on tough mental strength and a powerful forehand. With citizenship issues finally settled, Lepchenko can look forward to focusing on her top priority in
2013
: winning. "I'm looking into winning tournaments and whatever comes with that. Whatever it is, I want to win it."
2011
Year end Ranking:
110
2012
Year end Ranking:
21
Mona Barthel
: Barthel started off
2012
with a bang, roaring into the top
50
with her first
WTA
title coming in Hobart and a third round finish in her debut Australian Open. She headed into Indian Wells full of confidence and served for the match twice against Victoria Azarenka, who was in the midst of a stunning winning streak. Barthel lost the match but announced her arrival at a serious contender. The speedy German let her foot off the gas in the second half of the year, but at only
22
years of age, she has plenty of time to improve her consistency.
2011
Year end Ranking:
67
2012
Year end Ranking:
39
Laura Robson
: Britain has been patiently waiting for their favorite up-and-comer to break through in a big way. The teenage Robson finally made good on her potential at the
US
Open this year, taking out Grand Slam champions Kim Clijsters and Li Na on the way to a fourth-round finish. She rounded out the year with a silver medal at the Olympics when she teamed up with Andy Murray for mixed doubles and made her first
WTA
final at the Guangzhou Open. With Andy Murray having recently claimed a major, the pressure of playing for Britain may be off Robson for a bit, leaving her plenty of room to continue to build on her ranking in
2013
.
2011
Year-end Ranking:
131
2012
Year-end Ranking:
53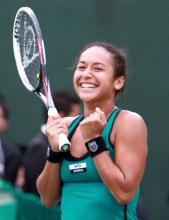 Heather Watson
: Laura Robson may be Britain's favorite, but Watson may be their best hope. Ranked No.
1
in Britain and placed inside the top
50
, the
20
-year-old has been going about her business quietly. That business in
2012
involved making the third round at Wimbledon, winning her first
WTA
singles title at the
HP
Open in Osaka and wining two doubles titles (at Stanford and Dallas with Marina Erakovic). She demonstrated fantastic mental strength in saving four match points in the final of the
HP
Open and is the first British woman to win a
WTA
title since Sara Gomer in
1988
.
2011
Year-end Ranking:
92
2012
Year-end Ranking:
49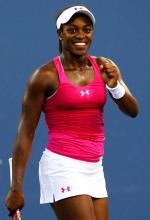 Sloane Stephens
: Stephens is not a woman who has flown under the radar in
2012
. Unlike many of her American colleagues, the
19
-year-old Florida native demonstrated her skills on the clay courts of Europe, making it all the way to the fourth round at Roland Garros. She was unlucky (and possibly a little nervous) at the
US
Open where she fell in the third round in a tight match to Ana Ivanovic. Stephens plays an exciting, aggressive brand of tennis, and despite the inevitable comparisons to Serena and Venus Williams, she's carving out her own fan base thanks to a ready smile and refreshing sense of fun.
2011
Year-end Ranking:
97
2012
Year-end Ranking:
38
This article is from the Jan/Feb 2013 issue

SOLD OUT

Subscribe now and you'll never miss an issue!