Two Roads to Roland Garros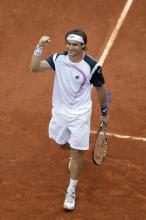 When playing on the red clay of Europe, defense and steadiness have traditionally been the essential traits most likely to reap success. Together with its preceding tournaments, Roland Garros has often rewarded high-percentage, low-risk tennis more than any other span of the season. The familiar image of the "dirt devil," often from southern Europe or South America, conjures up a natural retriever who plays well behind the baseline, extending rallies to outlast opponents with exceptional fitness. Eschewing winners in favor of minimizing errors, this player claims few points with aggressive first strikes and prefers to grind through a highly physical war of attrition.
But events in recent years have challenged that traditional vision, suggesting that elite shot-makers can flourish on clay in counter-intuitive ways. This brand of player may have emerged with the now-absent Robin Soderling, who shocked the tennis world by reaching consecutive finals at Roland Garros in 2009-10 by upsetting both Rafael Nadal and Roger Federer. Increasingly present in both the ATP and the WTA, these heavy hitters have become terrors of the terre by using the extra time that the surface provides to plant their feet and line up their targets at leisure. Especially in dry weather, their power can hit through even the slowest surfaces in an era of greater power. And the clay's ability to slow down the strokes of an opponent allows the rough-hewn, less-balanced games of some shot-makers by providing the time to shield their weaknesses with their weapons.
In 2013, viewers will see players succeed on the sport's slowest surface in both intuitive and counter-intuitive manners, perpetuating and shattering the stereotypes associated with clay. Looking beyond the insatiable Nadal, here is a handful in each category (outside the usual suspects) that should dig into the terre battue with particular relish.
The traditional dirt devils, headlined by David Ferrer, Sara Errani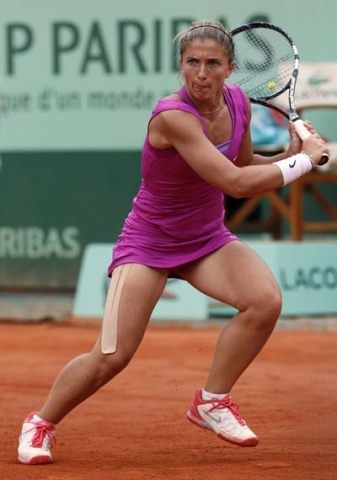 Despite his recent success on all surfaces, David Ferrer is the quintessential clay-court grinder who loves to chip away at an opponent with his inexhaustible energy and patience. Curiously, Ferrer had not reached the semifinals at Roland Garros until last year, upsetting Andy Murray to reach that stage. Most of his successes against Murray and Novak Djokovic have come on this surface, where he has reached two Masters 1000 finals and only the most penetrating groundstrokes elude his reach.
Breaking into the top 10 when she reached the Roland Garros final last year, Sara Errani won three clay-court titles before that accomplishment. The Italian's exquisite feel for the ball and dogged defense compensate on this surface for a weak serve that can hamper her elsewhere against aggressive returners.
Her backhand slice can discomfit more programmatic games, while her natural movement leaves her better positioned than many of her more heralded opponents.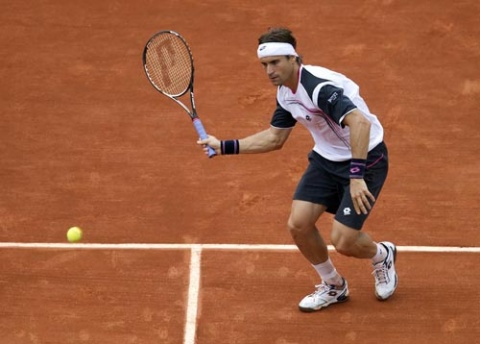 Juan Monaco: Like Errani, this Argentine also cracked the top 10 for the first time last year. Often compared to Ferrer in playing style, Monaco has won six of his seven career titles and reached 14 of his 16 career finals on the surface. He snuffed out young firebrand Milos Raonic at Roland Garros last year in a classic five-set battle of guns against guile, and he took a set off Djokovic earlier in the clay season at Monte Carlo. Monaco does not overpower opponents, but he rarely gives anything significant away either.
Andreas Seppi: Enjoying the best year of his career in 2012, Seppi ambushed two top-20 opponents en route to the quarterfinals at his home Masters 1000 tournament in Rome. He used that week to catalyze a memorable fortnight at Roland Garros, which peaked when he won the first two sets from Djokovic as the Serb eyed a Nole Slam. Seppi's reliance on an inside-out forehand and preference for entrenching himself well behind the baseline identify him as a member of this traditional camp.
Dominika Cibulkova: A semifinalist at Roland Garros four years ago, the diminutive Slovak recalled memories of those exploits by reaching the 2012 quarterfinals without losing a set. Cibulkova has invited comparisons to a jackrabbit on clay by frustrated opponents, and she upset world No. 1 Victoria Azarenka in straight sets here last year. Her competitive feistiness shines on a surface sympathetic to her physical limitations on serve and return.
Francesca Schiavone: While she may have sunk too far into her decline to produce a deep run, the canny veteran crafted consecutive masterpieces here in 2010-11. Paris crowds were thrilled by the artistry of Schiavone's one-handed backhand, which Justine Henin had used to such devastating effect here, and her audacious belief against all odds. Some of the sport's greatest upsets have come on clay, where favorites find their confidence most tested.
The unconventional terrors of the terre, headlined by Maria Sharapova, Juan Martin Del Potro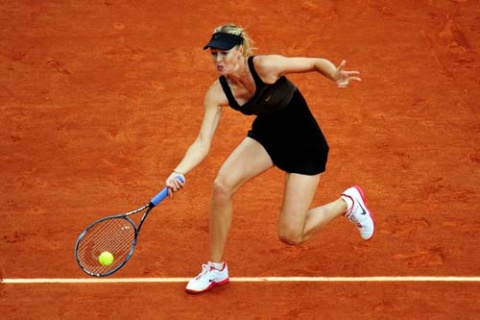 She once dubbed herself a "cow on ice," but Maria Sharapova defied those self-deprecating words by going undefeated on red clay in 2012. Following her second straight title at the Premier Five event in Rome, she lost just one set en route to completing a career Grand Slam in Paris. As she has matured, Sharapova has recognized that her groundstrokes can rocket through the clay almost as explosively as they do elsewhere, and she has exploited the extra time to plant her feet for those vicious swings.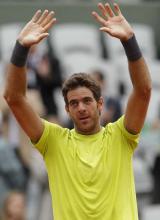 Another towering player with fierce first strikes, Juan Martin del Potro twice has extended Federer to a fifth set at Roland Garros, including in a 2009 semifinal. The Argentine nearly did the same to Rafa in a Davis Cup final on this surface, and he troubled Djokovic as well when they met in Paris two years ago.
Not gifted with the keenest instincts or reflexes, he has found that the clay can temper those weaknesses without greatly diluting his power. (Fellow leviathan Tomas Berdych discovered the same truth when he came within a set of the final a year later, toppling Murray with cross-court lasers that resembled those of Soderling, the man who finally stopped him.)
Nicolas Almagro: Despite his Spanish pedigree, this three-time Roland Garros quarterfinalist has developed a style oriented more around shot making than grinding. All of Almagro's 12 titles and 18 finals have come on clay, though, where he can time his elongated strokes more effectively. Like Stanislas Wawrinka, he finds the surface suited to his sweeping one-handed backhand swing, and he has defeated three higher-ranked opponents in Paris. Almagro even took a set from Nadal at the marquee clay tournament in Madrid three years ago.
Fernando Verdasco: Extremely fit and capable of grinding, this Spanish lefty nevertheless loves nothing better than to crack his forehand for electrifying winners. His backhand produces much less offense, so Verdasco welcomes the opportunities presented by clay to run around that weaker shot and create angles with his stronger weapon. Reaching his only career Masters 1000 final on clay in Monte Carlo, he has won three of his five titles on the terre battue, including his most notable in Barcelona three years ago. That year, Verdasco twice defeated Djokovic at clay Masters 1000 tournaments.
Samantha Stosur: Resembling Verdasco, the Australian aims to pound forehands from literally anywhere on the court to anywhere else while avoiding her meager backhand as much as possible. By allowing Stosur to run around more two-handers than she can on other surfaces, the clay has bolstered her runs to three semifinals at Roland Garros, where she finished runner-up in 2010. She exploits the high bounce there with her kick serve and heavy topspin, claiming victims as notable as Justine Henin and Serena Williams.
Kaia Kanepi: Twice a quarterfinalist at Roland Garros, Kanepi has won two of her three career titles on clay. A first glance at the burly Estonian would suggest that she would prefer faster surfaces, but she has collected two wins over top-10 opponents on the Paris clay by using the extra time to measure her penetrating groundstrokes. Not always the most disciplined player, she appears to benefit from the patience forced upon her by the surface, where she constructs points more thoroughly.
This article is from the May/June 2013 issue

SOLD OUT

Subscribe now and you'll never miss an issue!