Twins Peak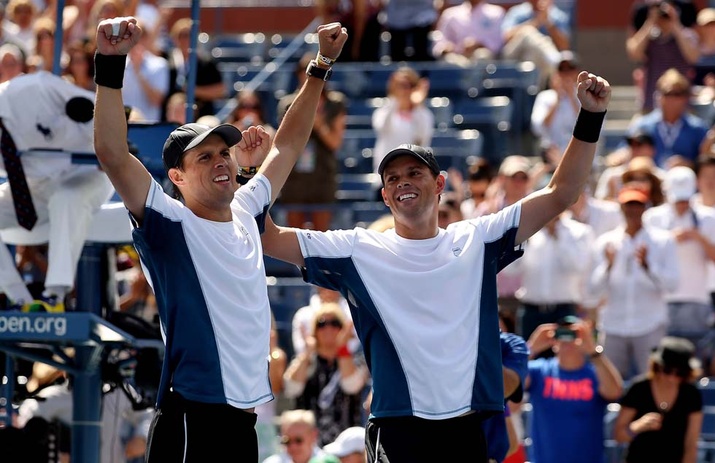 What does the best doubles team of all time do after winning a major? Celebrate, of course – especially when they have as much to celebrate as Bob and Mike Bryan. The 2014 US Open marked the 100th doubles title for the American twins, who have won at least one major every year for the past decade and racked up a total of 16. The road to this record accomplishment, however, was a little rockier than expected.
Summertime Blues
The Bryan brothers entered the summer hard court season low on confidence after losing in the Wimbledon final and with poor showings at the Australian Open and French Open. Finally capturing their 99th title at the Cincinnati Masters tournament in August compounded the anticipation of reaching a milestone at Flushing Meadows.
"Every interview we did, there was mention about winning 100 in New York and the excitement flowed around," Bob Bryan tells Tennis View Magazine publisher Teresa Thompson. "It became an opportunity to do something special and have a fairy tale ending."
The Bryans dealt with the pressure and hype by adopting a warrior mentality to stay focused throughout the two-week tournament, but the process was not easy despite its familiarity. "We do get nervous," Mike admitted to the press after the US Open final. "I think it was something like our 27th Grand Slam final. It feels like it was our first. We were jittery. Tough to eat, tough to sleep."
The match was a blur for Bob, but he remembers that they executed the game plan to play their best match of the year in the most important moment of their careers. "It was bigger than anything in the world," he explains.
Party in the USA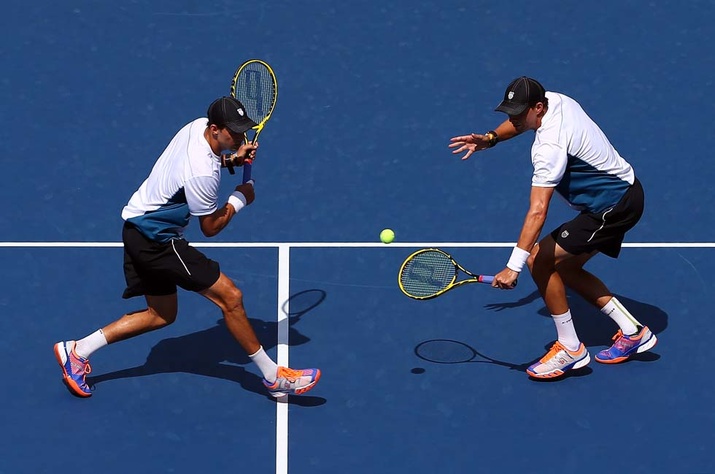 Fans may not realize that for the players, tournaments do not end with the on-court trophy presentation. After leaving the court, the Bryans spent nearly four hours doing interviews, posing for photos with the trophy, and submitting to drug testing. Once the obligations were met, the party could finally begin.
Bob and Mike joined 50 friends, including the drummer from Counting Crows and the guitarist from Maroon 5, at hip New York City restaurant Tao Downtown. Serena Williams and Caroline Wozniacki set up an adjoining celebration with another 40 friends just hours after facing each other in the women's final, which Serena won.
Rather than talk tennis, Bob gossiped with Wozniacki about her love life and was struck by the dynamic between the two women. "They're like best friends. It's unusual to see. They truly are great friends. I don't think we could bounce back that quickly and go have dinner with the opponents we just lost to," he says, adding, "I don't know if Serena could, either, if the tables were turned."
The festivities continued until 2:30 am with the brothers clocking a few hours of sleep before rising at 5:00 am for more media commitments. A quick transition into the following week saw them back at work preparing for Davis Cup. The Bryans are fully aware that professional athletes are racing the clock on their careers, and they do not waste any time.
Tunnel Vision
Bob and Mike have an entrenched sense of self-discipline, long choosing to forgo social events such as high school prom to focus on tennis. After all, they didn't rack up 100 titles and more than 900 match wins by accident; they have consistently worked to put themselves in the best position to be successful.
"We're trying to wring every last drop out of this tour so that when we do retire we'll have no regrets," Bob explains. "We have the same philosophy for every tournament: get the massage, drink the water, practice as much as you can. We sacrifice a lot now, but we'll have plenty of time after our career to do the things we have never done, like waterskiing and vacations."
Now that he is married with two young children, Micaela and Bobby Jr., Bob's biggest sacrifice hits close to home. "Time away from my kids is the killer," he laments, while still looking at the positive. "When I was 16, I'd have to send a postcard home because collect calls were too expensive. Now with technology like FaceTime, travel is more tolerable."
Having dueling priorities causes a strain on both brothers. "You feel guilty if you're on the courts too long and doing the right thing for your career, and sometimes you feel guilty spending too much time back at the house with the kids and not doing the right things for your career," he says. "I kind of get in a tug of war sometimes."
It Takes a Village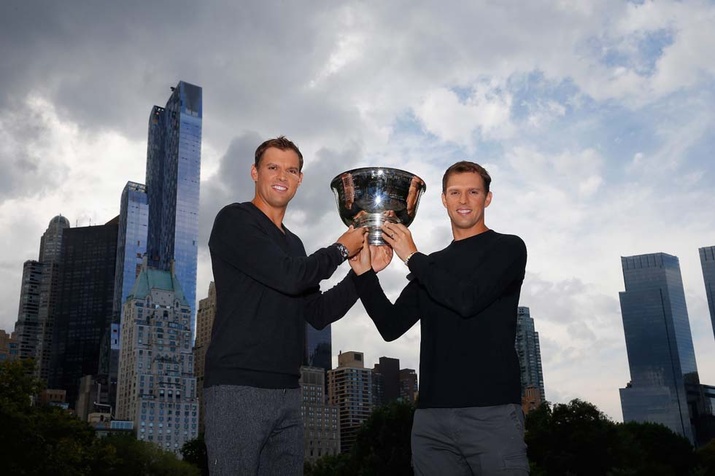 The brothers are not the only ones who make sacrifices in pursuit of their dreams; their families often put the twins' careers first, as well.
The Bryan's biggest reinforcement has always come from their parents, Wayne and Kathy. Bob recalls the countless hours his mom and dad spent feeding them balls in practice and driving them to tournaments. He looks forward to their emails following every match: congratulations and stats after a win, and a reminder of their accomplishments after a loss. No matter the outcome, there is constant encouragement.
"The majority of the time if a player burns out, is successful or not successful, it's all about the environment the parents created for the child," Bob says. That is a lesson he intends to remember when his children start playing tennis.
Bob's wife Michelle, whom he married in 2010, is another crucial factor in his ability to focus on tennis. He describes Michelle as easygoing and understanding, and he marvels at how gracefully she deals with the pressure of his demanding schedule. Whether she's waiting hours for him to emerge from the locker room or getting up in the middle of the night to handle the kids, Michelle gives her husband the comfort he needs at this point in life.
"I keep telling her this isn't going to last forever and I'll do my part extra when the tour is over," Bob says. "We've had some incredibly devastating losses but my wife has never second guessed anything I've done on the court and she's always quick to put things in perspective."
*TO READ THE REST OF THE STORY, ORDER THE NOV/DEC 2014 TODAY!
ACHIEVEMENTS AT-A-GLANCE
Won at least

5

titles every year since

2002

Only team to win at least one major every year for the last decade
Won

100

titles in

13

different countries (record)
Finished at No.

1

a record

10

times in

12

years (counting

2014

)
Won Gold Medal at

2012

London Olympics; Bronze Medal at

2008

Beijing Olympics
Reached

900

match wins in Sept.

2014

(record)
Won

16

majors (

6

Australian Open,

5

US

Open,

3

Wimbledon,

2

French Open) (record)
Have won

30

ATP

Masters

1000

titles (record)
This article is from the Nov/Dec 2014 - Bryan Brothers issue

SOLD OUT

Subscribe now and you'll never miss an issue!