Run Today. Win Tomorrow. Improve Fitness And Tennis Through Running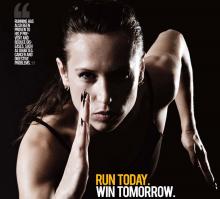 If your reluctant to run for exercise because you think its too physically demanding or you're not certain where or how to begIn, you're not alone. truth be told, addIng run- nIng to your exercIse program, how- ever, mustn't be complex. In fact, almost anyone can do It, and runnIng can offer great health benefIts – especIally for tennIs players.
WHY RUNNING IS HEALTHY
Running improves lung capacity and makes the heart stronger, helping to pre- vent cardiovascular disease. It also lowers bad cholesterol levels, aids in weight loss and improves cardiac function. Gretchen Masters, BPhEd and Cert IV per- sonal trainer, explains that running is perfect for weight loss and for tennis: "Physically [running] works as a weight loss or maintenance tool; it is excellent for improving maximal aerobic capacity and increasing lactate threshold, which is one of the main determinants of performance in sports such as tennis where you must be able to work hard in short bursts and then recover in between." The high impact activity will aslo help bones to grow stronger, counteracting osteoporosis and reducing the chance of fracture. Running has also been proven to help prevent and reduce diseases, such as diabetes, cancer and digestive problems.
Running manages physical problems and much more. Exercise triggers the production of endorphins, which are widely believed to improve mood. Running has also been found to increase levels of 'brain-derived neurotrophic factor' (BDNF), which is also thought to make us feel happier. It is believed that BDNF's primary role is to help brain cells survive longer, therefore increasing BDNF levels through exercise may fight off dementia.
WHO SHOULD RUN
Running is suitable for most people. "Running is definitely good for everyone - apart from those with obvious contraindications such as ankle, knee and hip problems - anyone can do it, anywhere, anytime. It takes minimal equipment, and no matter what your fitness level or age, it will give you great benefits over time," Masters says. Even people with injuries shouldn't count running out. "For those with old injuries, such as torn ligaments or a torn meniscus but [are able to] run pain free, it is possible to start a running program so long as the build-up of duration and intensity is gradual, and there is no recurring pain," Masters advises. People with existing injuries, however, should first consult a physiotherapist or sports doctor before running.
Similarly, those suffering from arthritis, osteoporosis or other health conditions affecting joints, it is best to visit a doctor to get a clean bill of health before starting a new activity. In addition, if you are affected by cardiovascular disease, such as coronary artery disease or are more than twenty pounds overweight, receiving doctor's approval is highly recommended. While these conditions may not necessarily prevent you from running and may even benefit your condition, medical advice is still required.
HOW TO BEGIN
Progress in fitness doesn't happen in one day, rushing often leading to injuries and discouragement, so remember patience is key to making running a permanent part of life. Before launching this new activity, devise a running plan to provide structure and prevent burn out.
PRE-RUN NUTRITION
Ideally, Masters says food should be eaten before a run so the body has adequate amounts of fuel, the goal being to have enough energy to train hard for optimum benefits. Eating before a run, she acknowledges, isn't always achievable or desirable. "Some people find it is less productive to eat before a session because it unsettles the stomach and therefore reduces the effectiveness of the session."
Masters advises, however, to condition the body to eat before a run by starting with a few mouthfuls to help the body adjust. Eating two hours before the run is best for maximum energy and Masters recommends consuming 60 grams of carbohydrates initially, and then 30 to 60 grams per hour of exercise to maintain performance. To put that into real terms, a large banana or piece of whole wheat bread with jam each has around 30 grams of carbohydrate.
An effective plan can be found through personal trainers, at gyms or on the Internet. Masters advises newbies to start slow: "As a general guide for a beginner, I suggest being very gradual with your approach, [and] don't rush the process as it takes time for the body to adapt to the stresses of running." Masters recommends running twice a week for the first few weeks, walking intermittently if necessary.
A basic goal for the first month is 20 to 30 minutes of good, solid running then increasing the routine. "After the first month look at introducing more sessions to your weekly load, but stick to the 10 percent rule: increase your weekly volume by no more than 10 percent at a time. This can be based on the time or distance that you run," she says. Moving forward, sessions may focus more on pace, length or interval training depending on individual fitness goals.
No way around it, running is physical work that requires effort and discipline, so to prevent it from becoming a chore, create enjoyment. Run with a companion, whether a dog, spouse or best friend. Others find listening to music enhances running. Enter a local fun run or race to make training more purposeful and to keep motivated, especially during the colder months. For those who find prioritizing running difficult due to time constraints, try scheduling and recording runs to help keep track of progress, stay organized and save time.
TENNIS BENEFITS
If you're still reluctant to incorporate running into your fitness regimen, consider this: running often improves your tennis game. Deep in a match, fatigue makes it harder to reach difficult balls and hit with full power. Being fitter than your opponent can be a huge advantage. "By using running to build stamina and resistance to the effects of lactic acid, the effects of [fatigue] may be postponed until later in the game where you will have an edge over your less fit opponents," Masters says. Running sessions that mimic the cardiovascular demands of tennis, such as interval training, which involves alternating between sprinting and jogging, are recommended. "Even if you think you are very fit, there are still gains to be made. It is just a matter of adding short, hard intervals into your routine and adjusting the three variables of duration, intensity and rest periods," she explains. Running is one of the easiest activities to improve cardiovascular fitness on and off the tennis court. Even short runs can improve fitness and health dramatically. Best of all, running is inexpensive, convenient and almost anyone can do it. The most important advice Masters offers to those considering running: give it a go.
"Get out and try it, listen to your body and be smart about how much you try to take on in the beginning."
TRACKING DEVICES
A. Touch the face, and the Reebok Heart Rate Monitor without Chest Strap displays heart rate, calories burned, speed, fit zone, distance and step tracking [$99], reebok.com
B. Adidas 'Naloa' Digital Watch [$55], built for sport with stopwatch timers, lap memory and water-resistant, adidas.com
C. Cleanly styled, the Adidas Adizero Sport Watch [$95] has a stopwatch, alarm and date functions display, adidas.com
D. Serious runners wear the Garmin Forerunner 610 sports watch. Track workout distance, speed and intensity, set goals, log workouts and more with the slim profile, sweat-proof watch [$349], garmin.com
E. Reebok InColor Digital Pedometer, color changing LED screen, tracks total time in motion throughout the day [$39.99], reebok.com
This article is from the May / June 2012 issue

SOLD OUT

Subscribe now and you'll never miss an issue!