Q&A Christine Taylor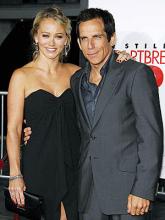 Actress Christine Taylor, who is married to actor-director Ben Stiller, is best known for her roles in The Brady Bunch Movie [cast as Marcia Brady], Zoolander, Dodgeball: A True Underdog Story, and Tropic Thunder. But, behind the bright lights, the Allentown, Pennsylvania, native identifies most with the roles as wife, parent of two, and tennis enthusiast.
"I have some secret passions in my life that not many people know about," Taylor told Tennis View contributor, Cindy Cantrell. "After my family, tennis is by far my favorite pastime, followed by NBA basketball and Broadway musicals!"
As Christine further shares, her passion for tennis goes well beyond that of a pastime – she is a fan, player and ambassador.
At-A-Glance
Christine Taylor
Age:

41

Born: Allentown,

PA

Resides: New York,

NY

Occupation: Actress
Spouse: Ben Stiller
Children: Daughter Ella Oliva [

9

]; son Quinlin Dempsey [

7

].
---
THE FAN
Initially, when and why did you begin playing tennis?
I've been obsessed with tennis from the time I was 8 or 9. A big group of us would take an annual bus trip from Pennsylvania to the US Open during the early rounds. We'd get there right as the gates opened at 10 a. m., and we'd stay until the matches ended. Even watching from the cheap seats, I was riveted.
Who were your favorite players?
I loved Chris Evert, and John McEnroe was so charismatic. I remember watching on TV when Boris Becker won Wimbledon, this skinny kid diving for balls who was so baby-faced. My girlfriends and I thought he was the cutest.
You and your husband, actor Ben Stiller, have been photographed at the US Open, Wimbledon and other events. Is he a fan, too?
Now he is! When we met, he knew I watched tournaments obsessively on TV. We went to the US Open in 2003, the year Agassi was in the semis and Roddick won the final. He couldn't believe how fast the game was. He was hooked.
What is your best tennis memory?
My early memories of the US Open are certainly some of my fondest; that's when I formed my love affair with tennis. I've never been disappointed at the Grand Slams either. I've seen some epic matches that I'll remember for years, especially the Federer-Roddick final at Wimbledon in 2009 that ended 16-14 in the fifth. We were fans in the crowd, and I had to take pictures.
How do keep current with the sport?
I watch and record every tournament throughout the year on TV, which probably isn't as much fun for my kids as it is for me. When it comes to the Grand Slams, the TV is on all the time. It's exactly the same way with my best friend in LA, and we communicate constantly about the matches through email and texts.
What do you love most?
I have so much respect for the sport because it's just you out there, with no team to back you up. Last summer, we watched Djokovic come back against Federer [in the 2011 US Open semis]. He knew the crowd wanted Roger to win, but there was a moment when he ingratiated himself to the fans and turned absolutely everything around. I've never seen anything like it. Then this past March at Indian Wells, I saw John Isner beat Djokovic in another incredible match. It's so fun to see it all unfold, the drama and the blood, sweat and tears. I get so inspired watching that I want to go home and play.
What are your tennis goals this year?
My ultimate goal is to hit all the Grand Slams someday. But now that we live in New York, I'd like to get to the US Open more often than just the finals weekend. The end of summer is a busy time with school starting for the kids, but I'd love to wander around the outer courts in the early rounds. The New York crowd brings so much excitement and energy. There isn't another place like it.
---
THE PLAYER
How often do you play?
Ben and I play together about once a week, or we'll take lessons if we're on a trip. He's a lefty, with all kinds of natural ability. For us both, it's the best workout. It's a fun alternative to the treadmill.
Do you play recreationally or competitively?
I just play for fun. I played on my high school tennis team in Allentown, Penn., and I did OK. I loved it so much, and we weren't even a strong team. I went into my professional life out of high school, so that was the only time I played matches.
What's your favorite stroke?
I love the two-handed backhand. When you get it right, it looks good and feels good.
And What about the most challenging aspect of your game?
The serve is something I've never mastered. I just get it in. It will take me down every time, so it's my least enjoyable stroke. It's easy to be lazy and just enjoy playing, but I can surprise myself when I make the choice to run for the ball instead of letting it bounce twice. It's a very satisfying feeling when you go for it and get it. But the minute someone says, 'Let's play points,' I start to over-think. I'm blown away watching the high-pressure points in the pros. Their mental toughness is amazing to me.
On a tennis court, what are you typically thinking or feeling?
I like to pretend I'm better than I am. That's when the actress in me comes out! I like to imagine for a second that I can hit and run as fast as Venus or Maria or Serena. But I still stop for water breaks more than they do.
Has tennis taught you anything about yourself – and others?
I think I've come full circle. When I played in high school, I took it too seriously. With more life experience and as a fan of tennis, I don't have to be good to enjoy it. I can have fun watching, playing or just being part of it.
How long will you play?
Our entire family will play for a long, long time.
---
THE AMBASSADOR
Why did you decide to take on the role of USTA spokesperson for 10 and Under Tennis?
I joke that I've called on the USTA so often over the years to help us with seats that they gave me a job so I'd earn my keep. But honestly, it's something I believe in and wish they had when I was a kid. It opens up a whole new world of possibilities for kids, giving them the confidence they need from the start. I've been so excited to get my own children playing with the smaller equipment and give them opportunities that I didn't have.
What reasons do you give children and their parents for participating?
In our family, my daughter is the artist and reader, while my son runs non-stop. So for her, it was especially important to find something that's fun but also gets her outside and moving to stay healthy. She doesn't naturally gravitate toward team sports, but when she picked up a racquet, it was so empowering for her. I realized that tennis is an interesting alternative. It's a tremendous sport, but it also feels like a fun game. You can play it competitively or noncompetitively, and it's equally enjoyable to do both. There's a level for everyone.
What is your ultimate hope?
I don't want this to sound corny, but I really feel like if we get one more kid to sign up for tennis then it's worth it. Everyone deserves a chance to play. As a fan, I'll be excited to see the new up-and-coming American players who start in 10 and under.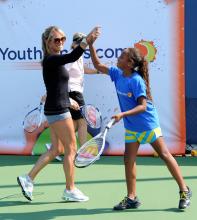 Christine Taylor helped the United States Tennis Association launch National Childhood Obesity Awareness Month on September 1. The actress hit balls during a youth tennis exhibition to demonstrate the importance of an active lifestyle. "My kids were born into a funny family and none of this stuff really came natural to my husband or me; we're not professionals," said Taylor. "I grew up loving tennis – watching it, playing it – but I didn't have that competitive drive. So to make it fun is what it's all about for me in my household."
This article is from the Nov / Dec 2012 issue

SOLD OUT

Subscribe now and you'll never miss an issue!