Patrick Mouratoglou, Masterminding Greatness and Coaching Serena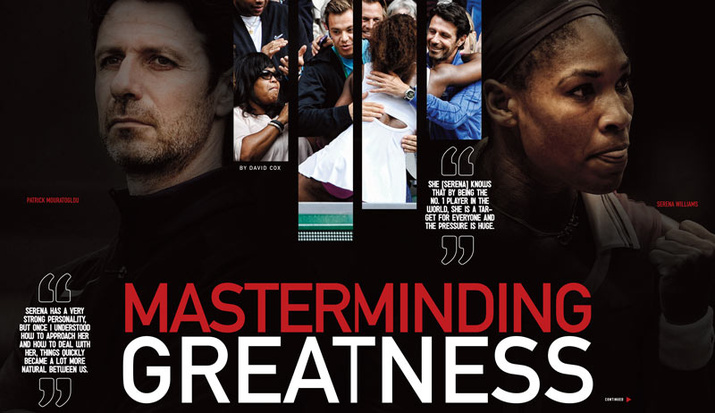 Patrick Mouratoglou's eye-catching work with Grigor Dimitrov and Aravane Rezai has long established him a reputation as one of the most tactically astute coaches in the game. But over the past two years, he's made even more headlines as the man behind Serena Williams' surge into the history books.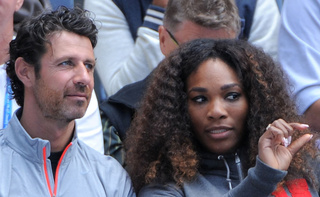 Vulnerability is not normally a word you would associate with Serena Williams, a player who has been one of the most dominant figures in the women's game for the past 15 years, overwhelming opponents both with her tennis and her sheer force of personality.
But two years ago, Williams was exactly that - vulnerable. Without a Grand Slam title in almost two seasons, her aura had firmly faded. But a startling loss against world No. 111 Virginie Razzano in the first round of the 2012 French Open proved an unlikely turning point. With time on her hands in Paris, an emotional Williams sought out the nearby academy owned by Patrick Mouratoglou as a practice base for the next fortnight.
The duo barely knew each other, but Williams was impressed by the Frenchman's frank assessment of her shortcomings, and just a few weeks later, she claimed her fifth Wimbledon title. Since then, she's won another three majors, Olympic gold and enjoyed arguably the best season of her career in 2013. With 17 Grand Slam titles under her belt, she has a claim to be one of the greatest players of all time.
Tennis View caught up with the man behind the transformation.
---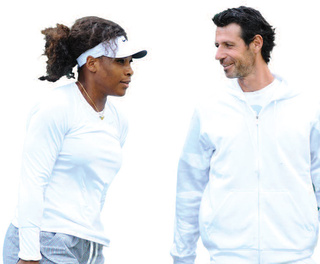 Tennis View Magzine: What adjustments did you and Serena make over the past couple of years to form such a good partnership?
Patrick Mouratoglou: I think that we've reached a very good level of mutual trust and respect. The thing is, all the foundations of her game and her athleticism have already been built under the guidance of her father. So my role is to take that and add to it. That requires keeping her motivated, helping her develop new things or helping her understand how to be more efficient with her existing game.
I listen to her because she knows herself and how to prepare in order to feel confident on the court. She listens to me because she knows that I understand her game, her background and I have a knowledge base that she can use to become even better and reach her peak.
TVM: Serena is such a big personality. Did this play a factor in your coaching approach with her?
PM: For me, finding a way to adapt to the player is one of the most important conditions for success. Each player has a different personality, different needs and there is always a different way to achieve the same goal - to win.
My coaching method, which I apply to everyone, involves learning to understand the player, how to speak to him/her, how to analyze that player's game and how to work with each of them taking into consideration their particular personality. I used to say that every player has their own world and their own language, and this is something you need to learn as a coach in order to be heard, trusted and followed.
Serena has a very strong personality, but once I understood how to approach her and how to deal with her, things quickly became a lot more natural between us.
TVM: You've mentioned how Richard Williams laid such a strong foundation for Serena's game when she was young. Do you ever speak to him about your work with her?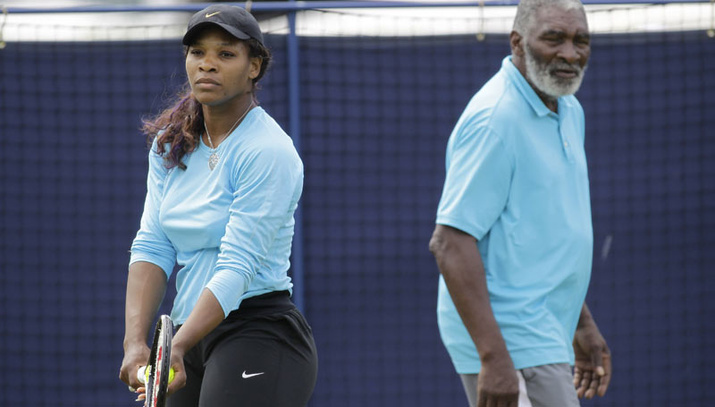 PM: I knew Richard before I met Serena. I know his philosophy of the game, and he has explained to me how he raised his daughters in tennis. I share the same ideas about the game, and this is a very important base for me in my work with Serena.
As a coach, I have to take responsibility and I am, as always, in charge of the results. I take into consideration her tennis background and the concepts that Richard instilled in her. But I have to take charge and determine the direction in which we're going. I don't need to speak to Serena's parents on a regular basis, but I am always pleased to do so when we have the chance.
TVM: If you had coached Serena during the early stages of her career, would you have changed anything?
PM: I probably would have done a few things differently because every coach has his own approach. But I also believe that the work done by Richard and Oracene with both Venus and Serena is just a masterpiece, an example for all coaches to look up to. They've built two unbelievable champions from scratch, and this is something that nobody has ever achieved in the history of the game. I have a huge amount of respect for that.
TVM: Would you say Serena is your biggest success story as a coach?
PM: There have been many, and I really don't want to single out one over all the others. As a coach, your goal is to bring the best out of your player and find a way to make them realize their potential. I have loved all of my collaborations so far, and I've always found a way to make my players successful. The results have been most spectacular with Serena because she's an extraordinary player. But I'm just as proud of what I achieved with Aravane Rezai.
Before we began working together, Aravane had been ranked between 60 and 100 for three years. But then after six months, she reached the top 15, winning titles in Bali, Madrid and Bastad and beating the top five players in the world at that time.
Working with Anastasia Pavlyuchenkova when she was a junior and taking her to 27 in the world in 1½ years was also a great achievement. I also have plenty of fond memories of my work with Jeremy Chardy, who was going through a really tough period when we started. But during our time together, he single-handedly helped the French Davis Cup team beat Austria 3-2 on debut. He won both his singles matches including a win over Jurgen Melzer, who was top 10 at the time. That was a very emotional weekend.
TVM: You often comment on tennis and various matches very openly on Twitter, more so than many other pundits.
PM:: I'm a consultant for Eurosport during the Grand Slams, so I'm involved every day in a live show in which they ask me to coach a different player. If Gasquet is playing Ferrer, for example, I face the camera and speak to Gasquet as if he's my player and give him tactical advice.
Quite often, players or their coaches will get in touch with me after the show to ask me for more information or to thank me, saying it will help them.
TVM: A scene from the 2012 'Venus and Serena' documentary showed Serena running on a treadmill at the 2011 US Open and telling her hitting partner, "We need to work harder. All these other girls are gunning for me." Is that ruthless competitive streak the real Serena?
PM:: First of all, I think that between filming that documentary and now, Serena has matured a lot. She does not necessarily have the same view on a lot of subjects as she did a few years ago. She knows that by being the No. 1 player in the world, she is a target for everyone and the pressure is huge. But she also loves being the best and accepts that challenge match after match by preparing in the most professional way possible.
TVM: Do you think that Steffi Graf's record Grand Slam haul is a realistic target for Serena? It could take her at least another four years to reach it. Do you think she's prepared to continue for that long?
PM: Given where Serena is at the moment, I think 22 Grand Slams is some way off. She's won 17, and the next thing she should focus on is to beat [Chris] Evert and [Martina] Navratilova's record of 18. Once she's achieved that, then that will be time to think about what comes next. The best attitude to have is to take things one step at a time.
---
Mouratoglou's Take
Tennis parents: "In the tennis world, parents are often pointed to as the worst people. But without them, nothing is possible."
Abandoning his dream of going pro at

15
: "It wasn't my parents' fault for not listening to me, not believing in me and not giving me my chance. It was my responsibility to find a way to be heard."
Coaching mantra: "Before doing quantity, you have to be able to guarantee quality. Otherwise, you repeat bad habits, and they become a part of you."
Serena's evolution
: "She's maturing. If you look at how she was playing when she was
20
compared to now, it's a completely different player."
This article is from the May/June 2014 - Roland Garros issue

SOLD OUT

Subscribe now and you'll never miss an issue!