Paris When It Sizzles: Roland Garros 2014 Preview

A look ahead at the second major of 2014 highlights players set to shine on the red dirt of Roland Garros. One of the most daunting tests in tennis, this fortnight will test fitness and fortitude at once. Read about the key contenders, and meet a few of the dark horses most likely to stop them.
---
ATP

: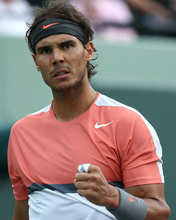 Rafael Nadal: Only once in nine Roland Garros appearances has the Spaniard failed to lift the coveted Coupe des Mousquetaires. Last year, Nadal became the only man to win one of the four majors eight times when he defended his title in Paris again. Regrouping from a fallible start to the fortnight, he proved that he could play his way into the tournament and reach his peak when it matters most. The world No. 1 never has lost there to his two archrivals, Novak Djokovic and Roger Federer, and he remains in his prime near his 28th birthday. Health poses one of Nadal's greatest concerns, but he posted strong results early in 2014 on his less-favored hard courts despite a back injury. Another triumph in Paris would even him with Pete Sampras for second place on the all-time major titles list.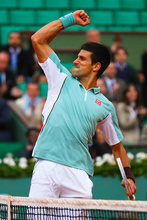 Novak Djokovic: With each attempt, the Serb edges closer to toppling Nadal in Paris. Djokovic let a late lead slip away in the fifth set of their semifinal last year, but he has defeated the Spaniard once at each of the three clay Masters 1000 tournaments. The best mover in the game has taken defense to a new level, and defense wins more matches on clay than anywhere else. On the other hand, Djokovic must shoulder the burden of reviving his quest to complete a career Grand Slam, which has appeared to get the better of him in Paris. And his new partnership with Boris Becker may need more time to crystallize, judging from the Serb's uneven results (by his standards) this season.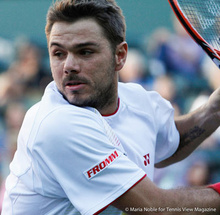 Stanislas Wawrinka: The Australian Open champion achieved his best result in Paris last year, although he never has reached a semifinal there. At Melbourne, Wawrinka proved that he can dethrone the greatest champions in his sport by becoming the first man to defeat Djokovic and Nadal at the same major. He has played several close matches against Djokovic on clay and earned his only career win against fellow Swiss star Federer on this surface. Wawrinka's heavy topspin should shine in Paris, as should his physical playing style, but he may struggle with adjusting to his elevated status as a major champion—and the elevated expectations that come with it.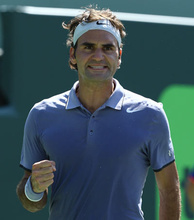 Roger Federer: While Becker did not ignite Djokovic immediately, Stefan Edberg lit a spark under Federer. Guided by his new coach, the Swiss star has rebuilt his belief against the elite after a disappointing 2013 season. Federer is the only man in the field not named Nadal who has won Roland Garros, and his results against the top 10 have soared this year. A victory and a near-victory over Djokovic in 2014 have left Federer confident that he can compete with this key rival. Seeking to reverse the other key matchup looks quixotic, however, especially on clay. Helpless against Nadal's heavy topspin, Federer needs someone else to dispatch Rafa before targeting a second title in Paris.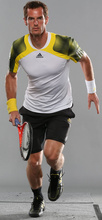 Andy Murray: Absent from Roland Garros last year, Murray often seems to keep one eye on Wimbledon during the clay season. He does not move naturally on clay and struggles to generate the pace needed to hit through this slow surface. Still, Murray showed with a 2011 Roland Garros semifinal run that he can shine on clay.
He suffers more unexpected setbacks than during other periods of the season, yet he has won sets from both Nadal and Djokovic then. Splitting with Ivan Lendl, the architect of his Grand Slam breakthrough, may leave Murray somewhat at sea for a few months. His return from back surgery also has progressed more slowly than hoped.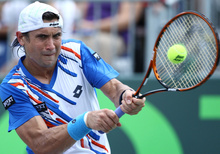 David Ferrer: The 2013 runner-up at Roland Garros counts clay as his favorite surface. While his results at ATP events have tapered since last summer, Ferrer continues to produce solid performances at majors. But his only notable success against the Big Four in recent years has come against Murray, and the prospect of avoiding all of the other three superstars en route to a major title is remote. Winless in his career against Federer, Ferrer probably cannot expect to topple Nadal at Roland Garros. That said, he twice took sets from Rafa at Masters 1000 events last year, nearly defeating him at their home tournament in Madrid.
Hidden threats: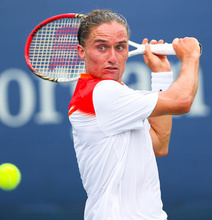 Alexandr Dolgopolov: Six wins over top-20 foes in February and March fueled Dolgopolov's revival after an arid 2013 season. Especially notable were upsets of Nadal and Wawrinka at Indian Wells and Miami, both in third sets that revealed the Ukrainian's improved resilience. Dolgopolov has honed crisper clay-court skills than most of the ATP's young stars, as he proved by upsetting David Ferrer on his favorite surface this year. But the slow courts of Roland Garros will test the patience of a player still prone to volatile ebbs and flows.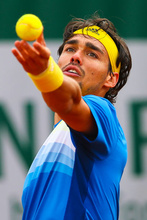 Fabio Fognini: The Italian with the well-groomed eyebrows had not won a title until last summer. Surging to consecutive clay crowns at that stage, Fognini would win 23 of 24 matches on his favorite surface between last July and this February. Most of those victories came against second-tier opponents, as doubters will note. Fognini has not yet left an impact on majors or toppled a superstar at a marquee event. But perhaps he will bring more self-belief and competitive backbone to Roland Garros in the wake of that winning streak.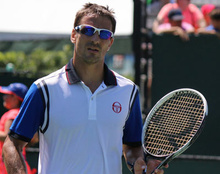 Tommy Robredo: Three memorable comebacks carried Robredo to a surprise quarterfinal in Paris last spring. In each of those matches, the Spaniard rallied from losing the first two sets to defeat a higher-ranked opponent in five. His achievement showcased not only his consistency and stamina, but veteran poise, traits that have lifted Robredo to strong results at majors since then. Although his game lacks explosive weapons, he upset Federer at the US Open last fall. Robredo lost only to the eventual champion both there and in Melbourne.
WTA

: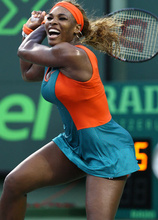 Serena Williams: A part-time resident of the City of Light, Serena should arrive in Paris eager to atone for a disappointing exit at the Australian Open. Sweeping undefeated through the red clay of Madrid, Rome and Roland Garros last season, the world No. 1 embraced the challenge of conquering her worst surface. Most of her recent setbacks at majors have come not against elite foes, but against unheralded opponents like Ekaterina Makarova and Sabine Lisicki. If nobody halts her before the tournament nears its climax, Serena should be favored to tie Chris Evert and Martina Navratilova for second place in major titles during the Open era. As with Nadal, doubts always shroud her health. At the age of 32, Serena cannot expect to defy time much longer, and injuries began to accumulate early in 2014.
Li Na: Since she won the Roland Garros title in 2011, Li's results on clay have spiraled downward. But her balanced game adapts smoothly to all surfaces. Li raced past four top-10 foes during her title run in Paris three years ago, transitioning seamlessly from defense to offense. She burst out to her usual fast start by winning the Australian Open, and the streaky world No. 2 will hope to sustain momentum better than she typically has. (Seasoned coach Carlos Rodriguez has helped Li in that area.) Like Serena, this veteran of multiple knee surgeries will hope to plan her preparation carefully so that she peaks at the right time while sparing her aging body.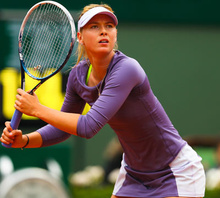 Maria Sharapova: The woman who once labeled herself a "cow on ice" now owns the best winning percentage on red clay of anyone in the Paris field. Under former coach Thomas Hogstedt, Sharapova learned how to exploit the extra time that the surface provides and completed a career Grand Slam in Paris two years ago. The 2013 Roland Garros runner-up has faded since that fortnight, derailed by hip and shoulder injuries. Rust after a six-month hiatus limited Sharapova to a modest start in 2014, when she also integrated new coach Sven Groeneveld into her team. A double-digit losing streak against Serena offers little hope should they meet in Paris, but she has defeated most of her other notable rivals on clay.
Victoria Azarenka: In her best performance yet at Roland Garros, the two-time major champion fell just a set short of last year's final. Azarenka split her four meetings with Serena last year, and she matches up more effectively against the world No. 1 than any of the other top women. Both Sharapova and Li have held an edge against her on clay, though. And, somewhat like Murray, Azarenka lacks the fluid movement on clay that she brings to other surfaces. She has sunk into an extended slump since last summer, even at tournaments where she produced strong results on paper. It's hard to see her breaking free from that slump at the major on her worst surface.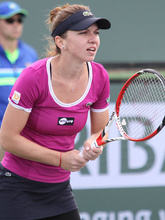 Simona Halep: More natural on clay than most top women, the Romanian soared into the spotlight on this surface at Rome last spring. Halep has jumped more than 50 rankings places since defeating Agnieszka Radwanska and Jelena Jankovic there, although her greatest exploits have come away from the majors. She will seek her first Grand Slam semifinal at Roland Garros as she looks to extend her strong 2014 record against the top 10.
Skeptics will observe that those victories have come mostly against the players just below the very top. Halep has yet to prove that she can defeat a Williams, Sharapova or Azarenka.
Sara Errani: The quintessential WTA clay specialist suffered from burnout during the second half of 2013, when overstuffed schedules in singles and doubles took their toll. Never quite comfortable with her perch at the top, Errani has tumbled to the edge of the top 10. Still, she regrouped from modest results early last year to reach a second straight semifinal at Roland Garros. Clay shelters Errani's weak serve while rewarding her consistency and touch. That combination carries her past sub-elite players and allows her to trouble elite players uncomfortable on the surface. The heaviest hitters on the tour can overpower Errani on any surface, however, as Sharapova and Williams illustrated in her last two Paris losses.
Hidden threats: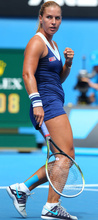 Dominika Cibulkova: Four higher-ranked victims fell prey to Cibulkova en route to her first major final at the Australian Open. Despite her diminutive height, she outslugged and outwitted opponents as divergent as Sharapova and Radwanska. Cibulkova has sustained her form more effectively in 2014 than in earlier years, as she nears a berth in the top 10. Well before her Melbourne breakthrough, the Slovak reached a Roland Garros semifinal in 2009, showcasing her natural movement on clay. The surface gives Cibulkova extra time to set up a forehand surprisingly explosive for her size.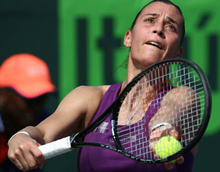 Flavia Pennetta: From Francesca Schiavone to Errani, this generation of Italian women has dug into the red dirt of Paris with relish. Pennetta looks ready to mount the latest of their surprise runs, just a few months removed from her most significant title at Indian Wells. The 32-year-old Italian defeated two top-five opponents there in a display of determination against the elite. A semifinal at the US Open last summer marked Pennetta's best performance so far at a major, though. She has suffered some head-scratching losses at Roland Garros before.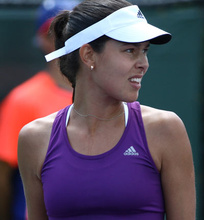 Ana Ivanovic: More dangerous recently on faster surfaces, the Serb won her lone major title to date at Roland Garros in 2008. Ivanovic has declined from her peak that year, when she reached the No. 1 ranking, and this surface will test her patience in point construction as well as her mental strength more broadly. She hinted at improving that weakness by ousting Serena Williams in the most notable upset of the Australian Open. Ivanovic wields one of the sport's fiercest forehands and can overpower anyone on any surface when striking it with confidence.
This article is from the May/June 2014 - Roland Garros issue

SOLD OUT

Subscribe now and you'll never miss an issue!