News & Views: The Latest Updates and Announcements in the Industry

ENDORSEMENT

DEALS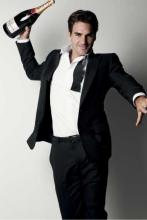 Talk about champagne wishes and caviar dreams, French champagne maker Moet & Chandon signed a five-year, $30 million deal to secure Roger Federer as a brand ambassador. The Swiss star is now reportedly earning $50 million a year in endorsements. Federer explained why he likes to sign long-term deals with sponsors: "In many ways, I've changed the way people think about athletes.
We do get judged very harshly on our success. Good today, bad tomorrow and boom – finished. But I have helped people understand that you can actually plan in the long term, and that's why I only sign deals in the long term with people. I believe if we're going to accomplish something, you need more time for it."
Victoria Azarenka became the first tennis player to partner with the energy drink giant Red Bull, signing a multi-year deal. Her management team Lagardere Unlimited said it was a natural fit: She has a certain swagger about her that's consistent with the Red Bull culture. Azarenka also has deals with Wilson, Nike, MuscleTech, Six Star Pro Nutrition, Citizen Watches and Tourna Grip.
Milos Raonic teamed up with New Balance to debut a new line of tennis apparel and shoes in 2013. New Balance cited the 22-year-old Canadian's meteoric rise in the rankings as the reason he was selected to represent the company, while Milos talked about the importance of working with a strong, family-owned company.
A new brand of tennis apparel will soon hit the courts as Czech Tomas Berdych steps into the role of H&M's first tennis brand ambassador. The 27-year-old top 10 player will also wear H&M clothes off court. The Swedish clothing company reportedly inked a long-term deal with Berdych, who had been playing in clothes without a brand name since his deal with Nike ended in 2012.

Rolex became the official timekeeper of the ATP World Tour on Jan. 1, 2013. The luxury watch brand has long been associated with tennis in the form of endorsements by stars such as Roger Federer, Ana Ivanovic and Caroline Wozniacki. In addition to the multi-year partnership with the ATP, Rolex also renewed its sponsorship of the year-end World Tour Finals held in London at the O2 arena.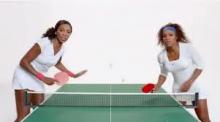 No, you're not dreaming – that really is Serena and Venus Williams playing ping-pong against the stark white background found in ads for all Apple products. "Ever have a really cool dream?," the narrator in the iPhone 5 commercial asks as the Williams sisters step up to the ping-pong table. Despite the lack of dialogue, Serena and Venus show their acting skills as they lose the point and storm off camera.
Johanna Konta (No. 153) and Jarmila Gajdosova (No. 166) became honorary Williams sisters when they were selected as official brand ambassadors for the EleVen By Venus Williams line, starting at the 2013 Australian Open. No word yet on whether Konta or Gajdosova will be following in Venus' footsteps by wearing flesh-colored shorts.
Rising star Heather Watson scored an endorsement with Benefit Cosmetics after she became the first British woman to win a WTA singles title in 24 years. Proving that beauty is more than skin deep, the makeup company said a big part of their decision to partner with the 20-year-old Watson was her "warm, sunny disposition."
OFF

COURT
CSI Double Fault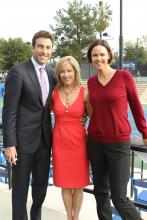 After retiring from the pro tour in 2007, Justin Gimelstob launched a second successful career on television as a Tennis Channel commentator and with appearances on "The Tonight Show with Jay Leno," "The CBS Early Show," and "Good Morning America Now." On January 23, he debut in his first scripted, primetime show by joining Chris Evert and Lindsay Davenport as guest stars on CBS's "CSI: Crime Scene Investigation."
Gimelstob filmed his scenes over three days in late November at Universal Studios in California. In the episode, two female tennis players are pitted against one another at a big-stage tournament – and one ends up dead.
All three retired pros play themselves in the episode.
"Luckily," said Gimelstob, "I have 35 years of experience doing that."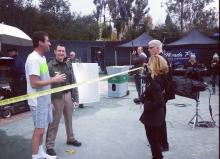 The tennis trio stars alongside Ted Danson and Elisabeth Shue, an avid tennis player who has previously participated in Evert's charity events in Boca Raton, Fla. In her weekly role as Julie "Finn" Finlay, Shue interrogates the players after Gimelstob discovers the body.
Gimelstob, who is proud to share New Jersey roots with Shue, said he enjoyed talking with Danson about his days on "Cheers" and joking with Davenport and Evert from the make-up chair. He is pleased with the finished version, although he has a new respect for all the time and repetitive effort that goes into creating each 60-minute episode.
"One of my biggest problems with tennis portrayed on television is they don't make it look realistic, but I thought they did a nice job. The two women they cast were excellent players, Lindsay looked great, Chrissie was awesome, and my part was a lot of fun," Gimelstob said.
"It's great for tennis and I'm glad to be a part of it," he added, "but I didn't catch the acting bug." –Cindy Cantrell
---
Today, Juan Martin del Potro is comfortably back in the top 10, but after his May 2010 surgery to fix a tendon in his dominant right wrist, his future as a tennis pro was unclear. No stranger to adversity, the 2009 US Open singles champion says he fought towards a comeback using big strokes, including his favorite, the forehand. "I can create a lot of power and acceleration with it," he told Tennis View Magazine. "I believe I have a very simple preparation and a very normal grip; I believe in simple things."
He says competition is tough at the top and that the men have unique talents and are all-round very good and dangerous players. Del Potro's objectives this season are to play well and win tournaments. "I will try to reach all my goals in my career, but unfortunately, I am not the only one playing for the titles. Other players have the same goals, and hopefully we will fight for it."
Turn to p. 30 in the print edition where the Argentine shows his softer side and expresses the important of family.
---
Pre-match rituals ensure Milos Raonic takes to the court emotionally steady. "I sit there listening to some music or talk with my team. I try to keep relaxed and focused while keeping it within my comfort zone," Raonic says, adding, "I listen to motivational tracks with quotes from Mohammed Ali and various movies and music – I change often depending on what I am enjoying at the moment."
Turn to p. 32 in the print edition to learn how the Canadian plans to rise up the rankings this year.
---
No One Wants To Be Defeated: The ATP unveiled a new global multi-million dollar promotional campaign with the tagline "BEAT THIS." Top stars Djokovic, Federer, Nadal and Murray are featured, naturally, but rising stars from the younger generation such as Milos Raonic and Kei Nishikori are also included. Previous promotional taglines included "Feel It" in 2008 and "New Balls Please" in 2000.
---
No more ink: Janko Tipsarevic revealed that his wife has forbid him to get any more tattoos. "I am currently on an embargo from my wife not allowing me to do any more," he admitted. Tipsarevic's most famous tattoo is a quote from Dostoevsky, "Beauty will save the world," in Japanese letters. He also has tattoos representing his family members' names, the sign of Cancer and a quote from German philosopher Arthur Schopenhauer. Janko recently credited the support of his wife Biljana as helping him succeed on the tour, so the ban on new tattoos will stand – for now.
ANNOUNCEMENTS
WEDDING ENGAGEMENTS
Maria Kirilenko to hockey player Alex Ovechkin – The announcement came on Jan. 31 via Ovechkin's Twitter account: "We are engaged !!!!!!! )))))))))"
Dominika Cibulkova confirmed her engagement to Miso Navara but says she's in no rush to set a date: "I would like to have a marriage in summer back home, but there is just no time while I'm playing tennis."
DATING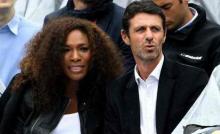 Is love more than just a score for Serena Williams and her coach, Patrick Mouratoglou? There have been rumors of the two dating since September of last year, although the pair has not confirmed a romantic relationship. At a press conference at the beginning of the year, a reporter asked Serena if she'd like to share the details. Serena's reply: "No, not really. Thanks for asking though."
Meanwhile, Maria Sharapova is rumored to be dating 21-year-old ATP player Grigor Dimitrov from Bulgaria. Neither of them has confirmed the relationship, but Sharapova laughed coyly when asked about it on the ESPN set during the Australian Open. "Oh, come on! You're putting me on the spot. I'm not saying anything." The two were first spotted together in Milan in December.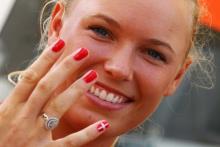 When Caroline Wozniacki was spotted wearing a diamond ring on her left ring finger, speculation ran wild that she was engaged to her boyfriend, golf star Rory McIlroy. After all, the pair has been very public about their romance since they started dating. Wozniacki squashed the gossip, saying that the ring was a Christmas gift that just happened to fit on that finger. "Twice we have already had to shut down engagement rumors. Don't worry, we will let you know if that happens," she said.
CHILD BIRTHS
Carlos Moya and his wife Carolina welcomed their second child, a boy named Carlos, on Dec. 12, 2012. Their first child, daughter Carla, was born in 2010. Philipp Petzschner and wife Dewi also welcomed their second child, a daughter Natami Aminah Petzschner, on Jan. 6, 2013. The couple already has a son, Aziz.
ILLNESS
Twenty-seven-year-old Ross Hutchins says he's starting six months of chemotherapy for Hodgkin's lymphoma, which is a cancer originating from white blood cells called lymphocytes. Fellow Brit Andy Murray dedicated his title in Brisbane to Hutchins. "He's one of my closest friends. He's going through a tough time just now. He needs all the support he can get," said Murray.
ATP Executive Chairman and President Brad Drewett has been diagnosed with Motor Neuron Disease, also known as ALS or Lou Gehrig's Disease, a disease of the nerve cells in the brain and spinal cord that control voluntary muscle movement. He entered "a transition period" as the ATP Board of Directors started to look for his successor. In addition to being a successful businessman, Drewett is a former player with a career-high singles ranking of 34 in 1984.
ACHIEVEMENTS
Thelma Coyne Long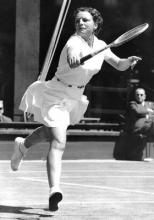 In a career spanning from 1936 to 1958, Australian Thelma Coyne Long won a total of 19 Grand Slam tournament titles. In recognition of her success, Coyne Long will be given the highest honor in the sport of tennis – enshrinement into the International Tennis Hall of Fame in the Master Player Category.
Eighteen of Coyne Long's 19 titles were achieved at the Australian Championships. To this day, Coyne Long remains the holder of several records at the tournament, which is now the Australian Open. She remains the oldest Australian women's singles champion (35 years and 8 months in 1954) and the oldest Australian women's doubles champion (37 years and 7 months in 1956).
With 12 Australian doubles titles to her name, she is the record holder for most Australian doubles titles won by a man or woman. She won 10 of those titles with the late Hall of Famer Nancye Wynne Bolton, and together, the pair holds the record for most Australian doubles titles by a team.
Upon retirement, Coyne Long became a coach and mentored many junior players in her home state of New South Wales.
At 94, the Sydney resident is the first of the International Tennis Hall of Fame Class of 2013 enshrinees to be announced. Stay tuned as more enshrinees will be announced leading up to the July 13, 2013 ceremony in Newport, Rhode Island.
19 Major Titles
2 Singles: 1952*, 1954
12 Doubles: 1936-1940, 1947-1949, 1951, 1952*, 1956, 1958
4 Mixed: 1951, 1952*, 1954, 1955, 1956 [Roland Garros]
*In 1952, Coyne Long completed an Australian triple, winning singles, doubles and mixed doubles titles, the same year she achieved a career best ranking of world No. 7.
---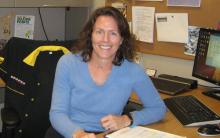 Babolat Marketing Director, Susan DiBiase, was awarded Person of the Year by the Racquet Sports Industry. When asked about the honor, she told Tennis View that she credits the entire Babolat team for her accomplishments. "At Babolat, all we do is tennis, and we've grown really quickly the last few years. We want to stay relevant to players and give them products to improve their games, and we want to grow the game of tennis, too," said DiBiase, who joined the racquet company in 2007. According to the most recent data available from Sports Marketing Surveys USA (Q3 2012 Pro/Specialty Audit), Babolat has had the No. 1-selling racquet at specialty stores every quarter since Q2 of 2007.
---
The 2013 Australian Open was Federer's 53rd straight Grand Slam; the record of 56 consecutive slams is held by South African Wayne Ferreira.
---
Twenty-one-year-old Wu Di became the first Chinese man to play in the main draw of a Grand Slam since 1959. He earned a wildcard into the 2013 Australian Open by winning a play-off tournament in Nanjing, China. Wu hails from the same hometown as French Open champion Li Na, Wuhan. The 186-ranked Wu lost to Croatia's Ivan Dodig in four sets in the first round.
---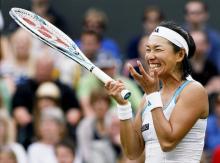 At age 42, veteran Kimiko Date-Krumm became the oldest woman to win a singles match at the Australian Open when she defeated Nadia Petrova 6-2, 6-0 in the first round. When asked what her secret to playing so well she said: "It's nothing. Just I eat a lot; I sleep a lot. Last night I was in the bed before 10:00. I finished the dinner already 7:30. Sleep before 10:00 like the kids."
---
The WTA celebrates its 40th anniversary in 2013 with a season-long campaign named 40 LOVE. The organization in 2012 saw an increase in attendance, TV exposure, digital reach, sponsorship and prize money exceeding $100 million.
This article is from the Mar/Apr 2013 issue

SOLD OUT

Subscribe now and you'll never miss an issue!