Murray vs. Djokovic, Untangling the Threads of the Sport's Next Great Rivalry

They met for the first time as 11-year-olds, both still exploring the sport that would one day consume their lives. Fourteen years later, these two men, born just a week apart, stood on opposite sides of the net in a pulsating Rod Laver Arena. Not just as peers, but as friends. Novak Djokovic and Andy Murray contested their second straight major final at the 2013 Australian Open, a sequel to the five-set epic that the Scot had won in New York. This match did not extend so deep into the night, instead steadily shifting in the Serb's direction after Murray claimed the first set. His third straight victory in their rivalry, Djokovic's four-set triumph confirmed his current ascendancy in a matchup that could dominate men's tennis over the next few years.
As Federer and Nadal start to recede, these two 25-year-olds aim to take their place atop the ATP. Both in the prime of their careers, neither has suffered a significant injury or a prolonged lull in form at the sport's most important events. Instead, Djokovic has matured into the undisputed No. 1 that many had predicted as early as 2008, while Murray has completed his rise to Grand Slam glory under the guidance of Ivan Lendl. The Scot surely has designs on the top spot as well, which—like Nadal with Federer—he can reach only by toppling the Serb from his throne. In their 20 meetings to date, the king of men's tennis and the man who would be king have revealed striking parallels in their approach to the game.
Although Djokovic is the more playful of the two and Murray the more cerebral, both embrace the physicality of the modern game with a relish that suggests their shared passion for the battle. Known for their outstanding stamina, they have engaged in gritty, grueling rallies throughout these clashes of steel against steel. The rivals possess virtually every shot in the book from anywhere on the court, and their sparkling returns often blunt each other's serves. (While each man struggled to break the other in this year's Australian Open final, that match should remain an anomaly. They combined for 35 service breaks in their two meetings at majors in 2012.) Djokovic and Murray also deploy two of the ATP's finest two-handed backhands, with which they can create penetrating depth or acute angles at will. For those weary of the serve-forehand combinations that have epitomized much of men's tennis, then, this rivalry offers a refreshing antidote.
Just as refreshing in a sense is the departure of Djokovic-Murray from the predictable narratives of most rivalries, even Federer-Nadal. Their already voluminous catalogue of collisions has unfolded as a series of twists and turns. We try to untangle the threads that the Serb and Scot have spun together.
Act I: Djokovic asserts himself (

2006

to spring

2008

)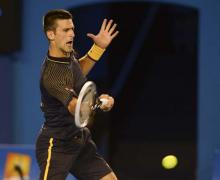 Faster to leap into international relevance than his friend, Djokovic lost just one set in their first four meetings. He remained injury-free during his development, and he brought a more confident (some might say brash) attitude to marquee matches than did Murray, as their respective body language reflected. At this stage, the Scot appeared to employ the more complete game of the two, but his wealth of options often complicated his thinking during matches, while the pressure of British expectations weighed heavily on his shoulders. For his part, Djokovic soared from emphatic victories over Murray in Masters 1000 semifinals at Indian Wells and Miami to achieve his first Masters 1000 breakthrough with a title at the latter tournament. Whereas one man scored occasional upsets of note, the other already had begun to win prestigious titles in a run that culminated with the 2008 Australian Open crown.
Act

II

: Murray emerges (summer

2008

to spring

2009

)
Like many first-time major champions, Djokovic suffered a hangover following his breakthrough in Australia. That lull provided the respite that Murray needed to assert himself in their rivalry for the first time. Mirroring Djokovic's triumphs over him at consecutive North American Masters 1000 tournaments in 2007, he swept past the Serb twice in two weeks at the summer events at Toronto and Cincinnati in 2008. The latter of those, a final, demonstrated how much Murray had improved in competitive willpower when it mattered most. He would go on to reach his first major final a month later in New York, while Djokovic's self-belief continued to stagger and focus to wander.
At this stage, one wondered whether the Scot might prove more resilient than his friend in the long term despite the latter's faster surge to success. Such thoughts flourished when Murray again won comfortably the next spring in Miami, the tournament where he had lost so decisively to Djokovic just two years before. Barely threatened by his fellow 21-year-old, Murray had reversed the tenor of their early meetings completely. The Serb now looked lost for solutions against a more poised, polished rival, whom he would not face again for nearly two years.
***Intermission: mid-2009 to late 2010***
Act

III

: The Serb strikes back (

2011

to spring

2012

)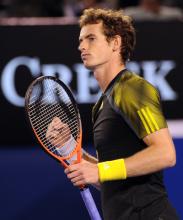 Dwarfed by the exploits of Federer and Nadal for much of the remaining period, Djokovic and Murray finally broke free from the shadows of those two legends at the 2011 Australian Open. There, Djokovic repeated his 2008 upset of Federer in Melbourne and Murray his 2008 ambush of Nadal in New York. The dual dethroning felt like an omen of the future as the two crown princes of the ATP braced to battle. But the match itself quickly veered into anticlimax—and even farce—after barely a set, turning into a triumphant statement of Djokovic's resurgence at his rival's expense. Halting Murray's momentum against him in its tracks, that overpowering performance would vault the Serb into one of the best seasons ever recorded by a single player.
Reaching No. 1 midway through that historic 2011 campaign, Djokovic outlasted an inspired Murray on the clay of Rome by the narrowest of margins but would retire from their Cincinnati final. Able to threaten even this transcendent version of the Serb, then, the Scot rightly gained confidence from his five-set loss to him at last year's Australian Open. Early in his partnership with Ivan Lendl, Murray had begun the process of acquiring his mentor's discipline while refining his weapons. An apparent setback in the Miami final, a miserable effort by Murray and a pedestrian effort by Djokovic, proved merely an outlier as this phase concluded.
Act

IV

: The Scot cracks the code (summer

2012

)
In retrospect, the seeds of last year's reversal in this rivalry may have been sown not just in their Australian Open epic, but also at the two majors that followed. Although they didn't clash at either Roland Garros or Wimbledon, the former dulled Djokovic's spirits as much as the latter invigorated Murray. Denied his quest for a Nole Slam at the final hurdle in Paris and stripped of his No. 1 ranking by Federer, the Serb brought little positive energy to the Olympics. Meanwhile, the Scot returned to the site of his first Wimbledon final just weeks after he had brought British hearts to a crescendo of hope. The two men played a pair of airtight sets with a berth in the gold-medal match at stake, and Murray's greater belief played the key role in winning the handful of points that tipped the balance.
A revived Djokovic looked likely to earn his revenge when he tore through the US Open draw, propelled by the desire to erase recent disappointment. Still without a major title, Murray had folded meekly at all four of his opportunities. Despite that unpromising combination, he won a whiplash-inducing contest in which he squandered lead after lead until the final set. The visibly edgy tennis and body language from both men revealed how much lay at stake for each, so Murray's arduous victory seemed to augur a clear momentum shift in the rivalry that would ripple through the coming months.
Act V: Novak the survivor (fall

2012

-?)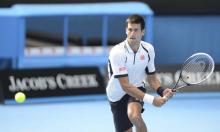 Such did not prove the case, however, as the trajectory of their matches again defied expectations. Saving five match points from Murray in an epic Masters 1000 final, Djokovic clawed to a Shanghai title that meant less on its own than it did in context. Similar in that sense, and in its result, was their round-robin match at the year-end championships, an event where the Scot tested the Serb more than any of the other top-eight contenders there. But Djokovic survived the early adversity in both of those matches, as he did at the Australian Open. Losing the first set in all three, he weathered the storm by refusing to budge an inch in court positioning or determination until Murray's challenge finally subsided.
While Djokovic holds the upper hand now, this rivalry has taught us that he will not hold it forever. Its seesaw history may veer again soon on the North American hard courts, where they have played nearly half of their matches. The rivalry of Federer and Nadal, that has never made it to the US Open, unfolded almost entirely during the European spring and summer with only the sporadic detour. In another contrast with what came before it, the rivalry of Djokovic and Murray may pivot the sport's dramatic center to a different surface and a different hemisphere, if it does claim center stage in the end.
The start of Act VI could come in Indian Wells or Miami.
This article is from the Mar/Apr 2013 issue

SOLD OUT

Subscribe now and you'll never miss an issue!