Milos Raonic Netting Results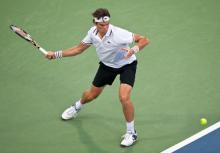 Blessed with a flexible shoulder and live arm, Milos Raonic has become one of the best servers – ever – in the ATP. Often clocking aces at speeds approaching 150 mph, he has designed his game around a relentless, high-octane attack. Finishing 2012 at a career-high ranking No. 13, Raonic is pleased with his progress, especially considering the hip injury sustained during Wimbledon 2011.
But he isn't satisfied.
"Although I feel I could have done better at some events, which would have helped me to finish higher in the rankings, it's a learning process. I want to do much better in 2013."
Much like his childhood idol Pete Sampras, Raonic has built a game around the serve and poise.
"I manage to stay calm and relaxed because I know that's how I will perform my best. It took me a long time to learn this, but I learned it when I realized I wouldn't succeed if I didn't."
He credits his coaching staff – former and current – for his development. Entering their third season together, coach Galo Blanco has trained Raonic to compete against the best, week in and week out.
At times, Raonic's game has been criticized for being too passive or maintaining a tentative court position. He says Blanco has worked extensively with him on developing a better baseline game, where Raonic says he's quite comfortable; but they also focus on net play, which, he admits, is a skill that's more challenging.
"We worked a lot on coming in and improving my movement. I felt towards the end of the year I was coming in much more, and it was helping. I need to hone my net game now so I have a lot more comfort up front."
Aware that aggressive play will aid him in reaching and sustaining a top spot in the rankings, the 6-foot-5 Canadian prefers to dictate play rather than run around his backhand on a regular basis. To utilize his talent and reach his potential, he says his game is dependent on constant offense, consistency and steady focus.
"I had some very good parts of the season. I know if I keep it up throughout the whole year, I should have the opportunity to be there with the top guys."
---
On transitioning onto different court surfaces: "I transition well to hard-court season but take more time training and adjusting for clay and grass."
On his prediction whether Roger Federer's 17 major titles would be broken: "Eventually it will, but I don't know the year, and that's the beauty of sport."
On the 2012 Summer Olympics where he lost to Jo-Wilfried Tsonga in an epic three-setter: "The best part was the eyes of all the athletes, especially the first-timers, always bouncing around taking in the biggest event of their careers…I loved the experience, especially meeting other athletes, and I was pumped to get a photo with [NBA star] Kevin Durant."
On worse career moment: "Has to be the injury to my hip that happened during Wimbledon 2011."
On best career moment: "My first time in San Jose [2010]."
Photographer: Pablo Sanfrancisco/Tennisclix
This article is from the Mar/Apr 2013 issue

SOLD OUT

Subscribe now and you'll never miss an issue!