Lucie Safarova, The Good, Fair Player From Czech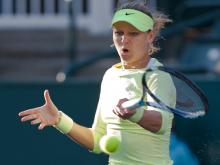 She's a top 20 player and star member of the 2012 winning Fed Cup team, but Lucie Safarova isn't content. The Czech woman dreams of winning a major.
"The feeling of holding the trophy over your head in front of a huge crowd, the happiness must be amazing," she imagines, adding that a Grand Slam victory is more important to her than reaching the elusive No. 1 ranking.
The lefty packs a powerful punch from both wings and takes the ball early with an attacking style of play, all of which helped earn her a No. 17 ranking in 2012 [a career high??]. If she doesn't eventually hoist a Slam trophy, Lucie assures, "I'm happy to play tennis at this level and do what I love to do for a living. Everything else is a bonus." Goals and dreams drive her forward, "but my happiness doesn't depend of achieving them," she says.
Tennis View contacted the 26-year-old, and while talking game and goals, we learned that among other things, she wants fans to remember her as "Lucie, the good and fair player from Czech Republic."
---
Teresa: Congratulations for breaking into the top 20 last year. Along your climb you beat Maria Sharapova and Agnieszka Radwanska among others. You're somewhat of a giant killer.
Lucie: Giant killer? That's funny to hear, but I agree that my game style is to play aggressive and fast. I think that's the key to beating top 10 players, to push them and take their time away and be precise in tactics.
TT: Is there a top 10 player you find most difficult to play?
LS: I think that Serena these days is most difficult to win against. She has power, moves well, great serve.
TT: How do you prepare for those types of matches?
Lucie: When I go on court against top players, I know I have to push myself to my limits. I like it, and I enjoy those matches. I like challenges.
TT: What do you need to improve to reach the top 10, and more importantly, to perform better at the majors?
LS: In order to be top 10, you need to be mentally, physically and tactically strong together 100% most of the year. In the past, I struggled with consistency of my game and had health problems a lot. Last season was much better, and my coach Biljana Veselinovic and I continue working on it with my fitness coach Kristian.
TT: The very top players compete with that consistency that you're talking about throughout the season. How difficult is it to sustain stamina and focus throughout the year while playing back-to-back events?
LS: In tennis, the season is very long, and it's really hard to perform great all year. With all of the physical load and extensive traveling, the key is to not drop too much in performance, to stay healthy and to fight through bad days successfully. It's hard because the competition is very strong, and you need to be tough physically and mentally on a daily basis.
TT: I'm impressed with your fitness and physical strength. What have you done off court in training to improve your strength and stamina?
LS: Seems like we found a good balance and right type of training with my fitness coach. I was not responding well to common fitness plans, and we had to find alternatives. I'm very thankful for that.
TT: Some of your personal best results – and the Czech Republics' best results for that matter – have been in team tennis like Fed Cup and Davis Cup. Why is that?
LS: Seems like we love the team spirit. In Fed Cup, we have great team and we are all friends, so it's pleasure to play always. We have a lot of fun through the week.
TT: How does the 2012 Fed Cup victory rate among your list of tennis achievements?
LS: To play at home in front of a full stadium – 14,000  people – was an amazing experience. I rate is as one of my biggest wins.
TT: What do you hope to accomplish professionally, short and long term?
LS: I like to take things step by step. So my goal for 2013 is to reach the top 15. For my career, I would like to reach the top 10 with the ultimate dream of winning a Grand Slam. I believe that if I focus on my game and keep improving that I will fulfill my goals and dreams.
Lucie Extras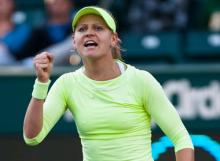 Favorite hobby: Watch movies, read a good book, hang out with friends, cycling, walk in the woods.
One thing you wish you could change about yourself: Not be so stubborn sometimes
You get to relive your childhood – what would you do differently: Spend more time with schoolmates. I had no time for it because of practices.
You hit with a ton of topspin, can you teach me? Topspin? Well let's make it easy: buy an airplane ticket to Spain and take lessons from any coach!
Describe Petra Kvitova and if you believe she'll win another Slam: We are from the same club and good friends. Petra is a very nice person and plays great tennis. Yes, I believe she can win more Slams; she has the game for it.
This article is from the Mar/Apr 2013 issue

SOLD OUT

Subscribe now and you'll never miss an issue!