Love-Hate, Tennis passion runs deep for WNYC radio host Amy Eddings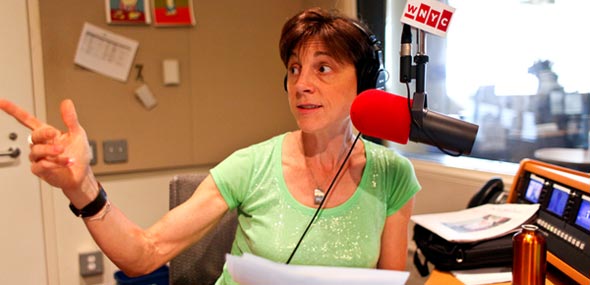 Amy Eddings hates tennis. Her loathing compels her to push her body to the limit in lessons and match play, with the goal of one day ending her husband's ability to return serve with a sneaky drop-shot winner. Her passion burns so white-hot that she schedules vacations around pro tournaments and visits to tennis academies such as Saddlebrook in Florida and Top Notch in Vermont. "I hate tennis because I love it so much, if that makes any sense," she says.
Okay, love-hate relationship may be a more apt description, and Eddings isn't the first person to feel this way. In his autobiography, Open, Andre Agassi wrote that he hated tennis "with a dark and secret passion." That shocking revelation was repeated throughout the book. "I hate tennis, hate it with all my heart, and still I keep playing," he said.
Where Eddings differs from Agassi is that she unequivocally loves her job. The Brooklyn, N. Y. resident serves up news as the local host of NPR's All Things Considered on WNYC, the largest public radio station in the United States. Off the clock, she pens a sardonic blog titled I Hate Tennis – a witty, introspective chronicle of her experiences on the court mixed with information about the current happenings on the pro tour.
She arrived at both her profession and her tennis passion later in life. Eddings earned a master's degree in Performance Studies at NYU and initially toiled as a legal secretary while struggling to find her true calling. Volunteering at a community radio station provided on-the-job training, and Eddings' innate talent eventually led to a reporter position at WYNC. She snagged the hosting gig in 2004.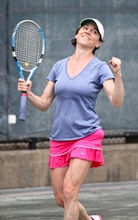 Her introduction to tennis came about in a similarly serendipitous manner. Growing up in Ohio among a family of six children, Eddings ceded athletic endeavors to her four brothers – they were "big jocks" she says – and instead pursued artistic fields such as theater and writing. Some of the athleticism rubbed off, however, in the form of a running habit. One day about ten years ago while jogging through Fort Greene Park in Brooklyn, Eddings hit a metaphorical wall.
"I consciously had this moment of thinking, 'I am so done with running,'" she recalls. "I am so bored. I used running as my tool for fitness and stress relief for years, and I'm done." As she was processing this epiphany, Eddings noticed a line of people waiting by the tennis courts and wondered about the sport that was so special as to gather a crowd.
The reporter instinct kicked in, and she jogged over to the courts to investigate, finding a sign posted on the chain link fence offering tennis lessons. Recently married, Eddings envisioned tennis as a fun activity to share with her husband, Mark, a hobby they could learn and play together. From that moment, tennis became an integral part of their lives. "It quickly moved from something that was just kind of neat, to 'Oh, my gosh, I love this, and I want to get really good at it, and I think I can get really good at it. I want to go for this,'" she says.
Eddings started taking lessons from teaching pros and joined a USTA 3.0 team. She and Mark became ardent fans of the pro tour, as they developed a fondness for attending tournaments.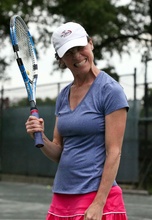 Her appreciation of the sport's top players combined with her own journey on the court inspired Eddings to start blogging two years ago. "I wanted a place where I could start developing some of my ideas about the game of tennis and how it's a great tool for developing yourself as a person," she recounts. In addition to honing the ability to focus and be in the moment, playing tennis has improved one virtue in particular: "Patience. I'm really learning a lot about being patient with myself and appreciating my game for where it is rather than being frustrated about where it is not."
Even though Eddings achingly wishes her racquet skills were at a higher level, the ups and downs of her game provide entertaining fodder for her writing. And that is what sets I Hate Tennis apart from other tennis blogs. "When I don't leave it all on the court, I leave it here," the site's tagline reads. Self-deprecating accounts of losses and setbacks are spun into humorous stories to which all weekend warriors can relate. "Why go to church on Sunday morning when I speak urgently and often with Him on court?" she wrote in an entry titled "Easy Like Sunday Morning….Sorta."
"Especially in singles it's a very lonely game; it's almost like stand-up comedy in that you're very exposed," Eddings says. She's referring to tennis, but the sentiment could also apply to the vulnerability of sharing her introspection with the blog readers she lovingly refers to as "Haters." One day, she may turn these musings into a book documenting what tennis has taught her about life (and herself), but for now, the journey is still in progress.
Name: Amy Eddings
Occupation: Host, All Things Considered on

WNYC

Education:

BA

, History, English, Theater, The Ohio State University,

1986

;

MA

, Performance Studies, New York University,

1989

Awards: Society of Professional Journalists' Sigma Chi Delta Award,

2003

; Newspaper Guild's Heywood Broun Award,

2003

; New York Press Club Feature Award,

2002

; International Radio Festival Bronze Medal,

1998

Blog: ihatetennis.com
This article is from the Nov / Dec 2013 issue

SOLD OUT

Subscribe now and you'll never miss an issue!