London Calling

Exclusive Interview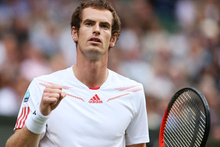 Michael Downey had just taken the reins as the president and CEO of Tennis Canada in 2004. That summer, he was showing ATP Chairman Mark Miles the Rogers Cup facility when they ran into a player arriving to practice. As they walked away, Downey asked, "Who was that?" Miles answered in disbelief, "That was Roger Federer!"
Nearly a decade later, in September 2013, Great Britain's governing body of tennis, the Lawn Tennis Association (LTA), announced a surprising choice from more than 350 applicants to replace Roger Draper: Michael Downey.
So how did a former beer executive from hockey-mad Canada who couldn't recognize one of the world's most famous athletes come to be chosen as the new head of British tennis? The answer lies in the success of Downey's nine-year tenure running Tennis Canada.
Far from being embarrassed by the Federer incident, Downey holds that story up as an example of his outsider status and how he turned a weakness into an effective management style.
The Great White North
Downey embodies the stereotypical Canadian: friendly, open and humble. The son of a schoolteacher and a marketer, he followed his father's footsteps by working as a marketing sales director for pharmaceutical company Warner-Lambert after graduating from the University of Western Ontario. That job exposed Downey to international business, including a two-year position in Indonesia at the age of 27, which he says was a "phenomenal experience."
Downey gained a background in sports as the head of sales and marketing for the Toronto Raptors of the NBA, and then for NHL's
Toronto Maple Leafs. He was serving as regional vice president for Molson, Canada's largest brewery, when the opportunity at Tennis Canada surfaced. Even though he doesn't play tennis, Downey knew he was right for the job.
"I made a good argument that your CEO doesn't have to have a good backhand. Your CEO has to be able to lead an organization and raise funds and develop a strategic plan," recounts Downey. He lived up to his promise by growing tennis participation in Canada 23 percent between 2008 and 2011 and increasing fan interest in the sport.
Although Tennis Canada is a nonprofit entity, Downey instituted for-profit thinking that focused on results with pay-for-performance bonuses. "What I'm most proud of is that the culture of this organization has changed under my leadership," he says, adding, "I really believe everything is driven by strategy. When I joined, we were spending $3 million or $3.5 million on tennis development. In 2013, we spent $12 million."
The commitment to development at all levels paid off with unprecedented results. Canada's first two Grand Slam singles titles at any level came just days apart as Eugenie Bouchard and Filip Peliwo won the junior girls' and boys' Wimbledon titles in 2012. The following year, Canada's Davis Cup team advanced to the semifinals for the first time since 1913.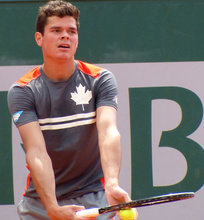 The crowning achievement of Downey's reign was Milos Raonic's ascension to the top 10. The 23-year-old's success on the pro tour captured national headlines even in the heart of hockey season. Raonic recalls how Downey supported him at the beginning of his career. "He's not just doing his job as a businessman," he told reporters. "He really cares about the players and has a good relationship with them."
Raonic has also spoken about Downey's passion for the sport and describes being able to discern his voice from the rest of the crowd at rowdy Davis Cup matches.
"There are two words I dislike in this sport, and they're called 'quiet please,'" Downey laughs. "I know why they're there and it's the tradition of the sport, but I really think you're telling your fans to be quiet and I just don't think that is the right approach. You want to engage your fans emotionally, and they've got to be able to let it out."
Cream of the Crop
The LTA's choice of a boisterous fan who doesn't play tennis – and isn't British – initially baffled the tennis world. Upon closer inspection, however, Downey may be just the shake-up British tennis needs to capitalize on Andy Murray's success while simultaneously reforming the organization's otherwise unsatisfactory results.
Downey's January arrival at the LTA came in the midst of turmoil and national scrutiny. Former CEO Roger Draper was criticized for failing to make good on outlandish promises – such as getting five British players in the top 100 by 2010 – while collecting an enormous annual salary package of £640,000  (about $1.06 million). At the end of 2013, Andy Murray was the only British man inside the top 150 while Laura Robson was the only woman in the top 100.
The lack of depth in British tennis at the pro level was matched by a decline in recreational participation, a problem that threatened funding for the sport. A government body in charge of allocating taxpayer money to support sports development cut LTA funding in the wake of a survey showing a 9 percent decline in the number of Britons playing tennis. Sport England was debating whether to provide another £10.3 million in funding just as Downey joined the LTA.
In contrast to his predecessor, Downey has a low-key approach to the job. His base salary of £300,000  (about $494,000  US) is a big reduction from Draper's earnings. He is also aware of the public sentiment regarding grandstanding. "I'm not going to make grandiose statements on what achievements we're going to make next year or the year after," he says. "Those kinds of statements usually come back to hurt you."
Leading the LTA
As a leader, Downey promotes transparency and communication to keep employees engaged. He arrived in London seeing his outsider status as an advantage that would allow him to approach the job with a blank slate, open to feedback from players, coaches and fans across Great Britain.
Downey lists his top three priorities for British tennis as growing participation, developing public facilities to encourage year-round playing and enabling high-performance success. According to his philosophy, the efforts are intertwined and can all be bolstered by a crucial element: national pride. That's where Andy Murray's achievements come into play.
"There will be very few players that win Wimbledon, the Olympic gold medal, the U. S. Open and the other great awards that Andy's won. We can't take that for granted," Downey says. He believes that Murray's success will have a positive long-term effect on British tennis. "People want icons, they want role models. It's about pride. The pride is what is going to get people talking more about tennis and eventually playing tennis more."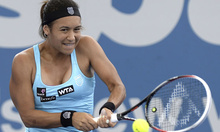 Downey also emphasizes the impact of female players such as Laura Robson, named WTA Newcomer of the Year in 2012, and Heather Watson, who in 2012 became the first British woman in 24 years to win a WTA singles title. "Tennis is unique in that the participation and fan base in most countries is evenly developed among men and women. This is one reason our sport is attractive to sponsors," he explains. "Laura and Heather can help inspire young girls to become more active through tennis."
A Second Chance at Life
Although he knows that expectations soar high, Downey welcomes the challenge before him with the same optimism that helped him fight a life-threatening illness. At age 50, the same age at which his father succumbed to cancer, Downey was diagnosed with rectal and prostate cancer. For 18 months, he balanced radiation and chemotherapy with his duties at Tennis Canada.
"Life's about opportunity, and I was lucky," he says. "I could have died six years ago, and you have to take advantage of these opportunities. If cancer taught me anything, it's that you're never too old. At 56, to have this opportunity is terrific, and I'm just going to make the most of it. I'm pinching myself."
Downey expresses excitement not only about leading the LTA, but also about traveling around Europe and experiencing new cultures. He credits the move to London for inspiring him to marry his partner, writer/producer Jinder Chalmers, in December of last year. "Tennis brought me Jinder," Downey says as he joyfully explains that the two met on a plane while he was flying to Vancouver for a Davis Cup press conference.
Another personal connection to tennis dates back to childhood. Downey recalls watching Wimbledon with his grandfather, Clarence, during summer visits. After the day's matches ended, the two would pick up their racquets and hit the community courts. "I know my grandfather, wherever he is, he's looking down and he's pretty proud of his grandson that I've not only had a great run at Tennis Canada, but I have the great opportunity of leading the LTA."
This article is from the July/August 2014 - Wimbledon issue

SOLD OUT

Subscribe now and you'll never miss an issue!