Kim Clijsters: A Legacy in Two Parts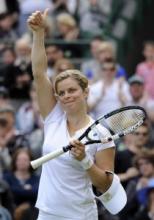 Life doesn't offer many second chances, but when Kim Clijsters came out of retirement for another round on the WTA Tour, she made the most her second career.
Tennis fans were thrilled when "Our Kim" announced her return to tennis in 2009, and for three years, Clijsters lived up to the expectation. Now she has announced that she will end her second career following the 2012 US Open.
In an exclusive interview with Tennis View, Clijsters talked about her biggest accomplishments and disappointments, her plans for the future, and what she hopes people will remember about her career as a professional tennis player.
Natural Born Athlete
Clijsters was born on June 8, 1983 in Bilzen, a city in Belgium with a population of just over 30,000  people. Although her father Lei played a professional soccer player and her mother Els was a former gymnast, Kim was drawn to the sport of tennis and by age six she was playing competitively.
Kim won the Belgian Junior Championship at age 11 and two years later joined a tennis academy in Antwerp, where she met Carl Maes, her coach for the first and last stages of her professional career.
First Career: 1999-2007
Kim played her first WTA Tour match in May of 1999, and by September, she had won a title and made her debut in the Top 50. She continued her ascent in the rankings and made a name for herself as a top player, but with the success came increased scrutiny.
In August 2003, Clijsters became the first woman to be ranked world No.1 before winning a major. Commentators like Patrick McEnroe reportedly said she wasn't mean enough or hungry enough to capture a Grand Slam title, and Kim had to answer some tough questions about her desire until she was finally able to hoist a major trophy after winning the 2005 US Open. Following the championship match, Kim told reporters that the previous losses in the 2001 and 2003 French Open finals motivated her to work harder.
Frustrated by injuries, Kim predicted that she would retire from tennis by 2007 and stayed true to her word. That year she won her 34th title and left the game while ranked world No. 4. As much as she loved tennis, Clijsters was ready to start a family with her husband, American basketball player Brian Lynch. In February 2008, Kim gave birth to her daughter Jada.
Second Career: 2009-2012
Kim has said that she didn't have much time to miss tennis during her two years away from the tour. Less than a year after her daughter was born, she lost her father to cancer. Once she started training to take part in an exhibition at Wimbledon, however, she found that the desire to compete was still there, and she returned to professional tennis in August 2009 with immediate success.
Not only did Kim win the 2009 US Open as an unseeded wild card entry, she did it having played just two other tournaments after the birth of her daughter and became the first mother to win a major since 1980.
Her return to the tour was marked by a sense of maturity and focus on balancing her personal and professional obligations. "I think you get to know yourself better — your body, your emotions — I think that's something that everybody [experiences] as they get older. You just learn more about yourself," Kim explained to Tennis View.
"I think I used to be very insecure…in that sense, it wasn't easy being young and thrown into that lifestyle: having good results and being in front of the press, it wasn't easy. There were definitely moments when I was insecure."
The new Kim was far from insecure. She defended her US Open title in 2010 and backed it up with a victory at the 2011 Australian Open.
The Decision
In 2012, Kim again found herself reaching the decision to end her career as a professional tennis player, but she says this time it was different.
"It's easier this time because obviously the first time I was a lot younger and although I felt really strongly aboutstarting a family and getting married," Clijsters said. "This time, the whole second career has been such a bonus, and I never expected that I would be playing again. I'm just glad that I got the opportunity, and that my husband and my daughter, that we traveled together and that we took this adventure on together."
While she definitely won't miss the grind of traveling – the planes, the packing and unpacking – she will miss the social aspect of playing on the tour. But Clijsters feels good about what she's accomplished.
"In general I'm proud when I look back on my career that I always gave 100 percent in what I did," she reflected. "When I'm done, I won't say 'Oh, I should have done this better or I should have done that,' and that's a good feeling to have. That's what I'm probably the most proud of."
If you ask Kim to talk about her greatest disappointments, she will show her typical positive attitude towards life: "I think everything happens for a reason. I would have liked to have fewer injuries so I would have been able to play some important tournaments that I missed, but I can't blame myself for the injuries that I got."
The Importance of Being Nice
Roger Federer is fond of the saying, "It's nice to be important, but it's more important to be nice." No player embodies that sentiment more thoroughly than Kim Clijsters, seven-time winner of the WTA Sportsmanship Award. The attitude that earned her reputation for being nice was an intrinsic part of Kim's character.
"Well, for me it's really easy. When I'm competitive, it's on court, so it has absolutely nothing to do with the person that I play against. Tennis is a sport, it's a game, and fair play is something that I was brought up with. Being respectful towards others is how I was brought up," she told Tennis View.
Tennis historians will record her 41 titles, 20 weeks total as world No. 1 and millions of dollars in prize money, but Clijsters would rather be remembered for how she treated people than for her professional success.
"I always try everyday to be a good person and to be nice to others, and I think that's probably the most important thing. I'm proud that I won tournaments and everything, but I want players to think that Kim was a nice person."
Legacy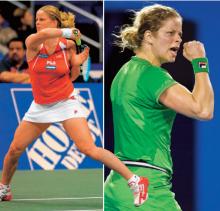 Kim's commitment to being a good person is as significant to her legacy as her work ethic. in 2011, TIME magazine named Clijsters one of "30 Legends of Women's tennis," making special note of her status as a "working mom."
Jon Wertheim, a senior Writer for Sports Illustrated, told Tennis View that Kim's upcoming retirement will be "a big loss for the fabric of the tennis tapestry." Wertheim said that the tennis community will miss her off-court attributes as much as her professional achievements.
"The tennis caravan will be immeasurably worse for Clijsters' absence – and not simply because it will lose a multiple time Grand slam champion and shoo-in Hall of Fame player," Wertheim stated.
"She proved that players need not be belligerently robotic to find success. From start to finish, she was authentically 'good people,' a kind and upbeat figure who competed fiercely but never lost perspective. she also proved that you can be an attentive mother and spouse and still have a successful career."
Fans, media, players and WTA staff will remember Kim's smile and easygoing demeanor. "Kim has been an outstanding and much-loved ambassador of our sport over a number of years," said stacey Allaster, Chairman and Ceo of the WtA. "I congratulate Kim on her excellent contribution to women's tennis. Her career achievements and ability to excel on the court as a working mother will mark her as one of the true icons of the sport. Her generous spirit and friendly nature will be truly missed by her fans and fellow players."
Life After Retirement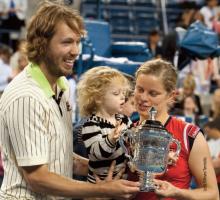 When Clijsters retires again after the 2012 Us open, she will be just 29 years old. so what comes next? the personal goal is to have more children. professionally, she plans to stay involved in tennis.
"I bought the tennis facility where I practice, and we're renovating that," Clijsters revealed. "it's going to be a really good all around tennis facility with yoga, healthy foods and a bunch of [other] stuff, [like] tennis courts with Hawkeye, so overall it's going to be a tennis facility that I wish I'd had." Kim says that if she could go back and give one tip to a young Kim Clijsters at the start of her career, she would simply tell herself: "relax a little more."
This article is from the Sept / Oct 2012 issue

SOLD OUT

Subscribe now and you'll never miss an issue!