Jerzy Janowicz's Financial Obstacle Course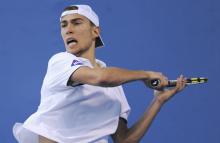 Jerzy Janowicz began 2012 competing at a small tournament in Barnstable, a sleepy countryside town in southwest England. With three gloomy spectators watching from an adjacent cafe, Janowicz lost in straight sets in the quarterfinals to a British player ranked world No. 499. He pocketed just $430 for his troubles, nowhere near enough, he says, to cover the week's expenses.
Fast forward to the 2012 Paris Masters, one of the largest tournaments in the world where Janowicz is ending his season toppling some of the world's best players, including U. S. Open champion Andy Murray, on his way to the final.
He would eventually lose to David Ferrer, but Janowicz's amazing run resulted in a climb to world No. 26 in the rankings, a nomination for the ATP Newcomer of the Year award and earnings of $310,022 , two-thirds the amount he collected during the entire 2012 season.
Tennis View caught up with the 22-year-old Pole to learn about his extraordinary challenges and journey.
---
Q: Jerzy, it's been many years since we've seen a young player make such a dramatic surge up the rankings. Having spent several years competing in the challengers and futures events (the lower levels of professional tennis), what changed for you in 2012?
Jerzy Janowicz: It's not a sudden improvement in my serve, forehand or backhand. Success in tennis depends on lots of small factors, and the difficult thing is putting it all together. You have to learn to understand yourself on the court, your limitations, how to make the most out of your style of play. My training had been virtually identical to the year before. The main difference has been in the mind. I've been a lot more aggressive in the rallies and making the first strike. I know I'm never going to be able to run from side to side without getting out of breath like (David) Ferrer or (Andy) Murray. So instead, the training and work we've done has all been focused on my style of play, which is about aggression.
Q: It's certainly worked out well for you so far. In Paris, many fans were surprised they hadn't seen more from you in ATP events in the past?
JJ: With big tournaments like the Paris Masters, the first hurdle has always been making the main draw. I haven't had too many opportunities. I've usually had to play qualifying, which isn't easy. Until Paris Masters, I had only made the main draw of ATP events a handful of times, and the lack of experience definitely affected me. Had I been able to get myself more chances, maybe this performance would have come earlier.
Q: You've spoken a lot about the difficulties you've had financially. Has this affected you getting opportunities?
JJ: Definitely. At the start of 2012, I couldn't afford to fly to Australia for Australian Open qualifying, which was extremely painful. I checked my budget two months before the tournament, and then I realized that it wasn't possible to play, as I had to save money to play a full schedule of smaller events. My ranking was good enough, and it's hard to know that you can't compete in one of the most important events of the year just because of money.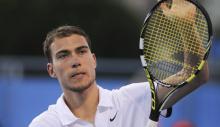 Q: How did you find the money to survive as a professional?
JJ: For the early part of my career, it was mainly my parents and some really close friends who enabled me to keep playing. Even if you have a good manager, it's hard to find sponsors in Poland. Until the end of 2008, start of 2009, I couldn't find any sponsors. I made the junior US Open final in 2007 and the junior French Open final the following year, but even after that, no one offered a sponsorship.
Q: Are other Pole athletes having this problem, or just you?
JJ: It's not just me; it's almost all the Polish players. Fortunately, three years ago, Ryszard Krauze [a wealthy Polish entrepreneur] began supporting us, and that's made a big difference to Polish tennis. Since then, we've seen many new players emerging and getting world rankings.
The firm PBG (an energy company) has also helped me a lot. I would have never got this far without them. I hope that things will change. Maybe my success will encourage people to launch new tournaments in Poland because there are very few. Maybe TV will start showing some of the matches of the Polish players, maybe someone will invest in some more courts. It's tough right now, but at the same time, while everyone is surprised why the Poles are so poor at sports, there's no interest in helping professional sportsmen. You can't succeed by willpower alone.
Q: Your ranking climbed to 26 after Paris Masters, and you'll be seeded at the big events in 2013. What's the point at which a player can start making a decent living from the game?
JJ: The world's top 50 all earn good money. If you're ranked 80-90, it's still hard. You're eligible for the Grand Slam tournaments, but for the other major events, you'll have to try and win through qualifying, which don't compensate well. In the Slams, everyone's trying to produce their best because for the lower ranked players, it's their only chance to earn some decent money.
When it comes to challengers, they're divided into several categories, and the smallest of these has a total prize money pool of $39,500  to be split between all the competitors. So basically, you can't make a living.
For example, earlier in 2012, I won a challenger in Rome, and along the way I had to beat Josselin Ouanna, Ernests Gulbis, Rui Machado and finally Gilles Muller – three of whom were ranked in the top 100. After income tax was deducted, I was left with about $3,700  for a week's work. Such an amount for winning a professional tennis tournament against such caliber of players is simply ridiculous. Out of that money, I had to pay for meals, my flight and my coach, so basically I ended up paying to compete in the event.
Q: Give us an idea of the kind of travel costs you have to cover?
JJ: For me, I spend about $43,000  a year on my coach, and then there are the costs associated with trips, flights, accommodations, meals and equipment. Expenses associated with trips are always double as my coach travels with me. In addition, food abroad is six times more expensive and hotel prices in countries like the US or Australia are crazy – $200 a night.
Q: Do you feel like you've been at a big disadvantage compared to players who are supported a lot from a young age by their federations?
JJ: For sure. They helped (Andy) Murray in Great Britain when he was young, the same with (Roger) Federer in Switzerland. Other countries support their players and potential future stars. I had to rely on the help of my parents, and luckily, everything has worked out. I'm also glad that I'm mentally tough and very determined. If someone says bad things about me, I just laugh them off. I stay strong and try to play my best.
Q: You've accomplished a lot for your country. The last Polish player to be ranked in the world's top 30 was Wojtek Fibak, who reached a career high ranking of 10 in 1977 and won the men's doubles at the 1978 Australian Open.
JJ: It's not an easy country to become a professional sportsman. Polish tennis is in a better state compared to 10 years ago – we have more indoor hard courts, many more players and overall the sport's much more popular, but it's still very difficult to find sponsors, and without sponsors, it's extremely hard. No matter how good you are, if you don't have money, there's no way you can compete in tournaments. The sponsors always appear when a player starts having success, and then they are useless! You need them from an early age so you don't have to worry about finding money for trips abroad.
Q: Through all of the hardship, have you ever considered quitting or changing careers?
JJ: Although it's been tough these past four years, I knew that tennis is what I really want to do in life, and I never gave in.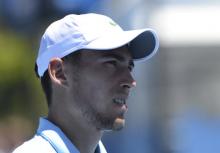 This article is from the Mar/Apr 2013 issue

SOLD OUT

Subscribe now and you'll never miss an issue!