EXCLUSIVE - Between Shots Agnieszka Radwanska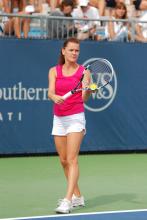 Agnieszka Radwanska, 23, has killer instincts and a calm under pressure demeanor that aren't limited to the tennis court; despite being allergic to bees, she came to the aid of a television reporter during an on-camera interview in New Haven, CT this summer by killing a bee on his shirt with her bare hands!
Tennis View's Alexandra Scuro recently chatted with the "private" Pole and learned about her goals, taste in music and much more.
---
MUSIC On my iPod you'll find everything – R&B and rap are my favorites, but also 80s music and Adele. I mix it up depending on the mood.
GOALS I'm really close to No. 1, so now it is my goal to be No. 1. I think this is a dream for every player, so I'm going to do everything in my power to do that.
SOCIAL MEDIA I'm a Facebook person. Twitter, you know, every hour saying where you are, what you do, I think it's too much. I just like privacy.
HOLIDAY BREAK I always take some vacation with my best friends, play exhibitions, and then just train at home. The winter is minus 20 degrees, but I just love being home and I can't imagine practicing anywhere else, even if there were better facilities elsewhere.
SPARE TIME My day is so busy, but in the evening, I try to go out to the cinema or bowling just to forget about tennis for a time.
BIG SCREEN The last movie in the cinema that I saw was Magic Mike, so it was a good one – it was a really good one!
OLYMPIC FLAG It was the honor to carry the flag for the Polish team, especially being that I was the first girl to do that in Polish history.
FINGER FIXATION I'm really obsessed with my nails. You can't find a picture of me without a manicure!
This article is from the Nov / Dec 2012 issue

SOLD OUT

Subscribe now and you'll never miss an issue!