Double Duty - Bob Bryan on Tour with Baby in Tow

Constant training, tournaments and travel make for a busy existence on the ATP tour. Add the responsibility of fatherhood and life can get very interesting.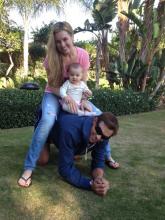 "The most difficult part in this whole experience is not being able to see my family often," Mikhail Youzhny, father of two young sons, Maxim and Igor, told Tennis View. "Unfortunately, at this point, I don't spend enough time with my family due to obvious reasons. But when I'm home, I try to spend all my time with my kids and wife."
Fellow dad Stan Wawrinka has a young daughter, Alexia. When he's not on the road, his typical day involves quality time with his girl.
"I like waking my daughter in the morning and walking her to school," says the Swiss No. 2. "After I collect her from school in the afternoon, we play in the garden together. It's so wonderful being a father." He adds that the best advice his good friend, Roger Federer, offered him about parenting is: "Tennis is tennis. Life is life. Family is everything."
In celebration of Father's Day [June 16], 13-time men's doubles major champion Bob Bryan and father to 1-year-old, Micaela, took a break from practice and changing diapers to talk to Tennis View about the joys and difficulties of balancing work with family.
Tennis View: How involved are you with parenting duties? Can you describe a typical day?
Bob Bryan: I'm involved as much as possible. The day starts at 7 a. m. when I hear Micaela making sounds on the baby monitor. I go get her and bring her into our bed with my wife [Michelle] for an hour of snoozing, cuddling and playing.
A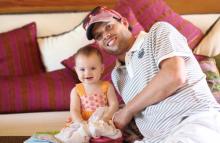 t 8 a. m., we take her into the kitchen, feed her, watch some cartoons and then put her in the big play area we've built in our living room. One of us usually plays with Micaela while the other washes dishes, bottles and pacifiers.
After Micaela's midday nap, we try to get her out of the house to the local park or to Rainbow Valley at the mall (a mini Disneyland for babies).
Before bed, we give Micaela a bath, read her a book and feed her some milk.
That's a busy day. Some men refuse to change diapers. How about you?
When I'm home and not in tournament mode, I try to change as many diapers as I can and give Michelle a little breather from some of her many daily baby duties. Being a mom is a full-time job and is exhausting, so whenever I can help, I know it's appreciated.
How has your personal routine changed since Micaela's birth?
Sleep, for one. Michelle and I definitely go to bed much earlier. Our days start at the crack of dawn and are full of activities. Also, with Micaela in my life, personal free time is a thing of the past. Those couple hours a day that I used to spend playing piano have evaporated. I now sit Micaela on my lap and let her bang on the keys or chase her around the house making sure she doesn't do anything too dangerous.
Tour travel is often said to be the biggest challenge of the job, and that's coming from players who don't even have kids. How do you manage?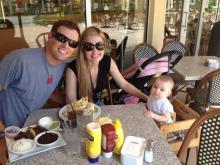 Now, packing for trips starts three days before departure. We travel with an incredible amount of luggage and getting it all ready is quite a chore. Travel crib, car seat, stroller, toys, baby food, wipies, diapers…the checklist goes on forever! But one thing I've learned, gate agents are much more lenient on baggage fees when you have a cute baby girl in your arms. Also, we now need to book big hotel suites on the road so we can put the baby's crib in the other room. A bad night's sleep can sometimes mean the difference between winning and losing.
Does Michelle absorb more responsibilities when you're competing?
My wife is Supermom! She blows my mind every day with how well she takes care of little Micaela. If I'm away playing a tourney, she definitely has it covered.
I bet Micaela jumps for joy when she finally gets to see you after a match or training.
Yeah, and that's the most difficult part, being able to keep up with the baby. A lot of times I'm physically exhausted from working out, and Micaela will want to play hide-and-seek for two hours. I'm usually the first one to cramp up!
Has anything about fatherhood surprised you?
The most shocking is that all the clichés people used to say to me are all true. My dad had told me that having a baby is like waking up to Christmas every day. It's true. When I go into Micaela's room in the morning, I feel excitement like a boy grabbing a present from under the tree.
Have you been given any useful advice you'd like to share?
Yeah – to go with the flow and trust your instincts. I had a lot of anxiety before the birth and bought some parenting books that I thought I needed to survive. I've now learned that everyone has their own style of parenting and there are a lot of ways to raise a great child.
What element of parenting has brought you the most pleasure?
Being able to add joy to my little girl's life. I now live to not only protect and provide for my family, but to make them smile and laugh.
This article is from the May/June 2013 issue

SOLD OUT

Subscribe now and you'll never miss an issue!