Daring To Be Different // The Non-Conformists of Tennis

Watching the typical tennis match unfold, a spectator becomes aware of the internal logic guiding players through rallies in the modern game. A wide kick serve opens the court for the first groundstroke, someone who runs around his backhand pays the price when he exposes his forehand corner, or a second-serve return fired at an opponent's feet draws a benign reply. Most players of this generation speak essentially the same tennis language, albeit with different accents, so an alert, experienced observer can understand and even anticipate their tactics.
Watching Alexandr Dolgopolov alternately dart, scramble, slice, chop and flick his way to the Washington title in August offered an entirely different experience. Not only did spectators and befuddled victims struggle to untangle the Ukrainian's tactics, but Dolgopolov himself sometimes seemed to spontaneously decide what to do with the ball nanoseconds before he struck it. His talent for improvisation and audacity in departing from conventional wisdom sets him apart from most—but not all. If you relish the unconventional and the charismatic, here are some characters to see on your next trip to a tournament.
---
The Visionaries
These players have developed an individual perception of the game, creating idiosyncratic strokes or distinctive strategies to maximize their strengths.
Alexandr Dolgopolov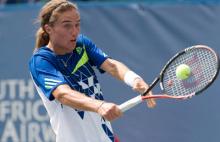 The epitome of a mercurial, charismatic player, this rising star hits hardly any stroke in the same way as the stroke before it—or as the typical pro would hit it. His sharply dipping backhand slice frustrated Djokovic through a thrilling first set at the US Open last year, bending and veering at unpredictable angles. A natural entertainer, Dolgopolov relishes his ability to confound and conquer, often changing the rhythm of rallies for no apparent reason. Also entertaining to watch is his loose-limbed service motion, which glides without a pause or tremor from the ball toss to the follow-through. Completing his bag of tricks is an uncommon forehand slice, not a diffident shot, but a deliberate ploy to draw a mid-court reply that he can attack. Dolgopolov does not rely entirely on guile, however, often choosing to follow one of his quirky gambits with a crushing forehand that freezes the opponent. Slightly resembling him is rising Australian star Bernard Tomic, who shares the Ukrainian's casual demeanor and taste for stark variations in groundstroke pace.
María José Martínez Sánchez
Among the very rare players who will run around a forehand to hit a backhand, the Spanish artist causes spectators to gasp with improbably deft drop shots from behind the baseline. Especially on clay, this tennis equivalent of a knuckleball dies inches after it crosses the net, leaving an opponent flailing helplessly. When both players come to the net, Martínez Sánchez regularly outwits women more comfortable at the baseline. Her ability to win without an overwhelming offensive weapon comforts those frustrated with the WTA's shift from grace and placement to raw power, while she has become one of the few women who plays her best tennis on clay rather than hard courts. Also adept at executing the unexpected is the Romanian Monica Niculescu, sometimes compared to retired French star Fabrice Santoro for her knack of summoning virtually any conceivable shot at will. Niculescu inflects her forehand alone with several different spins and speeds, redefining what most view as a standard offensive shot.
Milos Raonic
From Canada by way of Montenegro, this intimidating server has taken Federer to final sets three times in 2012. Dangerous behind his second serve as well as his first serve, Raonic has modulated the serve-volley approach into a serve-forehand combination in a concession to this era's superior returns and passing shots. Raonic especially favors inside-in and inside-out forehands that follow a wide serve with which he pulls his opponent off the court. Like the even taller American John Isner, he may have discovered how to update the traditional approach of huge servers without neutralizing their natural advantage over more ordinarily proportioned rivals. Both Raonic and Isner also take more aggressive swings at returns than did their serve-volley predecessors, who chipped returns and charged to the net. Their games stand where the past meets the future.
The Throwbacks
These players rely on a style rooted in the past but manage to adapt it successfully to the shifting demands of the present.
Ivo Karlovic:
Just under 7 feet, the towering Croat recalls his compatriot Goran Ivanisevic, who rode an unanswerable serve to the Wimbledon title a decade ago. While changes in technology and the evolution of the sport prevent Karlovic from replicating that feat, Nadal has compared the challenge of returning his serve to the task of a soccer goalie absorbing blow after blow. In an increasingly rhythm-oriented, baseline-bound ATP, Karlovic maintains a staccato style built around repeated attacks on the forecourt behind his serve. Slower surfaces and more precise passing shots have blunted this serve-volley strategy, but he still has sporadically confounded players as notable as Federer, whom he once defeated without ever breaking the Swiss superstar's serve. Karlovic's matches hinge on a tiny cluster of points, heightening the suspense for viewers and participants. Others carved from his traditional mold include colorful Frenchman Nicolas Mahut, his lefty compatriot Michael Llodra and the ageless Czech Radek Stepanek, who, like Llodra, is usually a greater presence in doubles than singles now.
Grigor Dimitrov
When Federer brought his elegant one-handed backhand to the ATP in the early 2000s, tennis had not yet modulated conclusively to a world of two-handers. Now, one-handers have receded to the realm of curiosities, as most leading men have realized the greater control and consistency generated by the backhand's less-graceful incarnation, which has become almost a secondary forehand. Grigor Dimitrov did not receive this memo, though, and his one-handed stroke harkens back to a time before tennis became so relentlessly physical. Coached by one of Federer's former coaches, the Bulgarian also shares his back-flexing service motion, which should stir memories of Federer long after he retires. In the WTA, the diminutive Spaniard Carla Suárez Navarro has honed a one-handed backhand that similarly evokes the gorgeous sweep of Justine Henin's favorite weapon, even as virtually every contender in the women's game grips the racket with two hands on that stroke.
Francesca Schiavone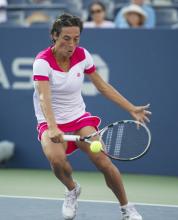 Capturing hearts with her magical Roland Garros title surge, this shot-maker departs from the WTA model of flat, heavy hitting from on or behind the baseline. Unlike her peers, who approach the net only for a comfortable swing volley, Schiavone will dart forward unexpectedly in the middle of a rally to take time away from a flustered opponent. Her dexterity at the net recalls a distant era in which players frequently charged forward and relied on their reflexes to instinctively cut off an angle or feather a drop volley. Gifted with uncanny touch, Schiavone also employs heavier topsin than most of her rivals, which has contributed to her success on clay. The Italian's skill at varying the pace, spin and height of her strokes should delight a connoisseur who values subtlety as much as power. As she ages, she may have passed her baton to compatriot Sara Errani, who rode a similarly feisty, imaginative and forecourt-minded brand of tennis to the Roland Garros final in 2012.
The Chameleons
Their strokes and tactics might not look strange, but one never knows what to expect from these players—except things that nobody else would dare to do.
Janko Tipsarevic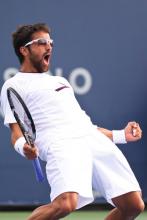 The second-ranked Serb, who surged into the top 10 a year ago, has sparked curiosity for the Dostoevsky quote tattooed on his forearm and for his stylish eyewear. But Tipsarevic also has developed into an enigmatic competitor, whose levels of effort can oscillate without warning. Extending Federer 18 games into a fifth set at the 2008 Australian Open, he capitulated petulantly to Verdasco at the same tournament three years later after he squandered three match points. This streak of perversity has added to Tipsarevic's reputation for eccentricity in a relatively vanilla ATP, as have his controversial postings on social media. Even more fiercely patriotic than Djokovic, he has acquired the defiant pugnacity that Serbia has shown on the international stage.
Andrea Petkovic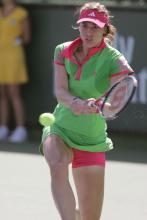 In addition to tennis, the German of Bosnian birth has explored many a potential profession from sports to music to politics. Among the most approachable women in the WTA, she has entertained media and fans with a self-deprecating humor and most notably with her post-match dancing. Fairly straightforward in playing style, Petkovic began at the 2010 US Open to celebrate each of her victories with a series of gyrating dance moves that became notorious as the "Petko-dance." Bored with that signature move by early 2012, she retired the Petko-dance in favor of an equally idiosyncratic moonwalk that followed its predecessor into Internet notoriety.
Often subordinating style to substance, this superb athlete has been accused of playing to perform rather than to win. Monfils sometimes will show off his electric right arm with ostentatiously explosive smashes, or he might leap into the air for a routine groundstroke just so that he can hit the ball between his legs. He might choose to play an entire match from 10 feet behind the baseline just to showcase his lithe court coverage, or he might attempt an extraordinarily difficult but impressive lob when an ordinary passing shot would do. Never missing an opportunity for theatrics, Monfils probably has not accomplished as much as his talents could have permitted, but he rarely plays a dull match or fails to enjoy himself on the court.
Conclusion
After winning the Washington title, Dolgopolov crumbled early at the Masters 1000 tournaments in Toronto and Cincinnati. His failure to sustain momentum typifies many of these players who cannot execute their tactics or master their moods as long as familiar contenders can. But their presence illustrates the diversity of tennis, where a variety of playing styles can succeed and proves that not every player must build a career in conformity with the norm. Inspired by imagination, these players create a compelling contrast of styles whenever they face a more conventional foe, which can entertain audiences while flustering favorites. The limitations and flaws that hold them back even as their talents propel them forward sometimes allow fans to identify with these athletes more easily than the near-perfection of the very best in the sport. If a Federer, Nadal or Williams demands respect, a Dolgopolov, Dimitrov or Petkovic awakens excitement and maybe a twinge of empathy.
This article is from the Nov / Dec 2012 issue

SOLD OUT

Subscribe now and you'll never miss an issue!