Zverev Dismisses Rublev 6-2, 6-3 To Win W&S Open

Zverev dismisses Rublev 6-2, 6-3 to win Masters 1000 title at the W&S Open
Alexander Zverev, world #5, had never won a match in Cincinnati. In just under an hour, he claimed his 5th Masters 1000 crown, second of the season.
Andrey Rublev, world #7, was 0-4 vs his countryman and world #2 Daniil Medvedev prior to their semifinal showdown. Medvedev, victorious in Canada last week where he won his 4th Masters 1000 title, last beat Rublev in the quarters of this year's Australian Open. Rublev lost each match in straights but last night turned the tables, roaring back from a set down to secure a spot in the finals.
Rublev also was 0-4 vs Zverev. They last played in the 4th round of the 2020 Australian Open and like the previous three matches, were lost in straights. Rublev was hoping that history would repeat itself as the twenty-three-year-old from Moscow sought to flip the script against the 2020 US Open finalist and win his first Masters 1000 title.
Rublev won the toss and elected to serve though in hindsight, probably wished he had chosen to receive. Following three unforced errors off the forehand, he dumped serve when he netted a backhand. Zverev wasted no time consolidating, holding at love for 2-0 with a huge inside-in forehand on game point.
Rublev, far from his A-game, donated three more forehand errors and dropped serve when another found the net. The twenty-four-year-old German, up a double break, hit repeat as he once again held at love, riding the wave of his opponent's mistakes to lead 4-0.
Rublev got on the board and did it emphatically, striking three aces for 1-4. Zverev opened the 6th game with his first ace and with another, held at love for the third time.
Rublev, not to be outdone by his opponent, opened and closed the seventh game with aces up the tee and held at love for the first time for 2-5. Zverev, serving for the set with new balls, threw in his first double fault but behind two additional aces and a crisp, crosscourt forehand volley winner, clinched it 6-2.
Rublev, in desperate need of an easy hold, missed 4/5 first serves and dropped serve when he butchered a makeable backhand. Zverev continued to hold with ease, hitting his fourth ace to consolidate the break at love for 2-0.
Rublev committed two additional forehand errors-one down the line, the other inside-out-yet held to 30 for 1-2, hitting aces on the last two points. Zverev reveling in the zone, threw in another double fault but held to 15 for 3-1 behind a well-struck backhand volley and an incredible inside-in forehand on game point.
Rublev continued to struggle on serve despite striking his 8th ace. He gifted his opponent three more forehand errors-the last to dump serve for the second time. Zverev, confident and composed, once again held at love hitting his fifth ace and a blistering backhand down the line on consecutive points for 5-1.
Rublev, refusing to capitulate, struck three aces, and held at love for 2-5, forcing his opponent to serve it out. Zverev, four points from victory, could not close as he missed 5/6 first serves and donated two double faults, the last to drop serve for the first time in the match.
Rublev, clutching this lifeline, could not consolidate nor capitalize on his opponent's nerves, losing serve and the match following three additional unforced errors.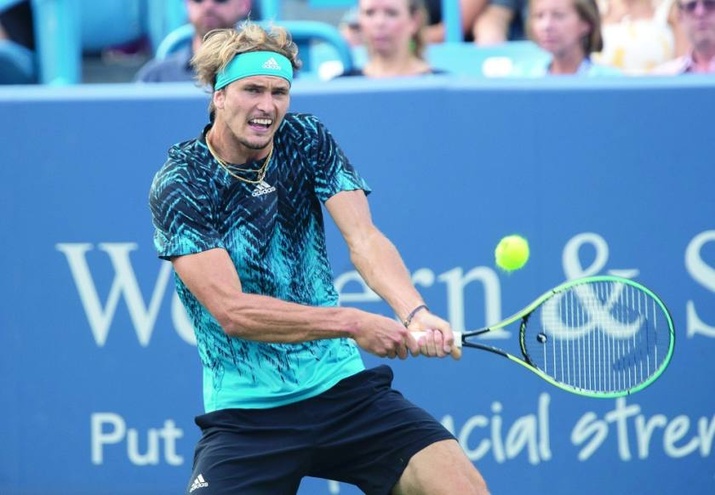 USA Today Sports
It was a brilliant display by the German given his three-set battle against Stefanos Tsitisipas and nausea the night before in the semis. Alexander Zverev came to Ohio to make some noise and he did that and then some.
It was an exceptionally clean match as he struck 16 winners to just 6 unforced errors. Although he had four double faults to six aces, he won 93% on first and 45% on second serve points and was 4/4 at net.
The 2020 US Open finalist has put himself in prime position to go one step further when the last slam of the season commences on August 30, 2021. With Roger Federer and Rafa Nadal missing the Open and the rest of the season due to chronic injuries, the field is flush with potential first-time grand slam champions.
Along with Sascha Zverev, two-time grand slam finalist Daniil Medvedev, Stefanos Tsitsipas, and Andrey Rublev will give Novak Djokovic all he can handle as the world #1 attempts to complete a calendar-year grand slam. All eyes will be on NY and this incredible roster of young talent.