WTA: Size Matters Not

The WTA Finals have concluded capping off what has been an exciting 2019 season. And though the finals have been marred by injuries that have resulted in both alternates having to step in to complete the round robin stage, there has been no shortage of entertaining tennis on offer. Ashleigh Barty took the title while a number of "smaller" competitors, including Belinda Bencic, and Elina Svitolina, battled it out in the latter stages, sending a strong message as 2019 comes to a close that this is hardly the era of "Big Babe" tennis.
None of that is to say that the heavy-hitters are struggling by any means. On the contrary, the field in Shenzhen includes a number of power players like Naomi Osaka and Bianca Andreescu – both of whom won majors in 2019 – as well Czech players Petra Kvitova and Pliskova. Even the alternates, Kiki Bertens and Sofia Kenin, are known as some of the bigger ball-strikers out there. And for sure, when a player boasts the kind of firepower that these women do, they are seemingly always going to be in more control of their own destinies. That said, the crop that has ultimately pulled through at this year's edition of the WTA Finals is refreshing and a positive thing for the women's game.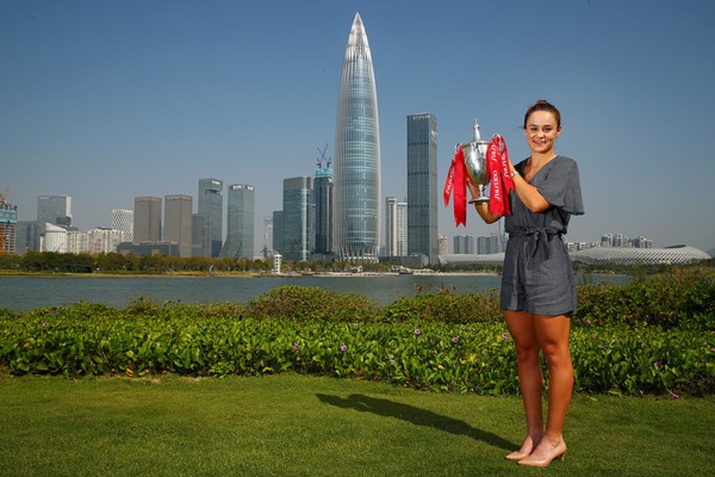 For starters, Barty, Bencic, and Svitolina could hardly be accused of being among the biggest ball-strikers on tour. In fact, three of the four are known for their scrambling ability, and Svitolina in particular could even be accused at times of being too passive and reliant on her exceptional set of wheels. But as a general rule, these women do not play the old-school defensive game, simply looking to make the opposition hit one more ball. Instead, they look to impose their own games by robbing their opponents of time and keeping them off balance. More often than not, they are up on the baseline or even inside it, taking the ball on the rise and able to change direction of the ball with ease. Their comfort zone as far as where they can sweetly make contact with the ball is larger than most, because it has to be. They have also learned to add more pop to their serves and can inflict damage on the return by more readily finding the short angles and going up the line, which allows them to frequently play a brand of tennis that is more imposing than their games would initially suggest.
Another element that makes these women so much fun to watch is the variety they bring to the court. Unable to rely upon flicking easy winners, they have to dig into their bag of tricks more readily to construct points. Barty and Bencic are exceptionally gifted at this. They can seemingly do anything to the ball with their rackets, be it to slice and dice, or use deft touch. Their transition games are also above par, making them entertaining, all-around players, and it is all of these skills that have allowed someone like Barty, the shortest of all the women in the singles field of Shenzhen, to not only reign supreme this past spring in Paris, but to rise all the way to her current rank of Number 1 in the world.
It has been wonderful to see these women go deep at the WTA Finals. It serves as strong proof that the sport has not passed those by who lack the physical height and power that dominated the game in more recent years. And perhaps most importantly, it demonstrates to players at all levels that success can be found no matter your size and stature, so long as you find your own gifts and maximize your own potential.