WTA Season in Review: The 10 Worst Matches of 2013 (Part II)

Our WTA columnists conclude their series of 2013 lowlights, which features plenty of familiar names.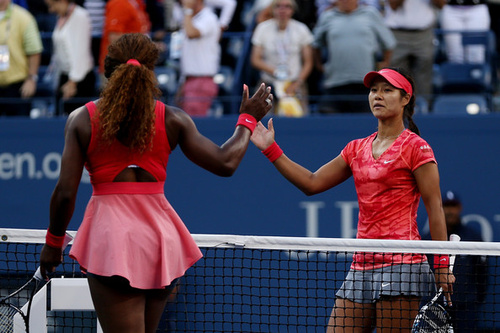 5. Serena Williams d. Li Na, 6-0 6-3, US Open Semifinal
There is nothing more disappointing than when a highly anticipated match fails to live up to the hype. Before the US Open semifinal between Li Na and Serena Williams began, many were projecting it to be the women's match of the tournament. After all, the two women had dropped just one set between them en route to their clash and were the most in-form players at the event. They had played a close match just three weeks earlier in Cincinnati, a match in which Li had served for both sets before falling 7-5 7-5.
Li's only career victory against Williams came after eating a first-set bagel, and she seemed on course to turn the match around as she broke serve to lead 2-1 in the second set. She raced out to a 40-0 lead in the next game but made five consecutive errors to drop her serve. As she had been all afternoon, Li was underwhelming in the key moments and watched helplessly as her game unraveled. While she forced Williams to save six match points while serving for the match, it was too little, too late and nothing more than a chance to postpone the inevitable. Typically, a one-sided score usually reflects the brilliance of one player or the struggles of another. This time, by contrast, both players ended the match with a negative differential in winners to unforced errors, but it was Li's stat line that proved to be the more alarming. Williams hit 19 winners and 20 errors, while Li balanced out her 24 unforced errors with just eight winners. If Williams, ever the harsh grader, was at C-level, then Li failed her major test.
4. Jelena Jankovic d. Li Na, 7-6(2) 7-5, Rome Third Round
Two veterans faced off in the last warm-up event before the French Open. 2011 Rome champion and 2013 Stuttgart finalist Li drew former No. 1 Jankovic, who was in the midst of a career renaissance. Still early in the tournament, both players were looking for extra matches to prepare for the second major tournament of the year. From the stats, it was obvious that each woman needed as much preparation as she could get.
The hot-and-cold Li sprayed 62 errors in two sets, a staggering number even for her. Looking to level the match, she broke the Serb's serve after a titanic game, only to surrender her serve rather limply in the next game and lose the game two days later. Jankovic looked steadier only by comparison, for she too was well below her best and battled through several more see-saw serve games to see off the flat Li. The loss proved prophetic for both. Jankovic would go on to reach the quarterfinals of Roland Garros, while Li sputtered in the second round. With the way that her game runs hot and cold, is it any surprise that Li features twice in this list?
3. Laura Robson d. Petra Kvitova, 2-6 6-3 11-9, Australian Open Second Round
There are times in tennis when a match is more competitive than the scoreline suggests. Other times, the score makes a match look more thrilling than it actually is. "Epic" is tennis' favorite buzzword, but the odds are that most matches given this "epic" tag are painful to watch. (How much of the record-breaking Isner-Mahut battle at Wimbledon do you actually remember?) The second-round match between Laura Robson and Petra Kvitova at the Australian Open falls into this latter category. Much buzz surrounded this early-round encounter. Robson, who had arrived just one slam earlier at the 2012 US Open, just missed out on being seeded in Melbourne. Kvitova, who was one match away from the No. 1 ranking in Australia in 2012, was far away from that form 12 months later.
The word 'restraint' does not exist in the tennis dictionary for these two lefties, and it showed for nearly every minute of the arduous, three-hour encounter. The pair struck 92 unforced errors between them and struggled on serve. Kvitova balanced 18 aces with 18 double faults, while Robson's erratic ball toss would have been expected in gale-force winds, not the still Melbourne night. Somebody had to win, and Robson did when Kvitova sprayed her final return wide. In triumph, the Brit delivered perhaps the understatement of the year when she called it "pretty ugly."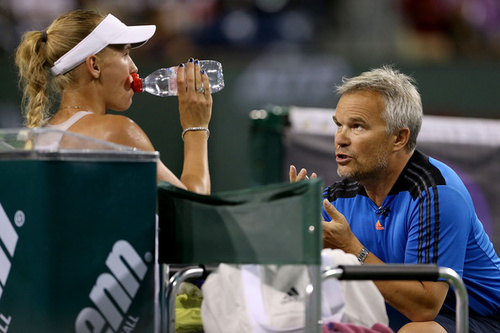 2. Caroline Wozniacki d. Angelique Kerber, 2-6 6-4 7-5, Indian Wells Semifinal
It was tough to rank this match ahead of Robson-Kvitova, for it had more patches of quality play. Kerber, who came into the match a winner of three straight meetings against Wozniacki, quickly showed why as she dominated proceedings in the opening set. It was after the opening set that the match descended into madness. As the moon rose over the California desert, the moon…balls rose on Stadium court.
Wozniacki, recognizing that Kerber struggled to handle the no-pace shots that floated above her head, began to use them as a legitimate strategy. Kerber, unable to physically make any adjustments, just sent them back with interest. However, a nearly-thre- hour match defined by one 38-shot rally that elicited laughter from the crowd because of its sheer ridiculousness deserves to be rewarded. Once Wozniacki seized control, she looked like she wouldn't give it back until Kerber rallied from 4-1 down in the final set to level proceedings at 5-5. Physically exhausted, the German meekly handed over the final two games with little resistance. Wozniacki could not have cared less because, just like many of the shots that left her racket over the course of the three-hour match, the Dane was over the moon to reach her third final at Indian Wells in four years.
1. Agneiszka Radwanska d. Dominika Cibulkova, 6-0 6-0, Sydney Final
2013 was far from the most compelling year in terms of matches and story lines, and perhaps the Sydney final began the year on the worst possible note. Both players had solid starts to the year, and they were undoubtedly looking beyond the Premier event and hoping to translate this form into Melbourne success. Dominika Cibulkova had a surprise run to the final, upsetting top-10 opponents Sara Errani and Kerber en route. But the big-hitting Slovak fizzled early against the more consistent Radwanska.
Hitting 36 errors in 12 quick games, Cibulkova could not get anything going in what was by far the ugliest match of the year. Despite reaching the final, the magnitude of this one loss derailed the diminutive giant-killer for most of 2013, an indirect blow to a WTA Tour that has come to expect its dangerous floaters to cause upsets. Whatever we can expect from the 2014 season, we can hope that it does not get off to a start as rough as what this year brought.
Victoria Chiesa and David Kane continue their look back at the WTA in 2013 next week with another two-part series of retrospectives.