WTA Season in Review: The 10 Worst Matches of 2013 (Part I)

What goes up must come down. After reviewing the best women's matches of 2013, WTA columnists Victoria Chiesa and David Kane begin their countdown of those least likely to appear on a highlight reel.
T10. Serena Williams d. Sara Errani, 6-0 6-1, Roland Garros Semifinal; Marion Bartoli d. Kirsten Flipkens, 6-1 6-2, Wimbledon Semifinal
The late stages of major are some of the highest-profile moments in tennis. Whether it be because of compelling head-to-heads, thrilling battles or surprise narratives, it is always nice to see those matches live up to their billing. Sometimes, however, they fall short. Preceded by another chapter in the fierce rivalry between Victoria Azarenka and Maria Sharapova, the second semifinal at Roland Garros failed to even reach the intensity of the previous match's warmup. A hampered Sara Errani, who was winless against Serena Williams, stood no chance against a zoning Williams on the other side. "I told myself: 'Serena, just concentrate' and that's what I did," Williams said following the match. Errani, the closest thing that the WTA has to a clay-court specialist these days, was overwhelmed by her opponent in less than an hour.
At Wimbledon, it was Kirsten Flipkens who was overwhelmed…by the occasion. This event marked the first time that Flipkens had passed the fourth round of a major. While an erratic Petra Kvitova couldn't capitalize in the quarterfinals, a motivated Marion Bartoli did so a round later. Bartoli won twice as many points as Flipkens, hit 23 winners to her opponent's 10, and wrapped up victory in just over an hour. After their underwhelming semifinal matches, both Serena and Marion put together scintillating performances in their respective finals to take major glory.
9. Ekaterina Makarova d. Victoria Azarenka, 1-6 6-2 6-3, Madrid Second Round
Injuries plagued Victoria Azarenka's 2013 season and set back the progress that she made in 2012 in more ways than one. Azarenka's first injury layoff came in mid-March, when she withdrew from Indian Wells prior to the quarterfinals and the tournament in Miami with an ankle injury. Still undefeated on the year, Azarenka returned in Madrid and barely squeaked by Anastasia Pavlyuchenkova to run her 2013 record to 18-0. She was still far from her best form, and Ekaterina Makarova, who has proved herself more than capable of pulling off upsets of big names, was just the person to take advantage.
Despite cruising through the opening set, Azarenka seemed indifferent, bewildered and panicked once Makarova upped her level as her own deteriorated. A petulant Azarenka received two code violations in the match. She first picked up a warning for an audible obscenity early in the second set and then was docked a point for racket abuse in the third set. It was after the point penalty that things really turned ugly, as Azarenka lashed out at oft-maligned chair umpire Mariana Alves. She took a swipe at the Portuguese umpire's officiating history, asking "After all you've done, how are you still in the game?" Anyone familiar with tennis knows of Alves' role in the controversy that surrounded the 2004 US Open quarterfinal match between Jennifer Capriati and Serena Williams, but in a match where she did no wrong, the personal attack was excessive. Makarova held on to win, but the story, as it was for much of 2013, was more about Azarenka's regression.
8. Zheng Jie d. Venus Williams, 6-3 2-6 7-6(5), US Open Second Round
The intermittent rain made Venus Williams' first singles match on Louis Armstrong Stadium in over a decade an all-day affair. Perhaps hoping to stretch out the party for a second day, she and Chinese giantkiller Zheng Jie conspired to make their second-round match as long as it could be. Playing in front of a partisan crowd, the elder Williams could not find her form after a strong hold to open the first set. But Zheng absorbed the American's pace and redirected it for winners. In the second set, the former Australian Open and Wimbledon semifinalist came completely undone, falling behind two breaks while Williams held things together long enough to extend the match.
In the final set, though, Zheng raced out to a 4-1 lead, even holding points for a double break of her own. From there, each time that Zheng had Williams on the ropes, she missed in any way imaginable. Rattled by the raucously xenophobic crowd, who screamed "Double fault!" and "Beat that Commie!" as she attempted to serve out the match, Zheng appeased onlookers by taking the match into a decisive tiebreak. For the first time in the set, Williams had the momentum. She responded with errors of her own, dumping a high volley into the net and spraying a backhand return wide to silence the crowd.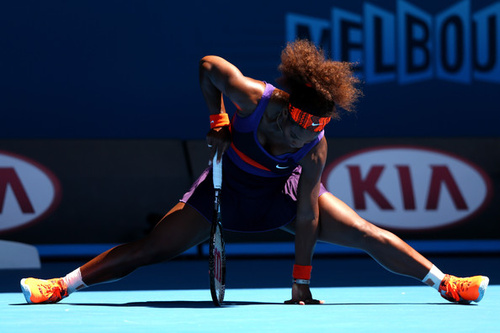 7. Sloane Stephens d. Serena Williams, 3-6 7-5 6-4, Australian Open Quarterfinal
Much has been made about what this match meant and what it began. There were those who saw the young Sloane Stephens, a star on the rise, defeat a Serena Williams who was one match shy of reclaiming her No. 1 ranking. These observers called it a passing of the torch. Others look on it as the match that began a season-long feud between the two Americans, one that featured several cryptic tweets from Williams and a very public character assault from Stephens.
But what actually happened in their Australian Open quarterfinal? Stephens, who sailed through a section missing its two highest seeds, was portrayed by the press as eager to play a woman deemed by both Stephens and the media as her mentor. After a closely fought Brisbane encounter, hopes were high that Williams/Stephens II would live up to the hype. By a set and 3-1, those in attendance were just relieved that the young No. 29 seed was able to break serve and even the second set. As Williams moved within two games of the semifinal, she tweaked her back running for a short ball and was never the same. Essentially left without her serve, Stephens saw her opportunity and began to miss wildly. Eventually, she steadied and allowed Serena to make more mistakes, surprising everyone (herself included) with a 6-4 third set. This match may have been many things, but, with a combined 87 unforced errors, "pretty" was not one of them.
6. Victoria Azarenka d. Jelena Jankovic, 4-6 6-2 6-3, Cincinnati Semifinal
Australian Open champion Victoria Azarenka may have pulled off a win over Serena Williams in the Western and Southern Open final, but it was a battle getting there. Against resurgent former No. 1 Jelena Jankovic, Azarenka looked on her way to a surprise exit when she dropped the opening set. From there, two of the best returners in the game engaged in what become a never-ending "breakfest," with only four service holds by match's end. With a combined 20 double faults, this was hardly a display of solid returns. Whenever a player looked to have the momentum, the other would respond with an unceremonious break of serve.
Azarenka was so disappointed with her play that she began reacting strangely, bending over and seeming to foresee the rise of the entire twerking phenomenon with otherwise out-of-place hip swiveling. She would finish off Jankovic in the end, but this match made the next round's win over Williams that much more unlikely given how poorly she and Jankovic played for hours the night before.
And it gets worse. Check back on Wednesday for the five greatest WTA debacles of 2013.