WTA Season in Review: The 10 Biggest Surprises of 2013 (Part II)

Our WTA columnists present the five most stunning plot twists of a season filled with drama.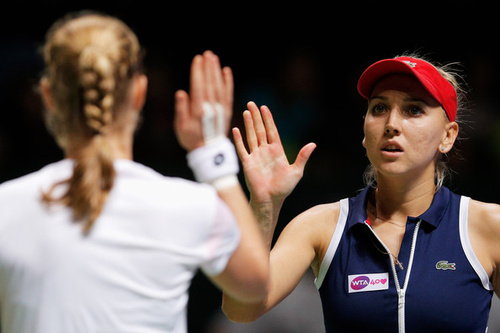 5. Elena Vesnina's year of firsts
One of the saddest streaks in tennis finally came to an end in 2013, when Elena Vesnina not only picked up her first WTA Tour singles title but added a second title for good measure.
After reaching her first WTA singles final in 2009, Vesnina proceeded to go 0-6 in WTA singles championships over the next three years. In those six finals, she won a total of one set. It was in that match, however, against countrywoman Anastasia Pavlyuchenkova at the International-level Istanbul Cup in 2010, where she had come the closest to tasting victory. Despite leading 4–0 in the second set and being a break up at 3–1 in the third, the match ended in heartbreak and tears for Vesnina as she was defeated 7-5, 5-7, 4-6.
Three years later, at the age of 26, Vesnina finally had her moment. The unseeded Russian dropped just one set en route to the final in Hobart, defeating Silvia Soler Espinosa, Yaroslava Shvedova, Jarmila Gajdosova and Sloane Stephens en route to the final. There, she overcame defending champion Mona Barthel. Following the event, Vesnina said that she was congratulated by many of her peers, including Andy Murray, for winning her first title.
Vesnina returned to the winner's circle in Eastbourne, her third career final at the Premier level. She was again unseeded coming into the event but defeated Ana Ivanovic, Heather Watson, Li Na, Yanina Wickmayer and Jamie Hampton to double her career title total in just a matter of months. As a reward for her singles success in 2013, Vesnina reached a career-high ranking of No. 21 on July 22.
Her year of firsts did not stop there, as Ekaterina Makarova and she triumphed in the doubles final at Roland Garros over Sara Errani and Roberta Vinci. Vesnina broke losing streaks all over the place in 2013, as she also had previously been 0-6 in women's and mixed doubles finals at majors. With the monkey finally off her back, it will be interesting to see how Vesnina backs up her career year in 2014.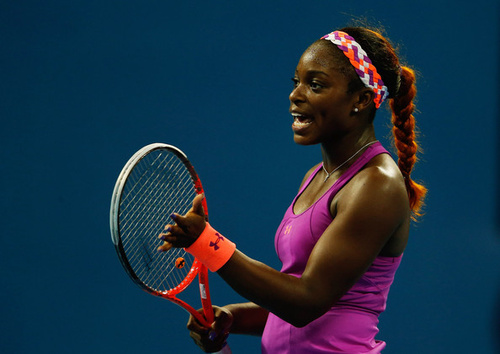 4. Sloane Stephens' autumn
Love her or hate her, the polarizing American had an undeniably impressive year at the majors. Although her opponents tended to be lower-ranked or, in the case of Serena Williams in Australia, hobbled by a back spasm, she handled the pressure in ways that will serve her well in years to come. After the US Open, many expected the youngster to punctuate her season with a WTA title, the one thing to elude her in 2013. In her last two events of the year, Stephens was seeded No. 2. Given the fields, it seemed reasonable that the Istanbul alternate could walk away with at least one of the trophies offered in Linz and Luxembourg.
Each time, however, top-ranked Swiss woman Stefanie Voegele stopped her in the quarterfinals. Voegele had produced a career week in Charleston earlier this spring, toppling Caroline Wozniacki after trailing in the third set, and she pulled off equally impressive escapes against Stephens. In Linz, she rallied from 2-5 down in the final set to win their first match. One week later, she recovered from losing the second set in Luxembourg with an emphatic 6-2 dismissal in the third.
On one hand, what had made Stephens' season so impressive was her ability to win the matches that she was supposed to win at the majors. On the other hand, her play at smaller events not only robbed her of valuable ranking points but also puts tremendous pressure on the young American to replicate these stellar major results in 2014. For all of the progress that Sloane Stephens made in 2013, it still feels as if she has nowhere to go but up.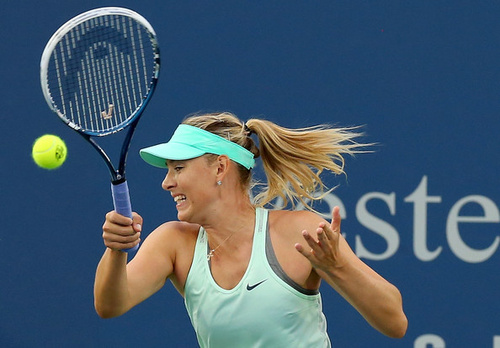 3. The second half of Maria Sharapova's season
Nothing about the first six months of Maria Sharapova's 2013 seemed out of the ordinary. Despite withdrawing from a warm-up event in Brisbane, Sharapova made the semifinals at the Australian Open before falling to Li Na. She won titles in Indian Wells and Stuttgart and also made the finals in Miami, Madrid and Roland Garros, finishing runner-up in each of them to Serena Williams.
From there, however, 2013 quickly turned sour (and not the flirty, sassy or silly sour one finds in her bags of Sugarpova) for Sharapova. When the Russian arrived on the hallowed lawn of Wimbledon, she first made noise off the court as she and Williams engaged in a war of words through the press over their personal lives. It did not get much better on the court for Sharapova at the All England Club. Like Roger Federer and Victoria Azarenka, she fell victim to Wimbledon's Wacky Wednesday when she was bundled out in the second round by Michelle Larcher de Brito.
Things stayed grim for Sharapova as she split with coach Thomas Hogstedt after three years and withdrew from Stanford and Toronto. After hiring Jimmy Connors as her coach, she dropped her opening match in Cincinnati to Sloane Stephens. She fired him following the match, just 34 days after she hired him. Sharapova's agent Max Eisenbud soon announced that she was troubled by bursitis in her right shoulder, the same joint that she had surgically repaired in 2008. Due to the injury, she withdrew from all events she was entered in for the remainder of 2013, including the US Open and WTA Championships in Istanbul.
Sharapova struck her last tennis ball in 2013 in her loss to Stephens in Cincinnati, but that did not stop her from making headlines in the fall. It was announced in November that Sharapova hired Sven Groeneveld to be her coach and that she is targeting a return to competition in Brisbane next year. With a new coach in tow, one of the major stories of 2014 will lie in whether Sharapova can again return from a long layoff and return to pre-injury form.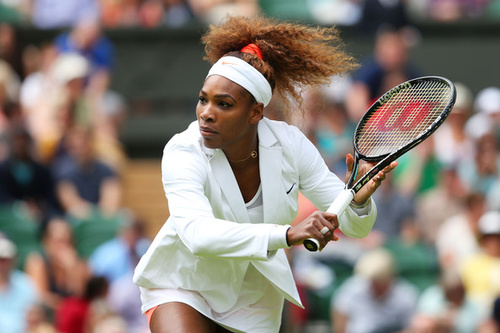 2. Serena Williams' greater dominance at non-majors than majors
When people talk about Serena Williams' domination of 2013, they do not exaggerate. Once maligned for being a "part-time" player, Williams reached a WTA Tour final in every month this year. The only month without a title? February, when she reclaimed the No. 1 ranking after a nearly three-year odyssey of illness and injury. Still, people typically associate Williams' dominance with major titles. Although her haul of two led all women, the lack of a true Serena Slam in 2013 felt like a shock.
In Australia, Williams was playing solid tennis at one of her favorite tournaments. Up a set and a break against Sloane Stephens, Williams was mere games away from reclaiming the No. 1 ranking and setting up two matches against opponents to whom she never has lost at majors. Out of nowhere, her back seized when she ran for a drop shot, and the American failed to put away her young compatriot.
Flash forward to Wimbledon, another tournament where Serena has enjoyed many of her biggest wins. Coming in as the Roland Garros champion, Williams drew Sabine Lisicki in the fourth round. The German, who had defeated the reigning Roland Garros titlist at the All-England Club three times in the last four years, took advantage of a suddenly tentative Williams to run away with the third set.
Few could argue that she didn't stand head and shoulders above the field in 2013, but her .500 record at the Slams might have been the biggest shock of 2013, if not for…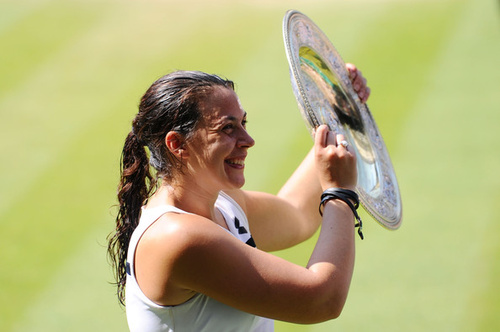 1. Everything that Marion Bartoli did in 2013
Taken in isolation, any news item involving the quirky Frenchwoman could have been considered the most shocking thing in 2013. First, she fired her father, her lifelong coach. Throughout her long career, Dr. Walter Bartoli was at times his daughter's only supporter. Marion once remarked how empty her player's box was compared to Caroline Wozniacki's after the 2011 Indian Wells final. Despite many advising her to seek the proverbial "second opinion," Bartoli had been steadfast in retaining him as her coach, a decision that cost her a spot at the London Olympics in 2012. Given that she went on to shock the world again by winning Wimbledon a year later, there is no doubt that she could have done some damage there.
Yes, Marion Bartoli…won…Wimbledon.
Over the years, Bartoli had proven time and again that she could beat the best players in the world: Justine Henin and Serena Williams at Wimbledon. Svetlana Kuznetsova at Roland Garros. Petra Kvitova at the US Open, then-No. 1 Jelena Jankovic at the Australian Open. Hindered neither by surface nor opponent, Bartoli could bulldoze nearly anyone when at her best. The only question that remained was whether the Frenchwoman could retain that form over a two-week tournament. From out-of-nowhere injuries to stamina issues, history had hitherto proven otherwise, but Wimbledon changed everything. Bartoli played seven drama-free matches that kept her so relaxed that she was able to take a 20 minute power nap ahead of her semifinal. In the championship match, she played a brilliant final game to serve out her first major title.
People hardly had time to get over the Wimbledon aftershocks when Bartoli suddenly announced her immediate and definite retirement from the sport. After losing a three-setter in Cincinnati to 2013 wunderkind Simona Halep, Bartoli tearfully announced she could not give any more to tennis and that she left with no regrets.
Marion Bartoli rarely ceased in her surprises during her decade on the WTA Tour. It seems only right that, in her career's final year, she went out with a bang.