WTA Season in Review: The 10 Biggest Surprises of 2013 (Part I)

Columnists Victoria Chiesa and David Kane continue their offseason series on women's tennis by looking at the most surprising events or headlines of 2013.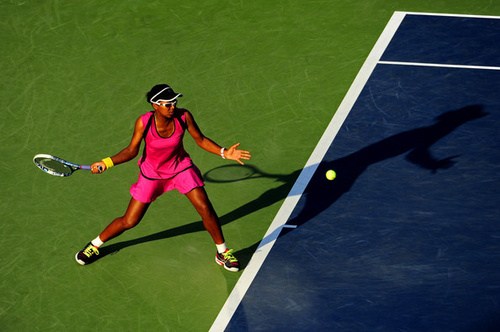 10. Victoria Duval strikes gold on Armstrong
For a set and a half on Louis Armstrong Stadium, young American Victoria Duval was having a solid but not sensational US Open. After battling through the qualifying tournament, the teenager drew 2011 winner Samantha Stosur in the first round. Although far from her peak in 2013, Stosur is still several cuts above Duval's usual opponents. Many were impressed at the American's staying power, making up for her meager serve with consistent returns and flashes of striking aggression.
Down a break in the second, it appeared that a summer of playing pressure points in Mylan World TeamTennis served Duval well, for the American showed steely nerve to break back and run off the last four games of the set. Playing only her second main-draw match at a major, Duval would not be satisfied with only one set. She continued attacking the Stosur backhand with relentless efficiency to edge ahead in the third. Despite squandering match points at 5-3, the 17-year-old showed tremendous poise in serving out the win, ending the match with a powerful forehand into the open court. The fairytale would end one round later, but in the fading light of the Billie Jean King National Tennis Center, a star was certainly born.
9. Sara Errani's US Open admission
When Maria Sharapova withdrew from the 2013 US Open, Errani was awarded the No. 4 seed and with it her own quarter of the women's draw. The pressure of being thrust into a situation where she was expected to win proved to be too much for the Italian, who meekly departed the tournament at the hands of her countrywoman Flavia Pennetta, 6-1 6-3, in the second round.
While losing to Pennetta, a former top-10 player in her own right, does not qualify as a shocking upsets, Errani's post-match press conference generated plenty of buzz. Often after losing a match, players deliver many of the same stock answers as to what went wrong. Departing from the usual mode, Errani was shockingly and perhaps refreshingly candid as she spoke openly of the pressure that came with such a high seeding.
"For me, [it] was difficult," Errani said about her loss. "I think the worst thing was the fight. Normally [it] is my best thing that I do on the court, and today was not good."
"For me, [the key] is to go there and fight," she continued. "If I feel that I'm not fighting good [because I feel] too much pressure … I don't want to go on the court.'
A player who cracked the top 10 seemingly overnight in 2012 showed just how much rankings and numbers weigh on the minds of tennis players, even if they try to convince everyone otherwise.
8. Coco Vandeweghe's feud with Yulia Putintseva
In the era of the "subtweet," people are less inclined to be straightforward about their feelings in favor of cryptic messages. Still, American Coco Vandeweghe let the world know exactly what she thought about Yulia Putintseva after the Kazakh teenager won their final-round match in Brussels qualifying. After winning the first set, Vandeweghe swallowed consecutive breadsticks while losing her serve six times. On Twitter, the American detailed a bizarre post-match encounter when Putintseva allegedly claimed that Vandeweghe was "all serve."
Outraged by what the American believed to be the "worst sportsmanship" on the WTA Tour, even Lindsay Davenport replied to tweet her virtual condolences. With no streams or witnesses to confirm or deny the story, all eyes were on Putintseva for a rebuttal. The lively Russian-born Kazakh did not disappoint, implying that her opponent was upset to have lost to a younger player. Putintseva would later clarify her statements and deny the entire incident, but the moment will certainly be remembered as one where players stopped being nice and started getting real.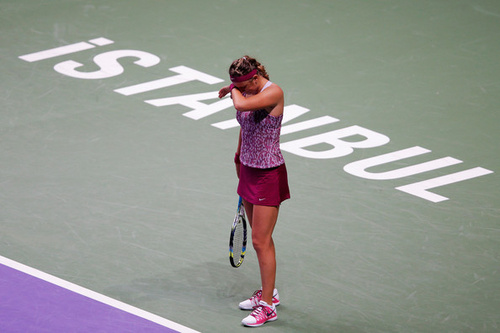 7. Victoria Azarenka's "regression"
At the end of 2012, Victoria Azarenka was on top of the world—literally. The Belarusian stormed to the WTA's summit by winning her first major title, coming agonizingly close to her second and bagging six titles in total. As Azarenka sorted out her body and mind in 2012, the two things which had previously held her back, much of the discussion coming into 2013 was centered around how much higher she could go. Nevertheless, the season started ominously for her when she was forced to withdraw from the semifinals in Brisbane with a toe injury that allegedly became infected from a pedicure. It was the first of seven withdrawals that Azarenka would give in 2013, which also saw her give walkovers in the quarterfinals of Indian Wells and second round of Wimbledonand withdraw from Dubai, Miami, Monterrey and Toronto.
As her body betrayed her, Azarenka's on-court mentality also suffered in 2013. Although she was thought to have corralled her trademark temper, Azarenka suffered from bouts of volatility in Madrid, where she suffered her first official loss of the year and berated Mariana Alves en route to it. Another such episode occurred in Cincinnati, where her serve reached new lows in a semifinal against Jelena Jankovic, and a third at the WTA Championships, where she slumped to a 1-2 record. A season in which she won her second major and defeated Serena Williams twice cannot be described as poor, but Azarenka's 2013 brought to light many of the same questions that her 2012 campaign was thought to have answered.
6. Venus Williams' run to the semifinals in Tokyo
In an injury-plagued 2013 season, Venus Williams dropped outside the top 50 heading into the US Open. Having struggled with a low back injury throughout the season, which forced her to withdraw from five tournaments, she arrived in Tokyo ranked No. 63. After easily defeating Mona Barthel in the opening round, Williams stunned Azarenka in the second round in straight sets. In her 6-3 6-1 defeat of Barthel and the 6-2 6-4 defeat of Azarenka, she tallied back-to-back wins for the first time since Charleston in April.
But Venus did not stop there as she rallied from a set and a break down to defeat Simona Halep in the third round and needed three sets to dispatch Halep's fellow breakout star in Eugenie Bouchard in the quarterfinals. Although her run was ended by Petra Kvitova in the semifinals, Venus Williams proved that she is still capable of producing some of her best tennis when her body allows her to do so. In a year when she played just 11 tournaments, Williams ended her season on a surprisingly high note.
Check back on Wednesday for the top five surprises of 2013.