WTA Season in Review: The 10 Best Matches of 2013 (Part II)

Our two WTA columnists, Victoria Chiesa and David Kane, return to complete their countdown of the 10 best women's matches in 2013—and add a surprise.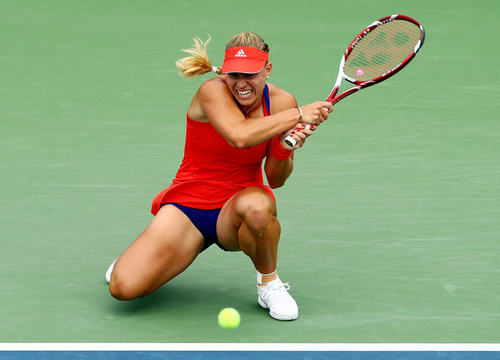 5. Angelique Kerber d. Eugenie Bouchard, 6-4 2-6 6-3, US Open Second Round
Kerber announced herself to the tennis world at the 2011 US Open, where she reached the semifinals. Just two years later, she found herself opposed on the same stage by one of this season's breakout players in Bouchard. Up until this season, Bouchard had struggled with her transition to the WTA from junior world-beater. It was in this match where the Canadian showed not just what she can achieve, but how much she had improved over the course of the year. She dictated the pace of play for the majority of the opening set, but Kerber's transition game and her ability to turn defense to offense on a dime turned the set in her favor.
While Bouchard showed she has the game to compete with the best, the match itself was decided by fitness and stamina. Bocuhard held steady and capitalized on numerous lapses from Kerber to take the second set, to the delight of a crowd that had gradually filed into Louis Armstrong Stadium over the course of the match. But the fierce rallies and pace of play took their toll on the young Canadian in the third. Kerber, who has earned her reputation over the past two years by outrunning and out-grinding her opponents, was just the player to take advantage of it. The teenager used her last reserves of energy to stave off four match points with Kerber serving at 5-3, but a fifth proved too much for her to overcome.
4. Serena Williams d. Svetlana Kuznetsova, 6-1 3-6 6-3, Roland Garros Quarterfinal
Much of Williams' fortnight in Paris felt like an exercise in inevitability. The American was fit, motivated, and clearly stood head and shoulders above the rest of the field. Playing both on her worst surface and at the site of some of her career's biggest disappointments, it was not unreasonable to assume that Williams would have to conquer some demons en route to what would only be her second Roland Garros title. Through the first week, she was calm and businesslike. Against a two-time Slam winner in Svetlana Kuznetsova, Williams continued to play calmly dominant tennis as she romped to a 6-1 opening set. The Russian was able to raise her game and take the second, but it was not until early in the final set that Williams' frustration would begin to boil over.
Seemingly unable to call forth her best tennis, Williams looked desperate and near tears as she fell behind by a service break and nearly another. Steeling herself at just the right moment, however, the American superstar worked through her nerves to finish off an old rival. The remainder of her run to the title might have been drama-free, but this match reminded the tennis world that the otherwise invincible Serena Williams is human, and how much a title on the terre battue meant to her.
3. Camila Giorgi d. Caroline Wozniacki, 4-6 6-4 6-3, US Open Third Round
The Italian prodigy may have spent most of 2013 dealing with the ill effects of a shoulder injury, but Camila Giorgi was in superb form by the US Open. Giorgi and her big game arrived in Flushing Meadows a week early for the qualifying tournament, rolling through the draw and building momentum over four matches. Under the lights in Arthur Ashe Stadium, she drew former US Open finalist Caroline Wozniacki who has struggled since losing her No. 1 ranking 18 months ago. In a match of tactical extremes, Giorgi played her trademark brash offense against Wozniacki's more subdued defensive style of play.
No stranger to hype but a relative newcomer to the game's biggest stages, the young Italian never stopped pressing through three grueling sets. Still, she kept her side of the stat sheet even as she wowed the New York crowd with screaming winners off both sides. Giorgi showed remarkable poise as she smacked one last forehand winner to take out the No. 6 seed on her serve. The win helped her reach the fourth round of a major for only the second time in her young career.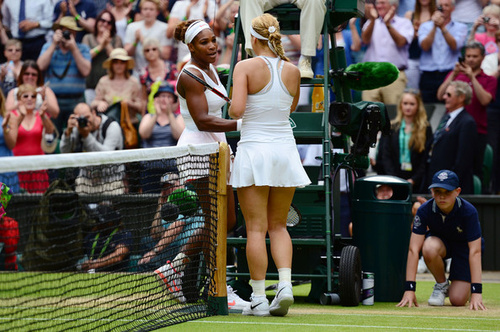 2. Sabine Lisicki d. Serena Williams, 6-2 1-6 6-4, Wimbledon Fourth Round
When Serena Williams steps onto the lawns of the All England Club, she is an overwhelming favorite no matter her ranking. Having come into Wimbledon 2013 as world No. 1 on a 34-match winning streak, she was the anchor of an upset-riddled women's draw as the first week ended. Both Sharapova and Azarenka, her closest rivals in ranking and name, were sent packing early. This year, a title for Williams seemed even more foregone a conclusion than usual. But Lisicki, a woman whose tennis runs hotter or colder than any subject of Katy Perry's recent singles, was on a streak of her own coming into their fourth-round encounter. In each of the past three years, Lisicki had defeated the reigning Roland Garros champion at Wimbledon.
Something had to give, and throughout the opening set, the top seed's game did just that. Struggling to deal with the German's booming strokes on her most preferred surface, Williams was uncharacteristically broken twice en route to losing the first set. From there, however, she appeared to right the ship as she won nine games in a row to take a 3-0 lead in the final set. In a match where neither player brought her best at the same time, it became a battle of who could steady her nerves. And it was Lisicki, for whom tears and disappointment on the biggest stages have become all too common, who pulled off what many felt was impossible.
1. Serena Williams d. Petra Kvitova, 3-6 6-3 7-5, Doha Quarterfinals
When Petra Kvitova took the women's game by storm in 2011, she ended the year as World No. 2 behind Caroline Wozniacki. However, pundits and fans were not looking forward to a potential rivalry between the Czech and the Dane. Instead, there was much discussion regarding how Kvitova would match up against Serena Williams, whose comeback from a life-threatening embolism was just beginning that year. Fast forward to little more than a year later, and the roles were somewhat reversed. Williams was just one match away from reclaiming the top spot in the rankings, while questions were continually being asked of Kvitova. Was her 2011 showing just a flash in the pan, or does she posses the game and the mentality to take it to the American?
For the majority of their quarterfinal match in Doha, the answer to that lingering question was the latter. Williams, who has typically struggled against counterpunching players who can defend against her powerful strokes, was the one doing the retrieving. Kvitova fired 14 winners en route to taking the opening set, and matched Williams in her greatest strength: the serve. Kvitova's game can unravel even with the most innocuous of players across the net, however, and Williams needed no further invitation into the match. She finished the second set by winning 12 of 14 points. Undeterred, Kvitova was back to her brilliant best early in the third set, and she found a way to take a 4-1 lead as Williams faltered. More than any other woman, however, Williams has the ability to snatch victory from the jaws of defeat. Her grit and determination brought her to another level over the final seven games, a level that Kvitova couldn't match. In the final tally, the two combined for 72 winners, 21 aces and were 19/20 on points won at the net. Beyond those stats, it is fitting that we name the match that put Williams back at No. 1, a perch she has shown no signs of relinquishing, as our No. 1 match of 2013.
Honorable Mention: Bethanie Mattek-Sands d. Anastasia Rodionova, 6-4 6-7(4) 7-6(3), Charleston First Round
One of the most memorable and entertaining matches of 2013 was an early-round encounter played on Charleston's storied green clay. Spectators and players alike surrounded the Althea Gibson Court to watch fan favorite Bethanie Mattek-Sands take on Anastasia Rodionova, the WTA Tour's curmudgeonly anti-hero, in a match that lasted nearly four hours. After leading by a set and a break, Mattek-Sands would again lead in the third, but Rodionova reclaimed the advantage each time.
The match would become truly interesting late in the final set when Rodionova injured her leg. Notorious for her on-court histrionics, the Australian spent most of one injury timeout throwing water bottles and hopping away from a trainer whom she felt was mistreating her. Despite all of that, the Russian-born Aussie still would have a match point that Mattek-Sands, with her back against the wall, saved with a stellar inside-out forehand. The American veteran at last would run away with the contest in a final-set tiebreak, catalyzing her resurgence into the top 50.
What goes up must come down. The next offseason series from Victoria and David will consider the 10 worst women's matches of 2013.