WTA Season in Review: The 10 Best Matches of 2013 (Part I)

The 2013 season in the WTA ended a week ago, so the time has arrived to reflect on its highlights. Tennis View contributors Victoria Chiesa and David Kane open their series of offseason articles with a look this week at the 10 best women's matches of the year. Nos. 10-6 appear today, and Nos. 5-1 will follow on Wednesday.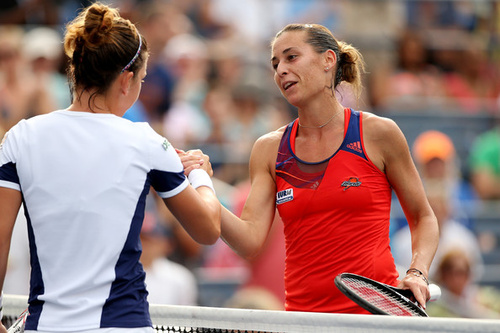 10. Flavia Pennetta d. Simona Halep 6-2 7-6(3), US Open Fourth Round
Flavia Pennetta's run to her first major semifinal at the age of 31 was one of the most compelling story lines of the season, but she never would have gotten there without putting on a masterful performance in dispatching the wunderkind of 2013, Simona Halep. The two women have similarly clean styles of play, so Pennetta might have felt as though she was looking both across the net and in the mirror in their fourth-round match. She was aided by perhaps the most convenient rain delay ever when facing set point in the second set, but the match unfolded with the feeling of the master showing the apprentice that she still has much to learn. Halep, who was seeded at a major for the first time at the US Open, did not dwell on her missed opportunity and won two more titles later in the fall to close out her breakout season with six. While she stumbled in her first chance to reach a major quarterfinal, it certainly will not be her last.
9. Kaia Kanepi d. Angelique Kerber 3-6 7-6(6) 6-3, Wimbledon Second Round
It was the kind of potential upset that those in tennis circles could see from a mile away, with the big-hitting yet seemingly perennially injured Kaia Kanepi taking on the unorthodox but notably consistent seventh seed, Angelique Kerber. This German lefty had spent most of 2013 coming down from the dizzying heights to which she climbed one year ago. Both women had reached the second week of Wimbledon before, and the two seemed evenly matched as the second set headed to a tiebreak. When Kerber gained a 5-1 advantage there, it looked as if Kanepi's lack of match play would halt her latest return from injury. But, in matches featuring only one aggressor, the match tends to stay in that player's hands. While Kanepi found a second gear, Kerber could only watch as the Estonian knocked her effortlessly powerful groundstrokes away for winners. The German would rally after falling behind two breaks in the final set, but it would not be enough as Kanepi hit one last winner en route to her fifth career major quarterfinal.
8. Victoria Azarenka d. Serena Williams 2-6 6-2 7-6(6), Cincinnati Final
For nearly two and a half hours, the 2013 final in Cincinnati seemed to be unfolding as a carbon copy of the last time that Victoria Azarenka and Serena Williams met in the United States: the 2012 US Open final. After splitting a pair of 6-2 sets, Azarenka led by an early break in the third before handing it back. Williams would serve for the match at 5-4, but it was there that Azarenka flipped the script on its head. She broke easily and held her nerve in one of the biggest tiebreaks of the year. From purely a quality standpoint, this match did little to excite, but it certainly delivered the theatrics. Azarenka's three career wins against Williams might not be enough to call their matchups a "rivalry." But, when playing her best, she at least puts the American under pressure. When Williams' level dropped, Azarenka still had to take advantage of the opportunity, and take advantage she did.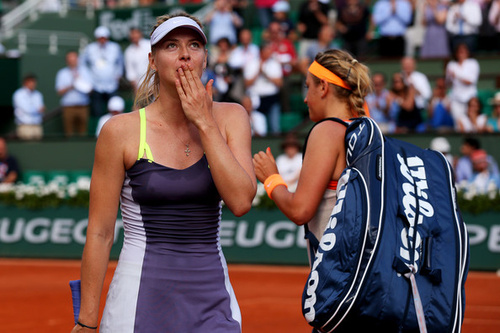 7. Maria Sharapova d. Victoria Azarenka 6-1 2-6 6-4, Roland Garros Semifinal
This is one of the few rivalries that brings out the best in each of its combatants. Maria Sharapova and Victoria Azarenka met only once at the majors this year, and the court advantage at Roland Garros was decidedly in the Russian's favor. While Azarenka has never been comfortable on clay, Sharapova has rarely looked comfortable against the Belorussian, who can absorb and redirect the 2012 French Open champion's pace with ruthless efficiency. As the semifinal got underway, Sharapova proved why she earned the "Claypova" moniker, thoroughly outclassing Azarenka in a 6-1 knockout of a first set. The second set was a tight affair between the former world No. 1s, but a steadier Azarenka and some loose points from Sharapova made all the difference as the rain came down to herald a decisive set. For those who doubt the Russian's competitive instincts, Sharapova made it clear that the match would be won on her own terms, going for every shot with palpable desperation. In the end, she fought through two marathon service games to fend off her rival and reach her second straight Roland Garros final.
6. Maria Kirilenko d. Sabine Lisicki 5-7 6-1 7-6(1), Pattaya City Final
Tennis matches are often categorized by swings in momentum, and this match was full of them. Lisicki led by a set and had chances to break in the second before Kirilenko reeled off a stunning nine games in a row. The Russian held double match point with the German serving at 2-5 in the final set before Lisicki hit back and had her chance to serve for the match at 6-5. But Kirilenko played an impeccable return game then to break serve and send the match to a fitting conclusion in a final-set tiebreak. The steadier of the two when it mattered most, Kirilenko came away with her first singles title in five years. In one of the WTA's starkest contrasts of styles, her all court-prowess held firm against Lisicki's size and power.