W&S Open: Bautista Agut Dethrones Defending Champ Medvedev

Roberto Bautista Agut (RBA), currently ranked #12, took out Richard Gasquet and the 11th seed, Karen Khachanov to reach back-to-back quarterfinals at this prestigious Masters 100 event. The 32-year-old from Spain defeated Daniil Medvedev three years ago in straights in their previous and only tour level meeting in the final in Chennai on outdoor hard.
Medvedev, the defending champion at the Western & South Open, knew he would face a harsh test in this quarterfinal contest. The 24-year-old Russian battled not just his opponent but windy conditions on the Grandstand court at the BJK National Tennis Center.
Due to the ongoing COVID-19 pandemic, the W&S Open was relocated from Mason, Ohio to Flushing Meadows, NY – the site of the US Open. This decision was rendered in the hopes of creating an insulated bubble where players – under strict guidelines- would compete and reside nearby in one locale for the next four weeks.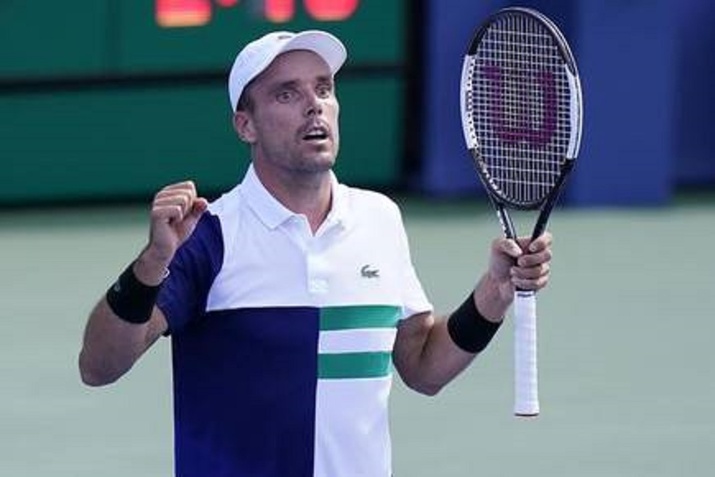 After putting on a clinic and clinching the opening set 6-1 in just thirty minutes, Medvedev appeared to be on cruise control going up triple break point in the opening game of the second set but the steadfast Spaniard saved all three behind clutch serving, holding for 1-0.
Agut drew first blood in the fourth game as Medvedev, facing triple break point, dropped serve after dumping a forehand in the net. Agut, despite saving three break points, returned the favor, dropping serve when his backhand found the net.
Although the Russian faced a break point when he overcooked a forehand, he battled to consolidate the break with a well-struck crosscourt forehand to draw level at 3-3. The Spaniard struggled to find a first serve and failed to hold following two consecutive errors off the ground.
Medvedev, serving up a break, was a mere 8 points from the semifinals. His explosive and fluid serve deserted him when he most needed it and was broken following a poorly executed volley. Level at four games apiece, Agut held for 5-4 following a slew of errors from his opponent. He continued to apply the pressure with his successful forays to net in addition to his outstanding inside-out forehand. Medvedev, unable to draw level, dropped serve and the set 4-6 following two more backhand errors.
RBA served first in the deciding set and this, no doubt, further amped up the pressure. Though he opened with an ace, he dropped serve when his forehand sailed long. The Russian, however, was unable to consolidate the break as Agut, with acute angles on the forehand, repeatedly took him off court and broke back to level the set at 1-1.
Playing with winds approaching 15mph, Agut managed to hold with a brilliant crosscourt volley winner despite facing break point following his 4th double fault. Medvedev ripped a scintillating forehand down the line winner and forehand volley winner on consecutive points to hold for 2-2.
RBA opened the fifth game with his second ace of the match and held at love for 3-2. The Russian, running at full tilt to reach another exquisite drop shot was unable to hold serve as the unforced errors off the ground continued to mount.
RBA, serving up a break at 4-2, faced triple break point following two forehand errors and a double fault. Medvedev became increasingly frustrated as he failed to convert, missing a makeable forehand return and prior to returning serve at deuce, repeatedly smashed his racquet into the back wall. Agut, unfazed, stepped up to the line and struck an amazing forehand and serve on consecutive points for a commanding 5-2 lead.
The defending champion and world #5, sensing his imminent departure, opened with an ace and hit an overhead smash and backhand drop shot to hold at love for 3-5. Serving for the match is seldom easy but after 2 ¼ hours, three deuces and two break points, the #8 seed converted his third match point with his third ace!
Statistics do not always tell the tale of the tape and today was no different. The player with fewer unforced errors, more winners, aces, and points over 9 shots lost! Although they each won 88 points and 13 games, the match game down to a few key stats: RBA was 24/31 at net and was exemplary on second serve return points winning 71% while his opponent won 60%. The Spaniard was also outstanding on break points winning 5/11 while Medvedev went 5/20. Medvedev was just as bad on serve winning a scant 29% of second serve points while his opponent fared a bit better at 40%.
In the end, he was less patient and more prone to poor shot selection. The Russian will now have a bit more time to prepare for the US Open scheduled to begin on August 31st. He will strive to go one better than last year and claim his first grand slam title.
Next up for the formidable Spaniard, world #1, Novak Djokovic. The Serbian leads the head to head 8-3 but lost their last hardcourt match a year ago in Miami. With a coveted spot in a Masters 1000 final on the line, these two fierce competitors will most definitely be ready to do battle.