The Wizard Called Woz

It just goes to show there are still different ways to win tennis matches, and grand slams. The offensive counter-punching with interjections of all-court tennis demonstrated by Caroline Wozniacki is proof of this. It's amazing how successful her relatively simple style of play has been and for so long. For years, we've heard that Wozniacki lacks the weaponry and firepower of players such as Serena and Venus Williams, Victoria Azarenka, Maria Sharapova and others. Well, she has other weapons. She, also, controls points even if she's doing more running than her opponent. And for anyone who would dare say she's a pusher, first you are wrong and secondly, just take a look at her bank account. You don't push at the elite levels of tennis and win.
You don't always have to have a huge stroke for a weapon or a big serve to be number one. But you do need to do a lot of things well if this isn't the case. Hewitt and Sanchez Vicario come to mind. Yes, maybe the game has become more physical since those two were on top, but they also remained near the top for a long time. Like Wozniacki, there's a lot of things they did well. Wozniacki has improved all parts of her game over time. This is what I stress to all juniors and young pros. For example, Wozniacki has greatly improved both the pace and percentages of her first serve. Leading into the Aussie women's final, Wozniacki won 84 percent of points on her first serve.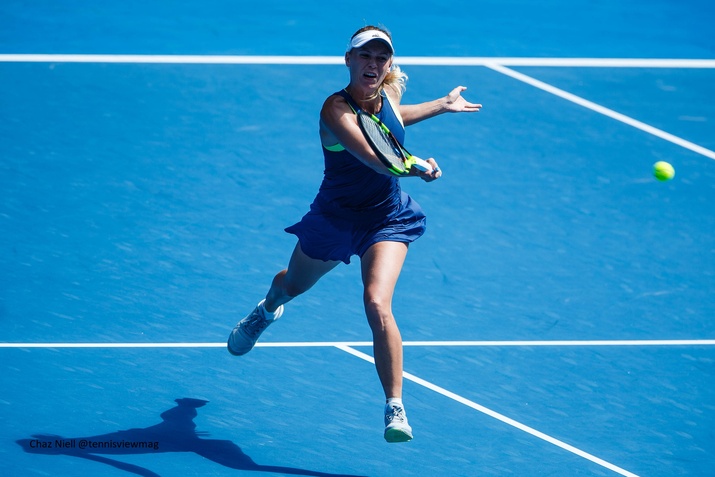 Personally, I've never really been into trends or flavors of the month. And I believe that anyone that has a broad understanding of tennis doesn't bother with flavors of the month either. Some of the more recent trends in today's tennis world are stats and rally lengths of pro matches and how they should alter the way junior players train. But stats also don't reveal what goes on inside a player's head. I, also, happen to think the stats, especially those regarding rally lengths, are often misinterpreted and misunderstood by many. But that's another story. In the world of coaching, we hear way too much about forehands (yes, okay, I know that being able to control points with the forehand is very important as bigger forehands equals shorter points, but it's not the be all, end all). Now, I'm not saying that the above is not important, but let's not lose sight of the importance of the word consistency, when used in the right context. After all, the ball must go in the court.
Let's look at 5 reasons why Wozniacki has been successful for so long.
Controlling the points
You may think I'm wrong here to suggest that Caroline controls the points, but I'm not. Just because someone is running slightly more than their opponent, doesn't mean they are not controlling the points. Wozniacki is at her best when on the run. She creates tremendous angles when she has angles to work with. Patrick Mouratoglou said before the Aussie Open women's final that the more aggressive player should win. Going into the women's final, Halep had hit 84 forehand winners to Wozniacki's 37. Patrick believed that Halep could attack Wozniacki through the middle to take away her speed and angles (probably more the forehand than the backhand through the middle) and then open the court when presented with the right ball. However, let's remember that when you attack someone through the middle, you need to consider how fast their hands and feet are when reacting to balls coming hard at them. Wozniacki's are fast. She, therefore, absorbs pace extremely well. When attacked through the middle, Wozniacki can also play through the middle and mix her ball trajectories and speeds to break the rhythm of the opposition. And Caroline can also create space and angles, which she is known for, from the middle of the court.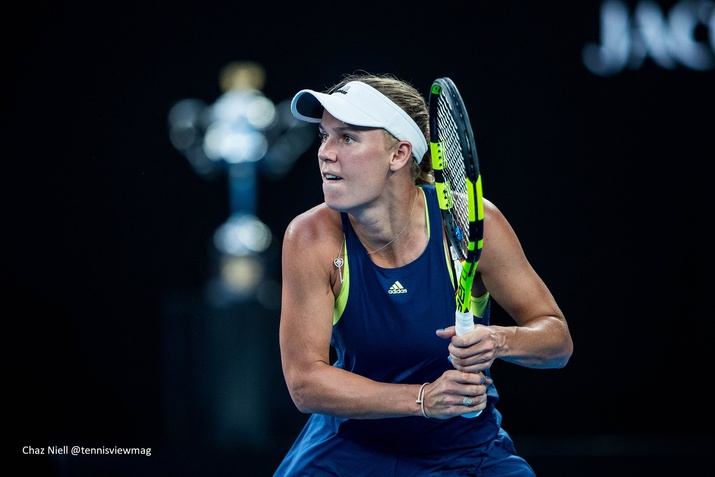 Improved all parts of her game, and ignored the noise
Over the years, Wozniacki has brought in various coaches to join her team. None of them have lasted terribly long and maybe that's because it's tough to argue with what her father, Piotr Wozniacki, has done. The Wozniackis simply ignored the noise. They kept doing things their way. The only difference has been they continue to do things better their way. For years, we've heard about how she lacks a weapon, how she needs to be more aggressive, how her serve is too weak, and how her forehand is a neutral shot at best. Well, guess what? Caroline has improved all parts of her game.
She has shortened her forehand swing which has led to that shot being more efficient, meaning she can generate more pace, absorb hard, deep balls better, she's more effective when pulled out wide on her forehand side, and she returns serve better from the deuce side when they serve wide. As I said earlier, her first serve has improved with both power and accuracy. But where Wozniacki is better than all others, is her ability to create space (opening the court) in various ways and hitting different angles. Wozniacki can push players back with heavy, high drives then move up in the court and take time away, she can use short angles to pull players wide then attack the space she's created, and she can also win the backhand-to-backhand exchanges against most players. Now that her first serve has improved, she can use her terrific range of first balls to open the court immediately and start ahead in the point more frequently.
Mental toughness
Often, the women's matches we watch on television are nervy matches. There's a lot at stake for the players and they are under a lot of pressure. Today's players hit the ball harder than ever before, but the error count is also higher. So often, it's a matter of who can settle down first. Or it's a matter of who can be more solid. Nothing really bothers Wozniacki too much. Her level of play never really drops. It's like she just cruises along and maintains a very high level. She can raise her intensity and focus in the big moments. So, when others are nervous, Wozniacki stays solid. The fact she's so fast and makes a ton of balls (while very much being in control of the points and in control of what she's doing), shrinks the court for the opposition. Wozniacki plays to win, she detaches from the outcome and stays present, and she lets things go and moves on during a match.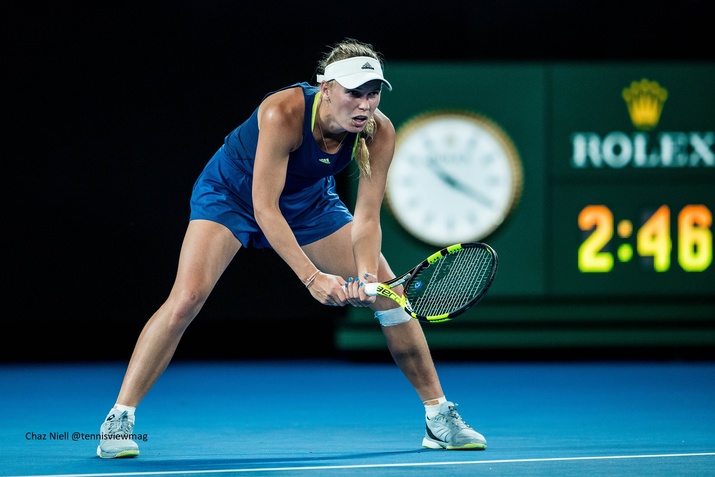 Keep the unforced error count to a minimum.
This obviously does relate to the type of player you are. Wozniacki isn't as aggressive as Sharapova, for example, but when you only make 28 unforced errors in a grand slam final in 3 long sets, it says a lot. Rarely, do we ever see Wozniacki miss simple balls. There's hardly ever any uncharacteristic unforced errors from her. She puts a lot of pressure on her opponents. For those that love to chart rally lengths of pro matches in the following rally length categories of 0-4 shots, 5-8 shots, and +9 shots, do we ever stop to think that if Wozniacki (who likes to work the points more) wins a rally that lasts, say, more than 9 shots, does that then improve her chances of winning the next point that may last inside 4 shots? I am going to say yes, because Wozniacki is so mentally tough that whenever she wins a long point, chances are the following point, or points, will end faster due to the opponent going for more after a long point.
The X-factor
Well, some just have this, and some don't. The greats in many sports have it. Tom Brady comes to mind. I define the X-factor as a variable in a given situation that could have the most significant impact on the outcome. For Wozniacki, this variable probably has something to do with mental toughness and refusing to lose by playing to win.
Wizardry can be defined as having great skill in a particular area of activity. Caroline Wozniacki has more than great skill in many areas of tennis. The Great Dane is only getting better with time. And as written above, much can be learned from how she's gone about it all.