Winning Ugly, But Winning: Victoria Azarenka Reaches Second Straight US Open Final

The first women's semifinal of the day featured Victoria Azarenka against Flavia Pennetta. It was not the marquee match. Many probably even thought that Azarenka would wipe Pennetta off of the court. But those who know the sport well knew that this match was never likely to be a lock for the Belarussian. Nerves in such a big match would play their part, and so, too, would Pennetta.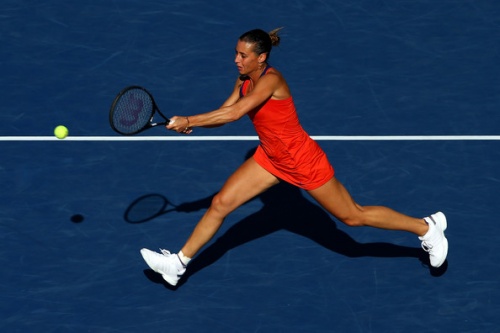 Pennetta, a former top-20 singles players and doubles No. 1 making a comeback from wrist surgery, was no stranger to earning big wins at the US Open. She had reached the quarterfinals on three other occasions and collected some impressive victories over major champions such as Maria Sharapova and Amelie Mauresmo. At the 2013 US Open, she was ruthlessly efficient en route to reaching her first major singles semifinal as she defeated four seeded players without the loss of a set. She also knew that she had a hard court win over Azarenka in 2011 to even their head-to-head record, so she went into this semifinal with belief that she could go at least one round better.
Azarenka is no slouch in the belief department either, however. She won the Australian Open earlier this year, won Cincinnati before getting her US Open campaign underway, and along with Serena Williams, has been one of the two best players on the hard courts over the last couple of years. Azarenka had looked like a mere shadow of that player over the course of this US Open, though, having to battle through two three-set matches to advance. But grinding out wins can sometimes be more rewarding than an easy victory. It instills confidence that one can win even when one is not playing at one's best. It is a skill that Azarenka continues to build upon, and it served her well in this semifinal.
Suffice it to say, though the first set proved to be a see-saw battle with plenty of drama, there was very little that was pretty about it. Both players looked a bit nervous straight out of the gate, and they betrayed those nerves in their games. Between the two, Azarenka actually played the uglier set. Her service woes continued as evidenced by five double faults and two games where she tossed in two double faults each. She hit fewer winners than Pennetta and seven more unforced errors. But while Pennetta went a flawless 3/3 on break point opportunities, Azarenka went 4/9. That lone statistic gave Azarenka the decisive break advantage, proving once again that tennis ultimately comes down to who wins the bulk of the big points.
After escaping with the first set, we might have expected to see Azarenka relax and play the kind of tennis that took her to the top ranking. Unfortunately, that never really happened. Both players traded breaks through the first three games before Azarenka found some traction by holding serve. She then went on to break the Italian to extend her lead to 4-1, but appropriately, given how the match had transpired to that point, there was a brief surge from Pennetta. Penntta broke to cut the deficit to 2-4 and nearly looked like she might get a rare hold to make things even more interesting at 3-4. Alas for her, Azarenka was having none of it. She dug her heels in and cut out the unforced errors to gain back the insurance break. Serving for the match, Azarenka played one of her best games to claim a berth in her second straight US Open and fourth straight final at a hard-court major.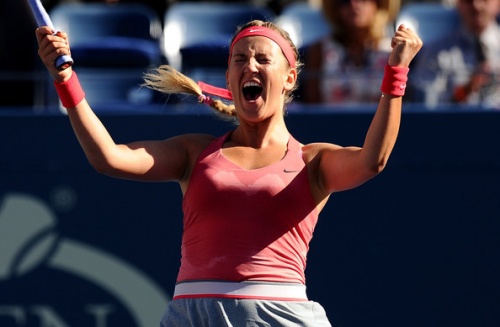 As previously noted, this match in which Azarenka ended Pennetta's Cinderella run was not a classic in any sense of the word. It became blatantly apparent that Azarenka is not playing her best. But it also showed the fight and heart this young Belarussian possesses. In fact, this match was eerily similar to her semifinal with Jankovic in Cincinnati. We all know how that Premier Five event panned out for her, so perhaps, Azarenka is in a better position to capture this title than most suspect.