Wimbledon: Sinner Dispatches Wawrinka In First Round

Sinner defeats Wawrinka 7-5, 4-6, 6-3, 6-2 to reach Wimbledon 2nd round
Both were looking for firsts: Jannik Sinner a win on grass and in the main draw at the All England Club while Stan Wawrinka, a win at Wimbledon since 2019. While the Championships were not held in 2020 due to the Covid-19 pandemic, Wawrinka did not compete last year due to a chronic foot injury that to repair, required two surgical procedures.
The 37-year-old Swiss and 3-time grand slam champion began his comeback on the challenger circuit this past spring in Marbella where he lost in the opening round. He progressed further in Monte Carlo and Rome before losing in the first round at the French Open. He scored an impressive win over Francis Tiafoe in three tie-break sets on the grass at Queens Club before losing in the following round to Tommy Paul.
The twenty-year-old Italian is currently ranked #13 but reached a career-high of #9 last fall. He began working with a new coach – Simone Vagnozzi – before the start of the current season and also is consulting with former player and coach of three world #1s, Darren Cahill.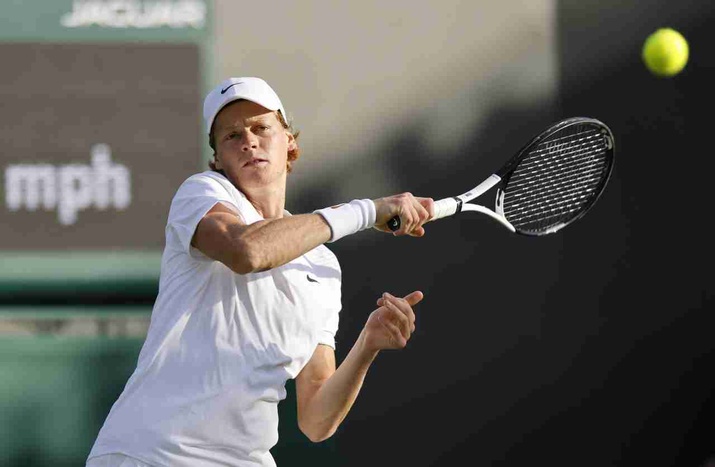 (Ansa Foto)
Sinner has played nine events leading into the Championships. He reached the quarters at five and retired before or mid-match in three with chronic blisters and a left knee injury. He played only one lead-up event at Eastbourne, losing in three to Tommy Paul.
Sinner, the 10th seed, won the toss and elected to serve. Though he missed 5/10 first serves and faced two deuce points, he held for 1-0 when Wawrinka mishit the return. The former world #3 also struggled on serve missing 7/11 yet managed to hold with an ace up the tee and a spectacular inside-in forehand.
Both had a much easier time in their next service games, holding to 15 for 2-2. The Italian employed the serve and volley and drop shot to great effect as he once again held to 15 for 3-2. Wawrinka upped the ante with a forehand volley winner and a fantastic forehand down the line as he held at love for 3-3.
Sinner maintained an aggressive posture by coming forward to finish points and with his first ace, held to 15 for 4-3. Wawrinka hit his third ace, but it was all for naught as he missed 8/10 first serves and dumped serve when he overcooked a backhand. The world #13, serving for the set, gave back the break with a slew of forehand errors while Wawrinka consolidated to level at five apiece with his fourth ace.
Sinner opened the 11th game with a huge serve up the tee and held to 30 for 6-5. Wawrinka, serving to stay in the set, donated three unforced errors including a double fault and lost serve, and the set following two consecutive netted backhands.
Sinner served first in the second and despite facing two break points, held for 1-0 with an ace and two massive forehands – down the line and inside-in. Wawrinka continued to struggle on serve and soon faced triple break point but battled to hold with an ace and two unreturnable serves on the last three points.
Sinner hit his third ace but another double fault and two errors off the ground cost him the game. Wawrinka miraculously consolidated the break for 3-1 despite missing 7/8 first serves and facing a break point.
Sinner, serving with new balls, regrouped admirably, holding at love for 2-3 while Wawrinka held to 15 for 4-2. Sinner continued to impress, making 4/4 first serves as he once again held at love for 3-4.
Wawrinka, a two-time Wimbledon quarterfinalist (2014 & 2015) kept it simple, making 3/5 first serves as he held to 15 for 5-3. Sinner serving to stay in the set, opened with two consecutive backhand winners to go up 30-0 and held for 4-5 when Wawrinka netted the return.
Wawrinka, displaying the power and precision that earned him three grand slam titles, made 4/4 first serves and pummeled three forehand winners to secure the set 6-4.
Sinner served first in the third and held to 30 for 1-0. Wawrinka struck a brilliant forehand down the line and an ace out wide on game point to level. Sinner possessing easy power off the ground as well as great touch around the net hit his 4th ace and held to 30 for 2-1.
Wawrinka serving with new balls, hit two double faults and three aces, and dropped serve following three consecutive errors off the ground. Sinner opened the 4th game with two unforced errors but with two additional aces, consolidated the break for 4-1.
Wawrinka missed 3/5 first serves yet held to 15 for 2-4 with a monster inside-in forehand while Sinner held at love for 5-2 with his 7th ace and an inside-out forehand on game point.
Wawrinka serving to stay in the set, opened with two consecutive forehand errors but with his 10th ace and two errors from his opponent, held for 3-5. Sinner continued to extract errors from his opponent with his formidable groundstrokes as he closed out the set at love.
Wawrinka served first in the fourth and dropped serve following three additional forehand errors. Sinner having lost both previous matches to Wawrinka – both on hardcourt in 2019 – was determined to flip the script on grass as he made 3/4 first serves and consolidated the break at love.
Wawrinka rattled since the close of the third, faced two deuce and break point yet managed to hold for 1-2 following a scintillating rally which ended with a brilliant backhand down the line.
Sinner in the zone on serve and off the ground made 3/4 first serves and held at love for 3-1 with an amazing crosscourt forehand volley winner. Wawrinka made 3/5 first serves and struck two winners off the ground as he held to 15 for 2-3 while Sinner opened with a stunning inside-in forehand and closed with an ace up the tee for 4-2.
Wawrinka just 8 points from a first-round exit, dumped serve for 2-5 to gift his opponent the opportunity to serve for the match. Sinner lost the first two points but won the next four, including an ace up the tee on match point to claim his first win on grass and first at Wimbledon.
As the match approached 2 ¾ hours with the light fading, Sinner was determined to finish in four. The start of the match was already delayed due to rain and rearrangement of the order of play was close to being suspended for the evening.
The world #13 should be content with his serve having won 77% of first and 60% of second serve points with 9 aces to 3 double faults. He struck 42 winners to 33 unforced errors but converted just 5/15 break points.
Wawrinka received a wild card from the All England Club given his current ranking of #267. Although it was a hard-hitting, entertaining match, it was littered with errors. Although Wawrinka hit 10 aces to 3 double faults, his ratio of winners to unforced errors was 30/43.
Next up either Daniel Altmaier of Germany or Mikael Ymer of Sweden as their match was halted due to darkness. Sinner leads Ymer 2-1 in the head-to-head having never played on grass while the Italian has yet to play Altmaier.