Wimbledon: Muchova Advances To First Slam Quarterfinal

Karolina Muchova defeats Karolina Pliskova to reach first slam quarterfinal
The battle of the Karolinas to reach the quarterfinals was an all Czech affair featuring world #3 and a twenty-two-year-old on the rise. Karolina Pliskova, having just won her third career grass court title last month in Eastbourne, was clearly the odd-makers favorite, but her countrywoman refused to play the underdog.
Muchova, seeking her first top ten win and grand slam quarterfinal, served first and was broken. Pliskova, the twenty-seven-year-old veteran seeking her first Wimbledon quarterfinal also felt the pressure as she was broken at love.
They remained on serve thru eight games trading blistering groundstrokes, backhand slices and well-placed lobs, drop shots and volleys. Pliskova finally took the lead 5-4 when Muchova double-faulted to drop serve.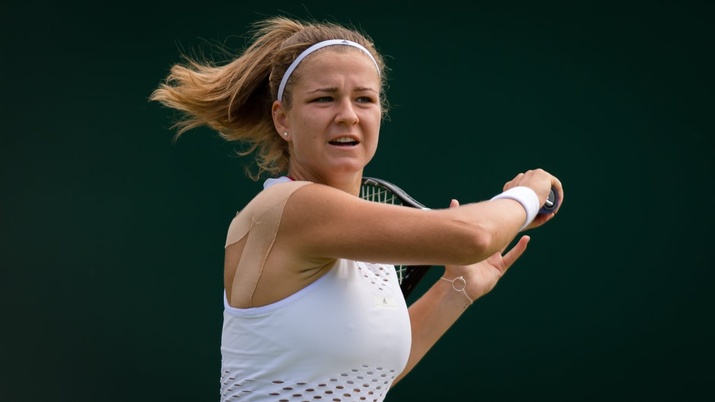 The #3 seed appeared uneasy as she served for the set, missing an inside-out forehand to go down 15-30. She managed to close out the game and the first set 6-4 when her opponent's return found the net.
Muchova served first in the second set and held with an ace down the middle. Although Pliskova consistently leads the WTA tour in aces, today she was out aced by Muchova. They remained on serve thru seven games but following another forehand error, Pliskova faced double break point.
Muchova was relentless off the ground, seizing the opportunities to move forward or employ the drop shot which she did often and to great effect. Pliskova, unable to reach another well-executed drop shot, dropped serve.
Muchova up 5-3 and serving for the set could not consolidate the break. Although she opened the game with an ace, she threw in a double fault and on successive points allowed Pliskova to dictate the rallies and secure the game.
Pliskova's serve, normally a reliable weapon was anything but in this fourth-round encounter. She managed to level the set at 5-5 despite donating another double fault.
Muchova held for 6-5 following another forehand error from Pliskova. Serving to stay in the second set, Pliskova, under persistent pressure, was unable to hit a first serve. Incredibly, she struck a 115mph second serve ace, but it was all for naught as she gifted another double fault and wild forehand to drop serve and the set 5-7.
Muchova served first in the deciding set and held to love. The world #68 performed more like a top five player as she hit her spots on serve and occasionally served and volleyed. They remained on serve thru four games. Muchova appeared a bit distracted as she misfired off the ground and dropped serve when her cross-court backhand struck the net and bounced wide.
Pliskova, consolidated the break and took what appeared to be a commanding 4-2 lead in the final set. She had a chance to go up a double break when Muchova's lob sailed wide, but she managed to hold for 3-4.
While Pliskova seemed incapable of buying a first serve, she benefited from her opponent's string of unforced errors and held for 5-3, just four points from the quarterfinals. Muchova had struck gold with the drop shot during the previous two sets but was now paying the price as they consistently found the net.
Serving to stay in the match down 3-5, Muchova hit two incredible backhands – one down the line, the other on the baseline to hold to 15 and force her opponent to serve it out.
The veteran and US Open finalist was not up to the task; Pliskova faced triple break point as Muchova continued to employ the drop shot and lob and finally broke for 5-5 when Pliskova slapped a forehand in the net.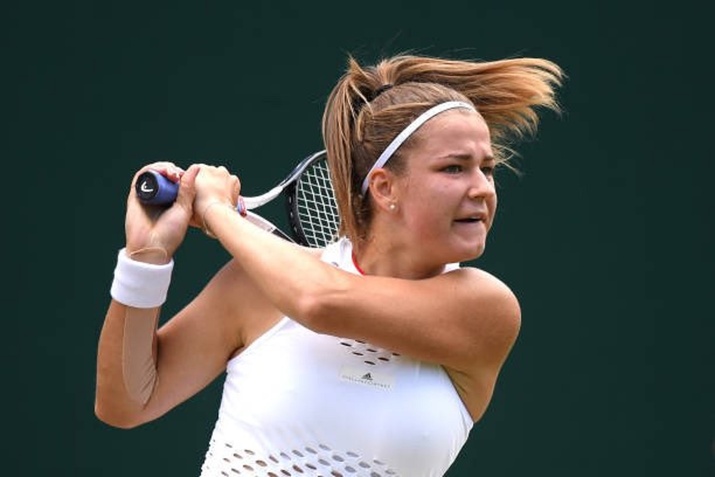 The All England Club, succumbing to the pressure of exceedingly long deciding sets without a tiebreaker chose to institute a first to seven-point tie break at 12-12 in the final set. The match appeared to be heading in this direction as both continued to hold serve thru sixteen games.
Muchova, serving at 8-8 faced double break point as the unforced errors began to mount. Pliskova, too passive on the return, failed to convert and Muchova held with another ace down the middle. Level at 10-10, Muchova dropped serve when another backhand slice found the net.
Pliskova served for the match up 11-10 but could not cross the finish line. Muchova continued to show the variety and shot selection of a seasoned veteran and with a huge forehand return winner, an exquisite lob on the line and Pliskova's 7th double fault, broke back for 11-11.
Muchova opened with an ace and despite throwing in a double fault and facing two deuce points, struck another crisp volley winner to take the lead 12-11.
The tie breaker appeared imminent, but it was not to be. At times during this 3 ¼ hour battle, Karolina Pliskova played tentatively and without conviction and allowed her opponent to gain confidence and momentum.
The twenty-two-year-old quickly went up 0-40, triple match point and converted on a let cord winner to claim her first top ten win and a coveted spot in the quarterfinals.
In the end, Karolina Muchova played with the poise and belief of a much more experienced competitor. On court number two, she outplayed her countrywoman striking twice as many aces and finishing the match with six more points.
Up next for this captivating young player is the #8 seed, Elina Svitolina following her straight sets victory over Petra Martic. This will be their second tour-level match, Svitolina winning in straights in Doha earlier this season.