Wimbledon: Kyrgios Defeats Tsitsipas In Drama-Filled Battle

Kyrgios knocks out Tsitsipas 6-7, 6-4, 6-3, 7-6 to reach Wimbledon 4th round
In an explosive thriller on court 1, fireworks arrived early at the All England Club. Nick Kyrgios and Stefanos Tsitsipas appeared on the verge of physical combat as they traded sarcastic words and gestures, including a blistering forehand aimed at and blocked by Kyrgios.
In 2014 at the age of nineteen, Kyrgios stunned the centre court crowd as well as Rafa Nadal when he sent the Spaniard packing after four sets in the fourth round. He would lose in the quarters and reach the fourth round twice (2015 & 2016). The Aussie native with six career titles, achieved a career-high ranking of #13 in 2016 and is currently ranked #40.
Tsitsipas just twenty-three, achieved a career-high ranking of #3 last summer and though he is currently ranked #5, is seeded 4th due to the expulsion of world #1 Daniil Medvedev.
While most would consider the Aussie at twenty-seven an underachiever, both have excelled on the grass leading up to the Championships. Kyrgios reached back-to-back semis in Stuggart (l. to Murray) and Halle where he defeated Tsitsipas in 3 tight sets in the 4th round before losing to eventual champion Hubert Hurcakz, 6-7 in the third.
The following week in Mallorca, Spain, Kyrgios pulled out before his round of 16 match against Roberto Bautista Agut (RBA) while Tsitsipas took the title, defeating RBA 7-6 in the third. This was their 5th tour-level meeting and second on grass. Tsitsipas was seeking his second win over Kyrgios to reach the 4th round at Wimbledon for the first time since 2018.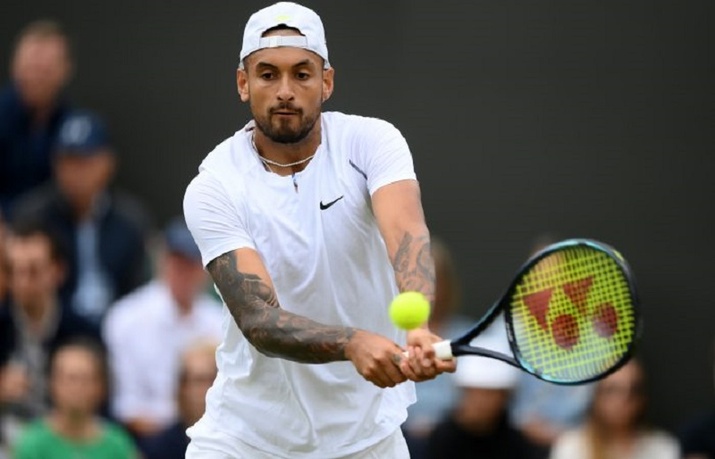 Tsitsipas won the toss and elected to serve. Under mild but breezy conditions, the Athens native struggled as he faced two deuce and break points but managed to hold when his opponent netted the return.
Kyrgios committed three unforced errors and faced a deuce point yet held for 1-1 with two huge serves on consecutive points. The world #5 continued to struggle as he missed 7/14 first serves and faced four deuce and two break points but battled to hold following two missed returns from Kyrgios.
Despite failing to convert any of the break points he generated, Kyrgios held at love for 2-2 with a monster serve out wide while Tsitsipas struck his second ace and held to 30 for 3-2.
The Canberra native hit his first ace and with an under arm serve hit between the legs on game point, held at love for 3-3. Although he hit his third ace, the 4th seed missed 4/8 first serves and faced break point yet held for 4-3 when Kyrgios netted the return.
The Aussie serving with new balls, opened the 8th with a crosscourt backhand winner and following a 130mph ace up the tee, leveled at 4-4 while Tsitsipas opened with an ace and held easily to 15 as he made 4/4 first serves. Kyrgios upped the ante, opening with a 130mph ace up the tee and with another at 127mph, held at love for the third time.
Tsitsipas opened with an ace and despite donating another double fault, hit an inside-in forehand, an ace up the tee and a crosscourt backhand pass to hold for 6-5. Kyrgios serving to stay in the set and force the breaker, did just that as he held at love with another ace.
Tsitsipas served first in the breaker and while they leveled at 2-2, the Greek won the next five points to clinch the set 7-6. A lines woman approached the chair during the tiebreak seemingly to voice a complaint about Kyrgios, but no code of conduct warning was issued.
The former world #13 served first in the second and held at love for 1-0 and Tsitsipas returned the favor, holding at love for 1-1 with aces to open and close the game. Kyrgios hit another ace and held to 30 for 2-1 while Tsitsipas held easily to 15 despite donating his third double fault.
Kyrgios continued to pummel the ball on serve and off the ground holding easily to 15 for 3-2 while Tsitsipas, with his 9th ace, held to 15 for 3-3. Kyrgios hit a spectacular slice crosscourt forehand drop shot and incredible forehand down the line to hold to 30 for 4-3 while his opponent struggled for parity.
Tsitsipas maintained his focus despite the drama and intermittent tirades from his opponent. The 2021 French Open finalist struggled on serve, missing 8/12, and faced three deuce and break points but held following a crosscourt backhand winner and a netted return.
Kyrgios hit two additional aces but faced break point after a poorly executed drop shot and held with a sublime forehand half-volley winner. For the second time in the match, a lines person approached the chair to voice a complaint, yet no code of conduct warning or penalty was issued to Kyrgios.
Tsitsipas serving to stay in the set down 4-5, hit his 11th ace but it was all for naught as he faced break point following an errant forehand and lost serve and the set after Kyrgios passed him with a forehand.
Following the conclusion of the second set, Kyrgios demanded to speak with the supervisor claiming Tsitsipas should be defaulted for hitting a ball into the stands. His request was deemed laughable by the broadcast commentators given the Aussie's unsportsmanlike conduct over the course of the match.
After what seemed like an eternity, Kyrgios regrouped while Tsitsipas seethed following a code of conduct warning for that infraction. It became increasingly difficult to simultaneously follow tennis and histrionics. Somehow in this Greek tragedy, Kyrgios was absolved as Tsitsipas was villainized.
Kyrgios served first in the third and held easily to 15 for 1-0 and Tsitsipas did the same, hitting a well-struck serve on game point. With Kyrgios still chirping at his box and bemoaning missed shots, Tsitsipas went to his chair to change racquets in an apparent attempt to slow the Aussie down. Kyrgios serving at a rapid fire tempo, sometimes began the next point with the ball persons not yet in position.
The Greek continued to struggle on serve missing 7/8 including a double fault to face break point. He faced another and dumped serve when his opponent ripped an inside-in forehand. Kyrgios struck three massive serves including his 9th ace to reach 40-0 and won the next point with an underarm serve. Tsitsipas clearly annoyed, hit the return into the crowd which resulted in a point penalty.
When the world #5 stepped up to the line to serve, the score was 0-15. When the score was announced, he quickly approached the chair to plead his case. Tsitsipas led 40-15 when he seemed to take aim at Kyrgios with a forehand. He lost the point and the crowd but managed to hold for 2-4 when his opponent overcooked the return.
Kyrgios was driving this bus non-stop as he quickly held to 15 for 5-2 making 5/5 first serves. Tsitsipas serving to stay in the set opened and closed with aces as he held at love for 3-5. Kyrgios opened the 9th with a 129mph ace up the tee and secured the game and set 6-3 with a crisp backhand volley winner off a weak return.
Tsitsipas served first in the fourth and managed to hold despite gifting a double fault and facing four break points. During the game, Kyrgios slipped and fell to the grass grabbing his hip and it appeared as if he might not be able to continue but he finished the game and then held to 30 for 1-1.
With a spring in his step and new balls, Tsitsipas held at love for the third time. Kyrgios opened the 4th game with an ace up the tee and with another out wide, held to 30 for 2-2. Tsitsipas missed 4/5 first serves yet held to 15 for 3-2. The Aussie, still incessantly chirping and yelling at his box, held to 30 for 3-3 with a 120mph ace on game point.
Tsitsipas donated two consecutive double faults and faced double break point but with a crosscourt forehand volley winner, an ace out wide, and a colossal one up the tee, held for 4-3. The momentum had shifted ever so slightly and Kyrgios, feeling the pressure, soon faced 0-40 but battled to hold for 4-4 with five consecutive massive serves and two inside-in forehand winners. Due to impending darkness, play was suspended for approximately ten minutes to close the roof.
Tsitsipas committed two forehand errors but with an ace and a blistering backhand down the line, held to 30 for 5-4. Kyrgios serving to stay in the set, appeared to choke as he faced 0-30 then set point yet managed to level at 5-5 with a backhand and forehand down the line on the last two points.
Tsitsipas not to be outdone, struck three consecutive aces to lead 6-5. Kyrgios serving with new balls, once again faced 0-30 and then deuce but with two aces and a remarkable inside-in forehand, leveled to force the tiebreak.
Tsitsipas opened the breaker with an ace up the tee. They leveled at 5-5 after which Kyrgios, with a formidable serve and inside-in forehand reached match point but threw Tsitsipas a lifeline when he missed wide with a crosscourt backhand.
They changed ends at 6-6 after which Tsitsipas, with a potent serve up the tee, reached set point. Kyrgios missed with the first serve but with an outstanding forehand drop volley winner leveled and secured the breaker and the match hitting winners on the last two points.
It was an enthralling, dramatic, and high-quality match. Kyrgios finished with 61 winners to 31 unforced errors while Tsitsipas hit 57 winners to 36 unforced errors. Surprisingly, the Greek finished with 7 more aces but also 6 more double faults. Kyrgios won an astonishing 82% of first and 50% of second serve points. While Kyrgios converted just 2/14 break points, his opponent was 0/5.
Next up, NextGen superstar and American, Brandon Nakashima. The 20-year-old from San Diego California is at a career-high ranking of #54 and is thru to his first-ever round of 16 at a slam with this just his second appearance at Wimbledon. This will be their first tour-level meeting with a grand slam quarterfinal on the line.