Wimbledon Day 9: Men's Quarterfinals

Novak Djokovic versus Kei Nishikori
There were plenty of question marks surrounding Novak Djokovic coming into Wimbledon, though there were signs towards the tail-end of the clay court swing as well as with his play at Queen's that he was beginning to readily find the right answers. The tennis he has produced through the first four rounds here has been the best fans have seen from him all year, and he will be keen to continue building on that momentum by moving through to the semifinals. The man looking to halt his momentum is Kei Nishikori, who is also looking to rebuild some momentum and confidence after his own bouts with injury. There is no question that the man from Japan has game. He has played some competitive matches against the Serb in the past, including a three-set affair this spring in Rome. He has the speed and agility, as well as the ability to hit flat through the ball to boss Djokovic around the court if he can get on top of the rallies early. He gets good pop on his serve as well, and he is unafraid to pull the trigger when the opportunity presents itself, including on the second-serve return.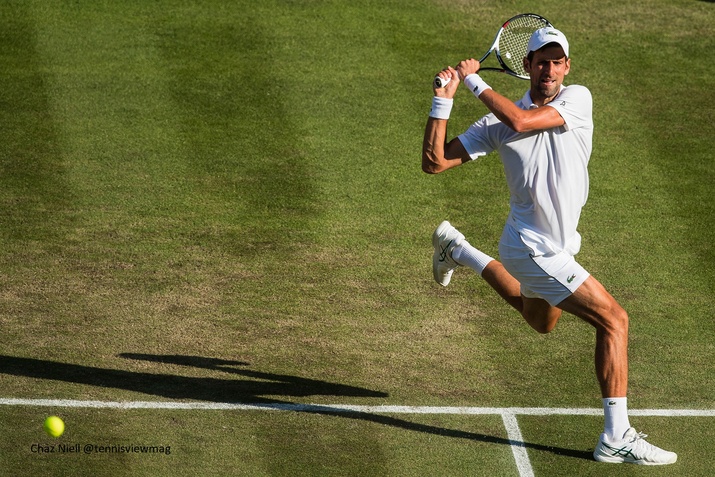 The issue for Nishikori is that there is nothing he does that Djokovic – at his best – does not do better, and their head-to-head bears this out. The former Number 1 leads this rivalry 13-2, including winning the last twelve in a row. His defense is better, he is more consistent at changing the direction of the ball and creating space, and his return is one of the greatest in the history of the sport. His serve has been more of a liability in recent months than it was in the past, but he has been shoring that up with each passing match. In short, there is really nowhere to go for Nishikori to earn easy points. So, while this certainly could be an entertaining match with some spectacular shot-making on both ends of the court, barring a let down from Djokovic, he looks poised to post his best result at a major in 2018 by moving through to the semifinals.
Rafael Nadal versus Juan Martin del Potro
There has been much talk about the fact that Rafael Nadal has not enjoyed a good run at Wimbledon since 2011. But judging by the way he has played to reach the quarterfinals, one never would have known it. For the most part, the Spaniard's game seems to be firing on all cylinders. His lethal topspin forehand has picked up right where it left off on the clay, bullying opponents about the court. His backhand, particularly the one he rips cross-court, has been stellar. His use of the backhand slice has been paying dividends, and he has been moving forward and doing well to finish points in the forecourt on a consistent basis. With all of his weapons working, he has yet to face any trouble to this juncture. That could change on Wednesday, however. Opposite the net from the second seed is Juan Martin del Potro, and Nadal and the fans will be quite aware of the danger he poses to Nadal's title hopes. His forehand remains one of the most lethal shots in tennis, and he gets more mileage out of his backhand slice on this surface. His booming serve earns him his share of free points, and he has demonstrated some decent feel at the net.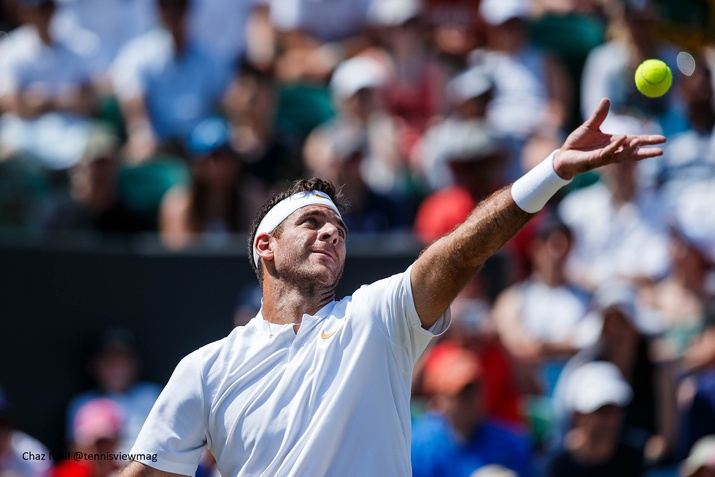 Furthermore, the ball does not sit up as high on the grass as it does on the clay, leaving Nadal's topspin forehand more likely to be sitting in the Argentine's wheelhouse than outside of his comfort zone. That all said, Nadal has won both of their meetings on grass and holds a 10-5 lead in this rivalry. He took the wind right out of the Argentine's sails when they met a month ago in the semifinals of Roland Garros, and any stinging residue left over from that defeat could impact the early stages of this match, as well. Nadal should also be the fresher of the two, not only because he has played less tennis to get here, but del Potro did not get the day off on Tuesday due to having to finish his fourth-round match against Gilles Simon. That is a lot of positives in Nadal's corner. Del Potro could overcome them to earn the upset. If he is playing his best, and especially if he finds a way to get the first set, an upset could unquestionably be in the realm of possibility. But it is difficult to bet against the consistency of Nadal, and he has looked too good to this point to bet against him now. Del Potro represents his biggest challenge in this tournament to-date, but it would be surprising if Nadal were not up to it and failed to advance.