Wimbledon Day 11: Men's Semifinals

Kevin Anderson versus John Isner
If one had asked to see a show of hands for those who had predicted a Kevin Anderson versus John Isner semifinal, one probably would have been lucky to see even one raised hand. Yet, in a Wimbledon that has been chock full of surprises, that is the semifinal that has come to fruition in the top half of the men's draw. It has been an unlikely run by both, and by the time play ends on Friday, the unlikely run of one of these men will still be alive as he will find himself in the Wimbledon final.
Neither man is likely to find himself having to win a lot of long rallies as he strives to make his first Wimbledon final. Anderson and Isner are two of the tallest men on tour, so naturally, the serve is going to prove pivotal. The American holds the advantage in this area, as he gets more juice on his first serve and better kick on his second delivery. That said, Anderson is no slouch when it comes to the serve, which is also his favorite shot, and given that his return is a bit better than Isner's, that could negate some of the advantage Isner enjoys in the serving department. Off the ground, the ninth seed tends to hit bigger and is more adept in the forecourt. But it is Anderson who is more agile on the court, and unlike Isner who needs to look to hit more forehands, the South African is pretty solid off of both wings. As such, he is better equipped to play and stay in the longer rallies, but these are two competitors who prefer to play quick-strike tennis. It is sure to come down to who has the better serving day, who can put a few more returns in play, and maybe a lucky net cord or two.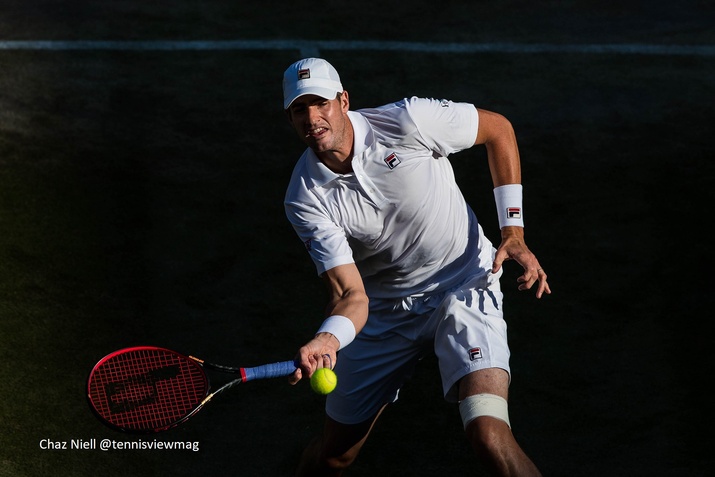 The greater influential factor in this match is the psychological one, and it is a great unknown. Experience always comes in handy when contesting these types of matches, and though Anderson is hardly a stalwart at this stage of a major, he has been to one semifinal before, which is one more than Isner. As an added bonus, the eighth seed won his lone major semifinal, which came at last year's US Open. The downside for Anderson is that he trails in this rivalry 3-10, though he is a better player both physically and mentally than when they last met three years ago. There is also no telling if his shocking win over Roger Federer will help or hinder him on Friday. It was a phenomenal effort by Anderson to come back from two-sets down against the Swiss, but while that can breed confidence, it may also find him emotionally spent. He can ill afford a letdown if he wants to get by Isner.
As for Isner, he is also a wild card in this match. Wimbledon has been the worst major for him through his career so that he should reach his first slam semifinal here is stunning, to say the least. He did capture the biggest title of his career earlier this spring in Miami, however, so he might figure taking it up a notch is not out of the question. As noted, he has decisively enjoyed the better of his rivalry with Anderson and given that he is playing on borrowed time after saving match points earlier in this event, he seems to be swinging away with a new freedom. If he can keep that kind of mindset and not allow the magnitude of the moment to get to him, then he might be ready to take that next step into the final.
All told, it is hard to foresee how this one will play out given that both men are so inexperienced playing these types of matches. Their head-to-head would point towards a win for the American, and with his superior firepower, Isner is the one in a little more control of proceedings. But there is no discounting the experience Anderson gained in New York last summer, and the belief he will have garnered from that run could be exceptionally important in the key moments. It ought to be close, but Anderson might just make good on his slightly-higher seed to advance to his first Wimbledon final.
Rafael Nadal versus Novak Djokovic
The semifinal set in the top half may be a surprise, but the same could hardly be said for the semifinal in the bottom half of the men's draw. Rafael Nadal and Novak Djokovic are familiar faces at this stage of any tournament, and on Friday they will commence with their rivalry yet again with a berth in the Wimbledon final hanging in the balance.
Friday will mark the fifty-second meeting between these two warriors, and there is not much to be said about their respective games that has not already been said over the course of the last decade. Each knows what the other brings to the table and that it will come down to the tiny details in determining who will get ahead in the points. Nadal's game is built around his forehand, but in particular, he needs his forehand up the line to be working to get it away from the Serb's backhand. Nadal also needs to enjoy a good serving day and commit to staying up on the baseline and moving forward when the opportunities arise.
As for Djokovic, he too needs to have a good serving day to start off the points to stay in the driver's seat. It is imperative that he be dialed in on the return – particularly on the Spaniard's second serve – to put more doubt in Nadal's mind. He also needs to continue to employ the patterns that have brought him success in the past, such as going hard and wide to Nadal's forehand to create space to then rip his backhand up the line. In order to execute these aspects of his game, it is necessary that he forces himself to maintain an aggressive mindset and stay up on the baseline. Becoming too passive is just inviting Nadal to take it to him, which history has shown, is a losing prospect against the second seed even when one has defensive skills comparable to Nadal's as Djokovic does.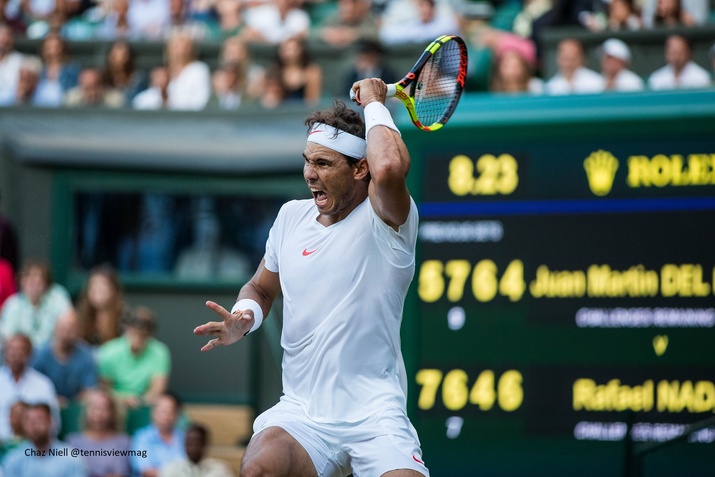 As entertaining as it often is to see these two pit strength against strength in a battle for supremacy, arguably the more intriguing aspect of this match is the mental one. That is not always the case given the wealth of experience these men have accumulated in their years at the top, but this specific match does have a different feel about. As has often been alluded to throughout this fortnight, it has been seven years since Nadal put together a deep run at Wimbledon. As accomplished as he is, he is still human. He could be feeling anxious nerves to make good on the absence of Roger Federer to capture another title at the All England Club. Additionally, while he has every reason to feel confident given that he has enjoyed far more success the last eighteen months than the remaining three men in the draw, Djokovic is the one player that has really gotten into Nadal's head in the past. If there is any scar tissue left from some of those defeats, they could impact his game, especially if the Serb carves out an early lead.
As for Djokovic, it is no secret that he has been far from his best for the better part of two years. The downward spiral began at this tournament in 2016, and this tournament also marked the last fans saw of him in the 2017 season. Granted, he was still battling an injury and arguably tried to come back too soon following a procedure on his troublesome elbow, but Djokovic has suffered some inexplicable losses through the first half of 2018. It was not until the end of the clay season that he started to look more like his former self, and even then, he suffered a devastating and stunning defeat in the quarterfinals of Roland Garros that left him questioning if he would even play the grass season. Now, all of a sudden, he finds himself in the final four of Wimbledon, playing the best tennis fans have seen from him since 2016. Most believe that he is not done winning majors, but there is a big question mark as to whether or not he is presently ready to step up and go through Nadal to reach his first slam final in two years.
So, will this latest installment in the Nadal/Djokovic rivalry be a classic? That is as up in the air as the end result. Given how tight this rivalry has been and the way their respective games match up against one another, it is impossible to count out Djokovic's chances. He has increasingly looked more like his old self, and his best is definitely enough to get the job done against Nadal, especially on the grass. All things considered, however, Nadal is undoubtedly the safer bet. His game and confidence have been in a far better place than the Serb's for well over a year now, so there is no question that he is better positioned to perform his best on this occasion. He is the second seed and with all of the positives sitting in his corner coming into this match, he ought to live up to it and move through to the final.