Wimbledon Day 10: Women's Semifinals

Angelique Kerber versus Jelena Ostapenko
The women's field has been whittled down to four, and Angelique Kerber and Jelena Ostapenko have managed to avoid the desolation of the other seeds to ensure they make up two of those four. They now face the tough task of taking on the other for the right to advance and move to within one match of hoisting that Wimbledon trophy.
Typically, in matches of this prestige, the mental factor can be the most telling in determining who is favored to win. In this case, however, things are relatively even. Both women are already major champions, with Kerber having won the Australian Open and US Open in 2016 while Ostapenko reigned victorious at Roland Garros last season. Both are comfortable on the grass, with the Latvian listing Wimbledon as her favorite tournament and Kerber having already reached the final here once. Thursday will also mark the first meeting between these two, so there is no past history to give one woman a confident edge coming in or fighting to overcome any residual effects from a stinging loss. It is truly a clean slate.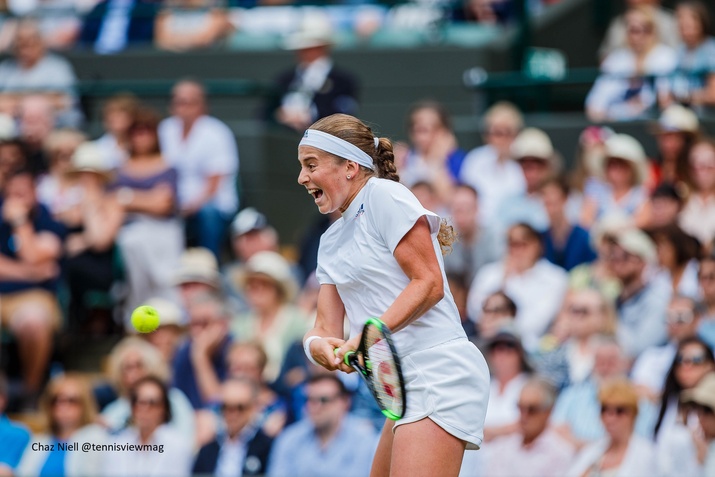 Any mental edge that does develop in this contest will likely stem from how each woman executes her respective game and its impact on her opponent. It is tempting to label this match as a battle between offense and defense with Ostapenko being the aggressor. The twelfth seed, aged just twenty-one, is still growing and developing as a player, learning to add more weapons to her arsenal, which she is starting to employ with a little more regularity. Her main approach though is to still grip it and rip it. Make no mistake. When she is seeing the ball well and in full flight, that is a strategy that is highly effective, as evidenced by her title run in Paris last year. She goes hard and flat on serve and off the ground, particularly from her favored backhand wing. She can turn a match around in a hurry and take the racket out of the hands of many opponents when at her best. That said, she does not have a lot of margin for error, and her defense is easily the weakest part of her game.
Defense happens to be a specialty of the German, and that could prove crucial to Kerber in this match. She is one of the quickest players about the court, and when feeling confident about her game, is one of the most consistent. That consistency should test Ostapenko, who definitely plays a riskier game. As has been the case in her last few matches though, Kerber cannot shy away from utilizing her own offensive skills. She may not be as comfortable on offense as on defense, but she is capable of dictating the rallies and has to commit to doing so when the opportunity arises. Furthermore, she should look to employ her backhand slice and the drop shot to avoid allowing the Latvian to get into any kind of rhythm. Failure to do these things could lead to Ostapenko hitting her right off the court and out of Wimbledon.
All told, as Kerber's being seeded eleventh to Ostapenko's twelfth would suggest, this match has a 50-50 feel about it. It all comes down to who can execute her strengths on the key points. Neither outcome would be a surprise, but the slight edge has to go to Kerber, whose consistency combined with her superior defense and fitness will likely be enough to see her across the finish line.
Julia Goerges versus Serena Williams
It might have taken Serena Williams longer than initially anticipated to begin regularly competing following her maternity leave, but it has not taken her long to find her game and prove it was a wise decision to seed her here at Wimbledon. She has been the favorite to take the title since the conclusion of the first round, and she will be the undisputed heavy favorite when she takes to the court in the semifinals against Julia Goerges.
Williams has been the favorite in most matches that she has contested throughout her career, and it is thanks in no small part to the impressive artillery she brings to the table. Her groundstrokes have always been among the most powerful in tennis, but by adding more margin for error the second half of her career and thus cutting out some of the unforced errors, she has become more intimidating off the ground. Her net game has also improved, and her defensive skills – which she can often flip to offense with a single stroke – are still legendary. Her return also often puts opponents on their heels, but the shot that has really separated her from the rest of the pack is her serve, the greatest in the history of women's tennis. She is one of the few out there who can be relied upon to earn free points and regularly hold her serve, which really frees her up on the return and puts that much more pressure on her opponent to follow suit. She presents a daunting challenge, to say the least.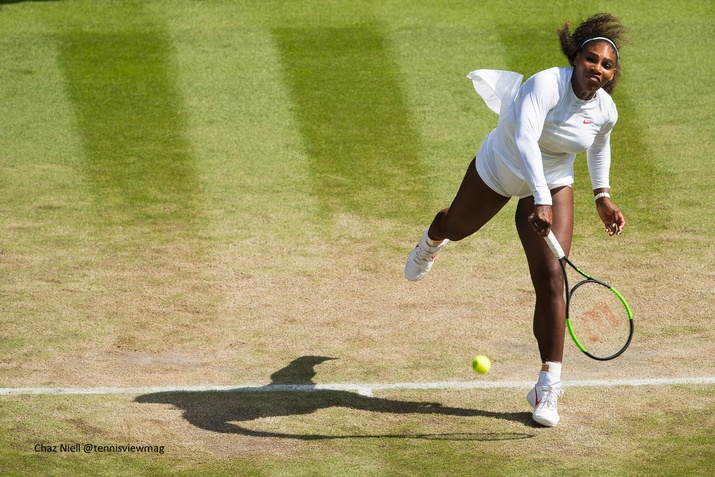 For her own part, Goerges does not boast the same skill set as Williams, but she does have the kind of game that could potentially cause the American problems. She hits the ball exceptionally hard and flat from the ground, and as Camila Giorgi proved in the previous round, that can be effective against the former Number 1. Goerges also stands just shy of six feet tall and goes big off the serve, and if she is enjoying a good serving day, Williams is going to have a much tougher time teeing off on the returns. Similar to Giorgi, however, Goerges does play a high-risk game with little room for error, and it is very difficult to play that kind of tennis at such a high level throughout the entire course of a match.
The occasion will also likely hamper the German's ability to consistently redline her game, as it is the psychological component of this match that really makes Williams the overwhelming favorite to advance. History has shown that it is hard to defeat Williams at a major, but it becomes increasingly difficult to dismiss her with each passing round. And while Williams may feel a few extra nerves having not contested a match of this magnitude in a little over a year, one has to believe that her cumulative years of experience at this level will still see her through when the chips are down. Goerges, by contrast, has never been to this stage of any slam. In fact, until this tournament, she had never been past the fourth round. Trying to break through and reach one's first major final brings plenty of pressure on its own. She is now being asked to not only overcome that hurdle but to do so against Williams, against whom she has not only lost all three of her prior meetings but has failed to secure a single set in any of those meetings. Asking her to somehow turn the tables against the twenty-fifth seed in this type of match is a huge ask indeed.
Suffice it to say, Williams is the obvious favorite in this match. Goerges may go out there swinging freely like she has nothing to lose and make it competitive. She may draw inspiration from the multitude of upsets that have plagued this tournament throughout the fortnight and feel destined to add one more colossal upset to the list. Just do not bet on it. If this match fails to end in a victory for Williams, it will indeed be the biggest upset of the tournament.