Wimbledon ATP Day 8 Preview: Nadal, Federer, Raonic

The fourth round of men's matches at Wimbledon concludes a day later than usual. Archrivals Rafael Nadal and Roger Federer aim to move within one win apiece of a semifinal clash.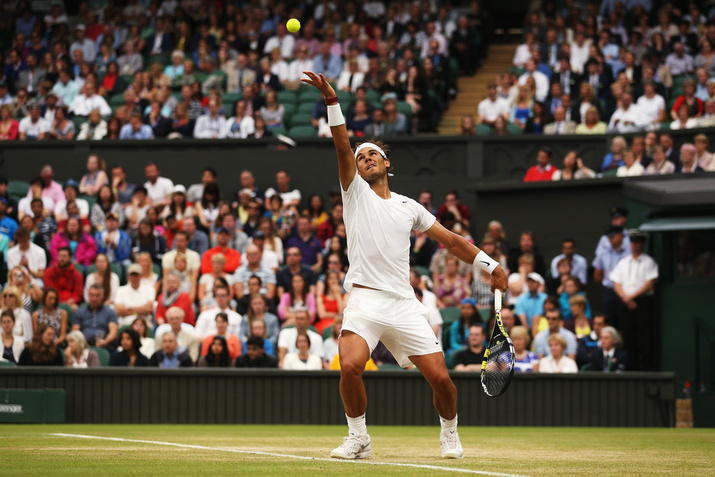 Rafael Nadal v. Nick Kyrgios
Afraid of no stage and no opponent, 19-year-old Aussie Nick Kyrgios will look to reach the quarterfinals of a major for the first time on the biggest stage in the world against the most daunting of opponents.
Like Nadal, Kyrgios is a lionhearted competitor who leaves it all out on the court. For example, in his second-round match against Richard Gasquet, Kyrgios mustered up the full extent of his physical and emotional reserves to rally from two sets to love down and save a staggering nine match points.
Nadal was also put under tremendous strain in the three matches he played during the first week. The two-time champion lost the first set in all three of his matches and was a point away from being down two sets to love to his 2012 Wimbledon conqueror, Lukas Rosol. But, as Nadal has done so many times before, he weathered the storm that came his direction and was able to seal the deal.
Nadal will have no reprieve from the onslaught of offensive attacks that have come his way thus far. Kyrgios is the owner of one of the most lethal serve-forehand combinations on the planet and, for a 19-year-old, he can tear the cover off the ball with his ferocious power.
Kyrgios is also an extremely confident youngster. Don't expect him to hold back or approach this match any differently than he would any other match. He'll look to take charge of the points from the onset and continue to be dominant with his serve and forehand throughout the match.
Nadal will be looking to find the Kyrgios backhand, which is by far the most susceptible shot in the Aussie's game. The defensive presence that Nadal brings to court should also prove vital. If Kyrgios sees balls coming back that normally hit the backboard as winners, he may begin to feel the pressure and start to take unnecessary risks, which always works in Nadal's favor.
This match could get very interesting if it's played indoors. Either way, though, Nadal should be able get through in three or four tight sets.
Prediction: Nadal in four sets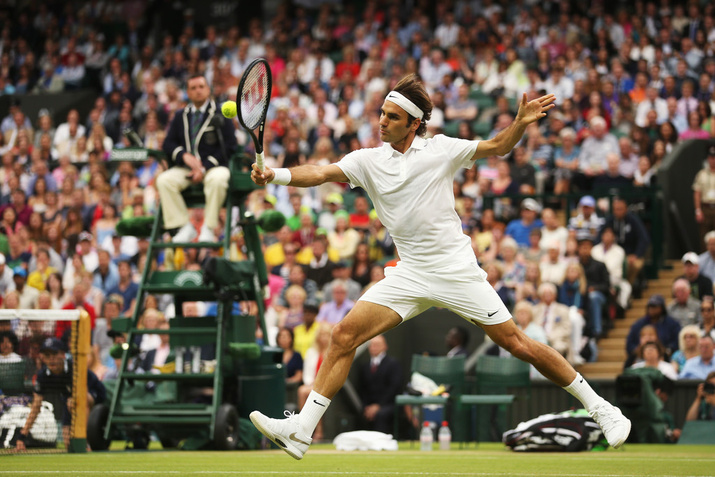 Roger Federer v. Tommy Robredo
Being the seasoned veteran that he is and having played Roger Federer 10 times before their last meeting at the US Open, Tommy Robredo took advantage of his knowledge of Federer's game and attacked his weaknesses as well as almost any opponent ever has. Robredo knew that if he could access the Federer backhand, it would be much easier for him to exploit his preferred inside-out forehand.
Robredo didn't attempt to play outside his bounds by employing low-percentage tactics. He went high and heavy into the Federer backhand as soon as he could in almost every rally and seized the initiative when the short ball was provided.
His mission tomorrow will be to implement the same strategy against a much more revitalized and inspired Federer on grass. There is little doubt that it will be infinitely harder for Robredo to run around his backhand on grass, since the ball will be moving lower and faster through the court. His footwork and ability to get under the ball will have to be on point. Robredo's targeting of the Federer backhand will also be less effective because the ball won't have the same pop off the grass as it would on a hard court.
Federer leads the head-to-head 10-1 but was at the mercy of Robredo's forehand at last year's U. S. Open. Expect a return to normal proceedings on Tuesday and for Federer to dominate with his serve and his forehand.
Prediction: Federer in three sets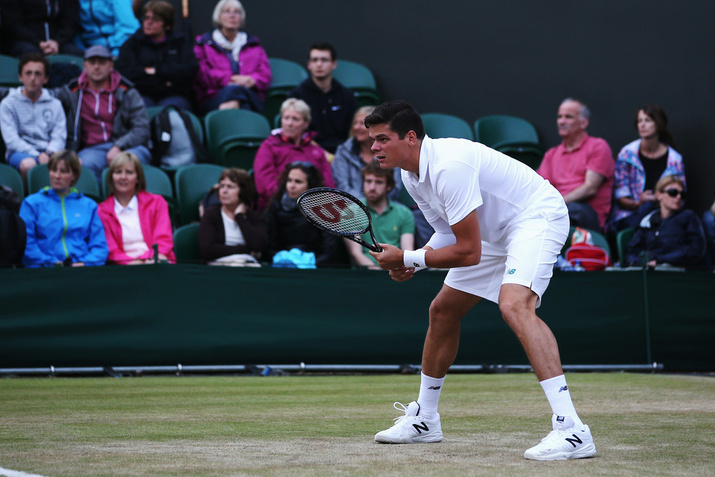 Milos Raonic v. Kei Nishikori
If all goes according to plan, either Kei Nishikori or Milos Raonic will have a shot at Rafael Nadal in the quarterfinals of Wimbledon on Wednesday. Raonic and Nishikori are two of the ATP's brightest and fastest-rising stars of the future, but each hopes this promise for the future is fulfilled sooner rather than later.
This will be the third meeting between the two men. Nishikori was able to sneak past Raonic in two tiebreaks in their most recent match in Madrid in May. The Japanese No. 1 also won their first meeting in the Tokyo final back in 2012. Nishikori handed Raonic a bagel in the third set of this final, which at the time was only the fourth time Raonic had lost a set 6-0 in his career.
In his two victories over Raonic, Nishikori has been able to gain enough traction on his return points to get the job done. Yet returning his serve on the fastest of surfaces is a whole different story. The Canadian has not been broken yet and has only faced one break point throughout his first three matches. Nishikori needs to get a good read on Raonic's delivery and hope to see the ball very big tomorrow.
On Raonic's end, depth and pace off the ground will be key. Nishikori struggled to withstand the penetration Simone Bolelli was offering in their third-round match, a battle that Nishikori needed five sets to get through.
Before the tournament, Nishikori would have been my pick in this match. But seeing how much trouble he's had against powerful opponents here, Raonic gets the slight edge.
Prediction: Raonic in five sets