For Whom the Grass is Greenest: Roger Federer at Wimbledon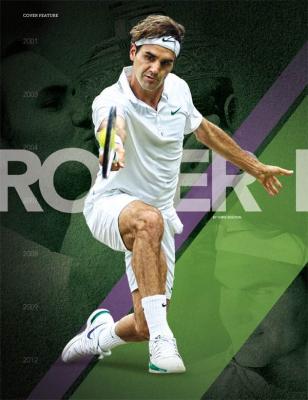 He has fallen to his knees and leapt above the ground. He has lifted his head in triumph and thrust it back in anguish. He has shed tears of ecstasy and tears of heartbreak. The normally stoic Swiss star has let his emotions flow freely nowhere more often than at Wimbledon. And, perhaps as a result, many of Roger Federer's most memorable matches have unfolded on the pristine lawns of the All England Club. Now, the greatest player in tennis history tries to become the greatest player in Wimbledon history by passing another Pete Sampras record to win his eighth title there.
Approaching his 32nd birthday, Federer has designed his schedule to give him the best possible opportunity to secure this accomplishment. A streamlined first half of the year, including absences from two Masters 1000 tournaments, should keep his legs and mind fresher than those of his rivals. Age has not dulled the talents at the root of Federer's success on grass, moreover. As his title there last summer showed, the seven-time champion still can catch the corners of the service box with his first serve and carve biting volleys that exploit the surface's low bounce. His younger rivals can wear down Federer in physical baseline rallies on slower courts, but the shorter points of grass shield his fading consistency more than other surfaces. While the ATP continues to spawn plenty of clay specialists, the grass specialist of the staccato serve-volley tactics appears a dying breed. Giants such as John Isner and Milos Raonic have not yet taken the leap forward on the surface that those who witnessed Goran Ivanisevic's Wimbledon title run expected. Until and unless they do, Federer owns arguably the best skill set to succeed there among the main ATP contenders.
Beyond his technical advantages, the Swiss star also can draw confidence from the memories of his past achievements at the All England Club. Well before Federer became Federer, a global sports icon and marketing machine, his genius first emerged in a series of Wimbledon breakthroughs. During his period of dominance in the mid-2000s, there was simply no stopping him there. Even when Federer began to decline, Wimbledon still inspired some of his most sparkling tennis. A look back at the trajectory of his career reveals how much Federer has defined Wimbledon and Wimbledon has defined Federer.
2001: For many fans, their first extended sighting of Federer came when he faced Sampras in the fourth round of Wimbledon. The American had won four consecutive titles on its lawns, running his total to seven, while the Swiss novice had not won a match there until that year and had needed five sets to survive the second round. But Federer introduced an international audience to his explosive serving and shot-making talents with a tense five-set upset. Clinching his victory with a laser forehand pass down the line, he delivered his first notable statement before his 21st birthday. This match remains the only meeting between the two men widely regarded as the greatest to play the game. Although Federer did not claim the title that year, his victory over Sampras foreshadowed the changing of the guard that would occur a few years later.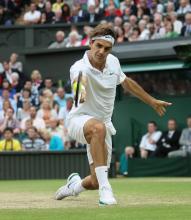 2003: A year after the Sampras stunner, Federer suffered his third first-round loss in four Wimbledon appearances. Questions hovered over the 2003 prospects of someone who had shown such promise on grass but had not yet capitalized on it. Laying those questions to rest with conviction, Federer rolled to the first of his 17 major titles (and counting), while dropping only one set in seven matches. While he enjoyed a comfortable draw that featured only one top-ten opponent, the coolness with which he swept past formidable server Mark Philippoussis in a straight-sets final hinted at the poise under pressure that the mature Swiss would display.
2004: Returning to Wimbledon as world No. 1, Federer successfully defended a major title for the first time. He overcame a series of formidable opponents, from the massive-serving Croat giant Ivo Karlovic to the agile-moving former champion Lleyton Hewitt, before the final against leading rival Andy Roddick. The second-ranked man in the world, Roddick took the first set from Federer and stormed to a lead midway through the third. A rain delay at that stage allowed the Swiss to regroup, collect his thoughts and plot a new strategy. When play resumed, Federer raised the tempo of the match by shortening points and taking time away from his opponent with frequent forays to the net. He snatched the third set in a tiebreak and cruised through the fourth. Showing his thoughtful approach to the game and its tactics, this match also set the tone for Federer's dominance over Roddick on grass and hard courts for the next few years.
2007: After dominating Rafael Nadal in the previous year's final, Federer found the Spaniard more challenging this time. The four-time defending champion nearly suffered the same fate that he had inflicted on Sampras when vying for a fifth consecutive title in 2001.Although he lost just one set en route to the final, Federer narrowly eked out two of the first three sets from Nadal in tiebreaks before losing the fourth easily. He had lost yet again in the Roland Garros final to his younger challenger, so a defeat in his grass citadel would have struck a punishing psychological blow. But Federer, still in his prime, managed to keep Nadal at bay for one more year with a virtuosic final set. His crisp footwork allowed him to dance around his backhand to pound an inside-in forehand winner off a sideline for the crucial break. Minutes later, he sank to his knees after an emphatic smash to celebrate a fifth straight Wimbledon title, an accomplishment shared only by Bjorn Borg.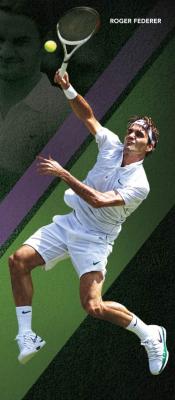 2008: The end of the Wimbledon winning streak came in appropriately dramatic fashion with a third classic final between Federer and Nadal. Often considered the greatest match ever, it sprawled across five sets and multiple rain delays. The Swiss veteran fought back from losing the first two sets to his archrival, firing one timely serve after another to register 19 consecutive holds against one of the game's stingiest returners. Federer even saved a match point on Nadal's serve in the fourth-set tiebreak with a pinpoint backhand pass down the line, a worthy companion to the forehand pass that secured his upset of Sampras. As dusk settled over the All England Club, Federer tasted probably the most bitter defeat of his career. His crestfallen expression in the moments before the trophy ceremony revealed how much this tournament and his mastery over it meant to him. The man for whom perfection long had seemed assured suddenly looked human.
2009: Like many great champions, Federer responded to disappointment with determination redoubled. He arrived at Wimbledon a year later in the wake of completing the career Grand Slam at Roland Garros, which evened him with Sampras for the record in major titles. Federer's goal of holding that record hovered within tantalizing range, especially when Nadal withdrew with tendinitis. His path to the final opened fortuitously, pitting him against two players outside the top 30 in the quarters and semis. Then loomed his third title tilt here against Roddick. Well past his peak, the American seemed unlikely to challenge Federer, as Sampras watched from the Royal Box. But Federer found himself embroiled in by far the most compelling encounter of his history against Roddick, who was unbreakable on serve through the first four sets. More than once, the Swiss tottered on the verge of repeating the previous year's disappointment, such as when he faced four consecutive set points that would have left him trailing by two sets. Withstanding break points late in the fifth set, Federer finally captured the most fabled record in tennis by halting Roddick's streak of 37 consecutive service holds on his first championship point. Beyond its historic significance, this second straight major title a month after he won Roland Garros signaled to his younger rivals that his status as a contender endured.
2012: Consecutive quarterfinal losses at Wimbledon in 2011 had contributed to nine consecutive majors without a title, Federer's longest since winning his first major in 2003. Many observers doubted that the 30-year-old could claim another major more than a decade after his breakthrough against Sampras here. Federer drew motivation from their reservations and defiantly proved them wrong, scoring four-set victories over top-four opponents Novak Djokovic and Andy Murray. The semifinal triumph over Djokovic especially impressed in view of his routine loss to the Serb at Roland Garros that spring. His battle past Murray marked the third time that Federer had won a Wimbledon final after losing the first set, showing a fortitude that had persisted despite the setbacks of the lean years preceding it. Fittingly, he regained the world No. 1 ranking at the same time, which made him the first man to hold the top spot for 300 total weeks.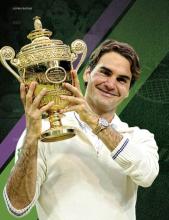 As he prepares to pursue the record-breaking eighth crown, Federer discussed how much that last achievement meant to him. "It was an amazing victory for me, for my family, for my friends. Everybody believed in me, and I loved every moment of it. At the end to play such incredible tennis was just beautiful. It all came together at the right time. Obviously I'm very inspired by this victory last year and for this year again."
One Wimbledon record already belongs to Federer, or soon will. An All England Club tradition dictates that the defending men's singles champion opens play on the first Monday of each tournament. After Nadal withdrew as the defending champion in 2009, Federer filled that role as the finalist. When another Wimbledon fortnight opens in 2013, he will become the first man to ignite this fabled tournament for the eighth time.
This article is from the July/Aug 2013 issue

SOLD OUT

Subscribe now and you'll never miss an issue!