Who Wore It Better? WTA Fashion in 2013

It may be a sin to show up on the red carpet wearing an identical outfit to one of your peers, but such a sight is a regular occurrence in tennis. In fact, it has become yet another way for fans to compare their favorites. All it takes is one simple question: "Who wore it better?" Today, Victoria Chiesa and David Kane compare five instances of these outfit repeats and decide who wins the fashion contest. Don't agree? Tweet your opinion @tennisviewmag.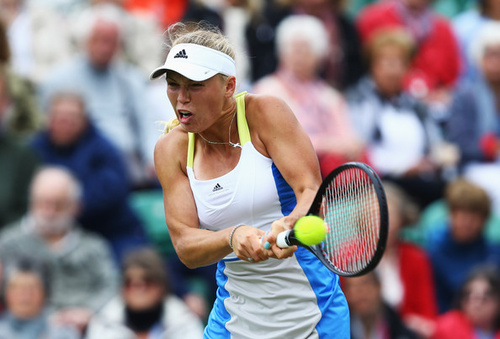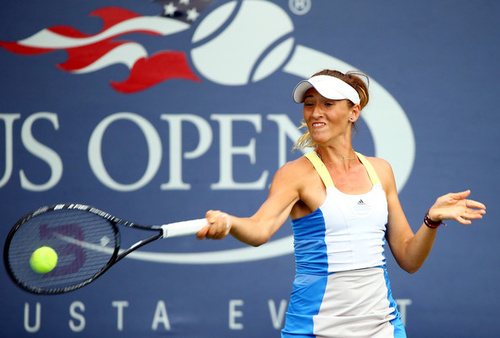 Caroline Wozniacki (top) vs. Alexandra Cadantu (bottom) - Stella McCartney Adidas
Winner: Wozniacki
Wozniacki sported this look during the spring, including most of the clay-court season and Eastbourne. Cadantu was seen wearing this (relatively speaking) more subtle Stella McCartney ensemble as late as the US Open. This head-to-head comes down to the wire, but one simple fact puts the Dane ahead of her Romanian rival. Sponsored by Stella since 2009, Wozniacki gets paid to wear even the most polarizing of McCartney's looks. By contrast, the sponsorless Cadantu went out and bought this look off the rack. Let this also answer the often-asked question: "Does anyone actually go out and buy these kits?"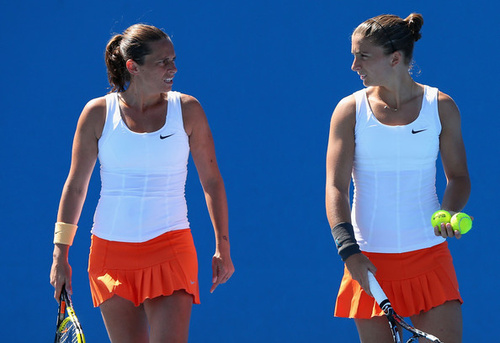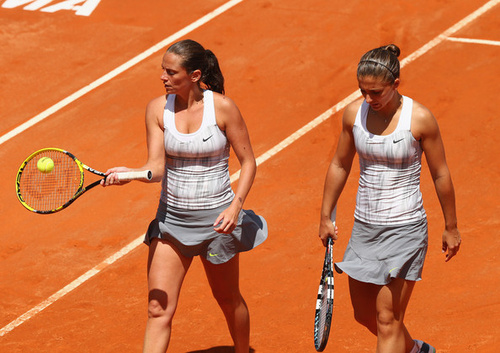 Sara Errani vs. Roberta Vinci - Nike
Winner: Errani
Best buds Errani and Vinci tend to do a lot of things as a pair, and it seems that they also go shopping at Niketown together. True to form, the Italian duo often took to the court in matching Nike kits when competing in 2013. Whether it be in white and orange Nike separates from the Australian Open, or in gray and white kits at their home tournament in Rome, they maintained their grip on the No. 1 ranking in women's doubles throughout 2013. Although Vinci got the better of Errani in two of the pair's three on-court meetings in singles in 2013, it was Errani who tended to outperform her bestie in the fashion department. Separates and tanks just work for her.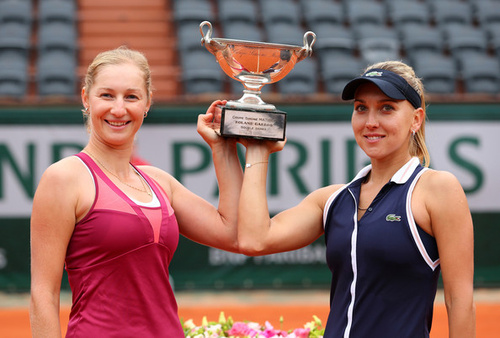 Elena Vesnina (top right) vs. Simona Halep (bottom) - Lacoste
Winner: Vesnina
Both Halep and Vesnina had career years on the WTA Tour in 2013, with each of them collecting her first career title(s) and reaching new heights in the singles rankings. Like Wozniacki and Cadantu before them, this matchup also proved tough to call. While both women looked fierce in Lacoste on the terre battue of Roland Garros, the scales tipped in Vesnina's favor because of how she performed while wearing the dress. The Russian rocked this navy blue ensemble for the duration of the tournament and came away with the hardware to prove it. Despite falling to Victoria Azarenka in the first round in singles, she went on to win the women's doubles title with her partner, Ekaterina Makarova.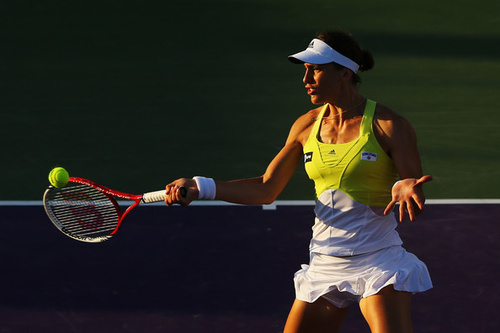 Maria Kirilenko (top) vs. Andrea Petkovic (bottom) - Adidas by Stella McCartney
Winner: Kirilenko
Kirilenko, the signature face of Stella McCartney's Adidas clothing prior to Wozniacki's ascent, has continued to sport the line since Wozniacki's signing in 2009. Petkovic, who previously wore the Adidas Barricade collection, began to wear a Barricade line designed by Stella McCartney in 2013. Fittingly, the two wore this bright yellow ensemble under the Miami sun at the Sony Open in the spring. While both had third-round showings, making their on-court results equal, it was Kirilenko who came out the winner in this head-to-head fashion battle.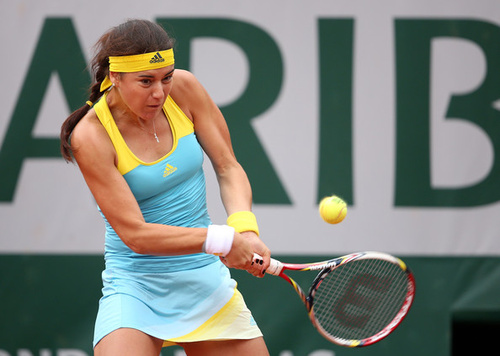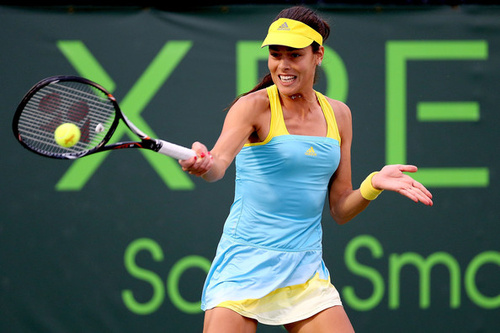 Sorana Cirstea (top) vs. Ana Ivanovic (bottom) - Adizero by Adidas
Winner: Tie
Oh, who are we kidding? They both look the same.