What the Wimbledon Final Meant for Djokovic, Federer

Novak Djokovic was one set away from suffering a catastrophic defeat in Sunday's Wimbledon final. On the precipice of finalizing a fortnight-long mission, Djokovic's authority over the match had suddenly vanished. The Serb was broken serving for the match at 5-3 in the fourth set and then was dealt another crushing blow when Roger Federer's tried-and-true serve bailed him out with a line-clipping ace on match point at 4-5 30-40.
Djokovic would go on to surrender the final two games of the set, all but handing over the second break with a series of rudimentary errors. The fifth set, one of the most crucial of Djokovic's career, would be the ultimate inquiry of his fortitude. Losing that fourth set had to have been agonizingly painful, especially considering that Djokovic had lost three straight major finals prior to this match and five of his last six.
With the momentum against him and the crowd wholly supporting his opponent, Djokovic weathered losing the fourth set in such heartbreaking fashion and was able to battle past the seven-time Wimbledon champion on his favorite court.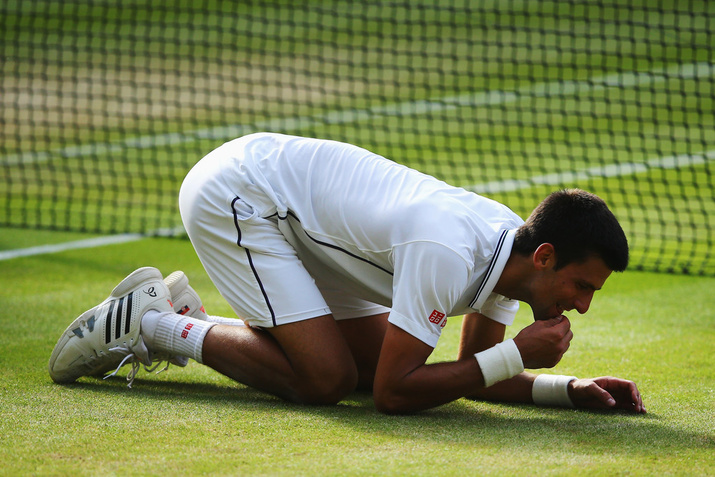 The cathartic nature of this victory cannot be overstated. Djokovic needed this Grand Slam on his resume about as bad as a player who already had six Grand Slams to his name possibly could. The triumphs that Djokovic had already amassed could not compensate for the overwhelming sense of disappointment associated with losing in five out of six major finals to two of his biggest rivals, three to Rafael Nadal and two to Andy Murray.
If Djokovic had lost this match, having squandered multiple opportunities to close it out in the fourth set, the immediate future would be looking bleak at the moment. Handling a devastating loss after it has happened is unbelievably difficult, but what would have been even more difficult for Djokovic would have been mustering up the internal energy and motivation to hit the reset button on his season.
In the end, all of this was moot because Djokovic did in fact win. And if anyone thinks he is satisfied, they'd be mistaken. Barring some bizarre turn of events, Djokovic will only be playing on his beloved hard courts for the rest of the season. Making the prospects for the rest of the season even more appealing for the Serb is the fact that the current world No. 2, Rafael Nadal, has 4,000  points to defend among the Rogers Cup, the Cincinnati Masters, and the US Open. Djokovic only has 1,740  points to defend at these three tournaments, putting himself in an excellent position to place a stranglehold over the top ranking for quite some time. Don't be surprised if he goes on a stunning tear similar to the one we saw from him after the US Open last year, when he won 24 straight matches to close off the season.
Despite losing in the final, Roger Federer continues to defy his doubters and the march of time. Year after year, Federer's longevity and ability to compete at the top of the game are heavily questioned. The questions, while less relentless in 2014, have still been floating around but have surely all but quieted after Federer's run at SW19.
What Federer proved during this fortnight was that the poise, fluidity, and ease with which he plays the game seem bound to keep him around as a contender until further notice. The phrase "further notice" is used because, until demonstrated otherwise, Federer still has it. He may not have all of what he used to have, but he undoubtedly still has enough of "it."
Moving forward, if Federer is able to duplicate the level of serving he displayed during the fortnight, he will be a tough out at every tournament. The serve has always been his go-to shot and will continue to be the shot that extends his career. More free points off the serve means less running, less energy exerted in rallies, and quicker, less physical matches overall.
There is only one caveat that needs to be added here. Theoretically, Federer could end up facing Rafael Nadal in every major he plays until retirement. Realistically speaking, there's a high probability that this won't happen. Assuming that it doesn't, Federer will be a legitimate threat at every major. If or when he ends up playing Nadal at a Grand Slam, the challenge of winning skyrockets.
What we saw Sunday was an instant classic between two great champions. Nothing is guaranteed in tennis, but it would be a major upset not see these two play many important, captivating finals moving forward.