Viewpoint: Thoughts On The Wimbledon Player Ban

On February 24, 2022, Russia invaded Ukraine and unleashed war, repeatedly targeting and murdering civilians. Four days later, Daniil Medvedev who was born in Moscow, assumed the #1 ranking for the first time. What should have been cause for celebration was anything but that as Russian and Belarusian players were chastised by a cadre of Ukrainian players.
Two such players – Alexandr Dolgopolov and Sergiy Stakovsky who recently retired from the tour – were resolute in their commitment to have those players banned from competing on tour unless they publicly and unequivocally denounce the invasion. Both former players following the invasion, enlisted in the Ukrainian army to help defend their homeland.
While I am in no way conflating these two events, Russian and Belarusian players on both tours irrefutably are collateral damage. On the WTA tour, Marta Kostyuk, Dayana Yastremska and Elina Svitolina also have been quite focal on this issue.
Kostyuk and Yastremska specified their prerequisites for Russian and Belarusian players competing on tour: denounce the invasion and affirm they do not support Putin or Lukashenko's regime. If the players refrain from making these pronouncements, they should be banned from competing at international events.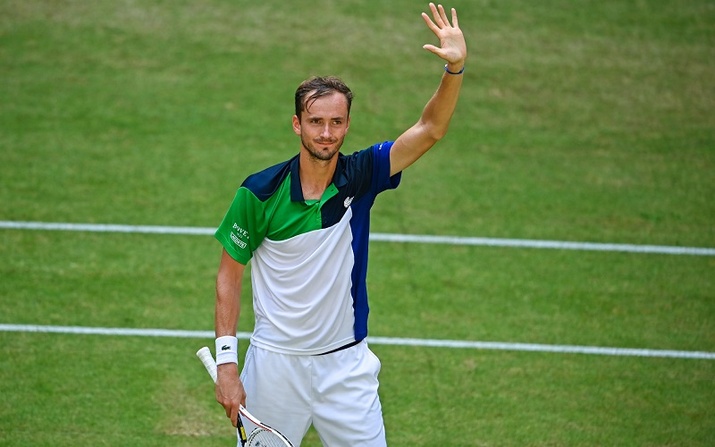 Former world #3 Svitolina was a bit more diplomatic when expressing her sentiments. She appealed to the ITF, WTA and ATP to adopt the International Olympic Committee's recommendations to instruct Russian and Belarusian players to compete as neutral athletes, with no national flag, anthems, colors or symbols.
She also asserted that she does not blame these athletes for the reprehensible actions of their governments but implored them to speak out against the regimes and should they refuse, a ban would be justified.
Since the invasion, Russian and Belarusian players have been permitted to compete on both tours under a neutral flag and this policy was upheld at the second grand slam of the season – the French Open – which concluded on June 5th.
On April 20th, the All England Lawn Tennis Club (AELTC) announced that Russian and Belarusian players would not be permitted to compete at Wimbledon which commences June 27th.
In response to recent UK government guidance, Ian Hewitt, chairman of the AELTC asserted, "given the high-profile environment of the Championships, the importance of not allowing sport to be used to promote the Russian regime and our broader concerns for public and player safety, we do not believe it is viable to proceed on any other basis at the Championships."
The ban has elicited widespread criticism from the game's top players, including former world #1 Novak Djokovic who fervently believes that politics should never interfere with professional sports. The governing bodies of the men's and women's tours – the ATP and WTA respectively – issued a strong rebuke to the AELTC in asserting that the ban is discriminatory and sets a dangerous precedent.
The ATP proclaimed: "Discrimination based on nationality also constitutes a violation of our agreement with Wimbledon that states that player entry is based solely on ATP rankings. The ability for players of any nationality to enter tournaments based on merit, and without discrimination, is fundamental to our Tour. Discrimination by individual tournaments is simply not viable on a Tour that operates in more than 30 countries."
Since the ban unequivocally undermines this principle and the integrity of the ATP ranking system, on May 20th, they begrudgingly decided to strip ranking points from the Championships for 2022.
While Russian and Belarusian players also have been barred from competing at Queens Club, Eastbourne and ATP Challenger events in the UK, the ATP confirmed that at those events, ranking points will be awarded since penalized players are able to compete in other events those weeks unlike during the Wimbledon fortnight.
The WTA concurred with the ATP. Steve Simon, chairman and CEO of the WTA acknowledged, "Nearly 50 years ago, the WTA was founded on the fundamental principle that all players have an equal opportunity to compete based on merit and without discrimination. The WTA believes that individual athletes participating in an individual sport should not be penalized or prevented from competing solely because of their nationalities or the decisions made by the governments of their countries. As a result of the AELTC's position that it will not honor its obligation to use the WTA rankings for entry into Wimbledon and proceed with a partial field not based on merit, the WTA has made the difficult decision to not award WTA ranking points for this year's Wimbledon Championships."
Arnya Sabalenka of Belarus and Ekaterina Alexandrova of Russia contested the grass court final at the Libema Open last week. They, in addition to Medvedev and thirty-nine other players, have been barred by the AELTC from competing at Wimbledon later this month.
The All England Club, seemingly beyond reproach, has considerably tarnished its image by banning players based on nationality. The AELTC, in desperate need of good press, awarded a wild card to Tim van Rijthoven, winner of the Libema Open.
While I applaud this decision given wins over three seeded players including world #1 Daniil Medvedev in the final, I whole heartedly denounce their decision to penalize individual players for Russia's invasion of Ukraine and Belarus' collusion solely on the basis of their nationality.
Sports and politics are inextricably linked. While I am a traditionalist and bemoan this state of affairs, it must be acknowledged and managed. Demanding that individual athletes espouse a particular political ideology or denounce their native country's regime, is not only a problematic construct but a dangerous one given that many players have family that still live in those countries even while they reside elsewhere.
Wimbledon has always been my favorite grand slam due in large part to the long-standing customs and protocols which elevate the fortnight and its pristine centre court. With a great deal of sadness, disappointment and reluctance, I will watch, write but most importantly listen to the inevitable protests of players competing and broadcasters commentating at the cathedral of tennis whose foundation undeniably, has begun to crack.