Viewpoint: Margaret and the Court of Public Opinion

The 18-time grand slam singles champion and former world number one Martina Navratilova, led the charge in denouncing Margaret Court for her opposition to same-sex marriage and subsequent boycott of the airline Qantas for supporting marriage equality. Navratilova has called for the immediate renaming of Margaret Court Arena at Melbourne Park, the site of the Australian Open.
Coincidentally, it was Navratilova who recommended that Andre Agassi be stripped of his eight grand slam singles titles following the admission in his autobiography Open, that he had chronically abused crystal-meth during the 1997 season.
Last time I checked, crystal-meth was not a performance enhancing drug though meldonium, which was banned in January 2016 for its PED qualities, fails to rattle Navratilova for she has repeatedly come to the defense of Maria Sharapova both during and after her 15-month suspension for a doping violation.
Navratilova accuses Margaret Court of being on the wrong side of history; perhaps Sharapova's peers on the WTA tour feel that Navratilova is on the wrong side of history when it comes to Sharapova testing positive for meldonium at the 2016 Australian Open. The consensus in the locker room amongst Sharapova's peers is that she has been doping for ten years and according to world no. 52 Eugenie Bouchard – "is a cheater."
Court – the winner of 24 grand slam singles titles – the most of any female or male tennis player – is an ordained minister and as a result, perceives the world through a religious lens. As such, she cannot be expected to espouse the views of those who are either not religious, agnostic or just socially liberal and exceedingly tolerant.
While I do not share Court's views on homosexuality and wholeheartedly endorse marriage equality and gay rights, I am equally an ardent supporter of free speech and diversity of opinion and therefore, no one – including Margaret Court – should be held to a different standard. Calling for the removal of her name from one of the stadiums in Melbourne Park is shocking and extreme. The honor, bestowed upon Court in 2002 is for her unparalleled accomplishments on the tennis court – not the court of public opinion.
In addition to winning an astounding 64 grand slam titles – singles, doubles and mixed combined – in 1970 she became one of just three women to achieve a calendar year grand slam joining Mo Connelly (1953) and preceding Steffi Graff (1988).
Court officially retired in 1977 and although raised as a Roman Catholic, she was ordained as an independent Pentecostal minister in 1991 and four years later founded a Pentecostal church known as the Victory Life Centre in Perth, Australia.
Clearly, she has countless critics both within and outside the tennis community. Ironically, one of her greatest supporters as an elite athlete is leading gay rights advocate and tennis legend, Billie Jean King.
King lobbied to have a court named after Australia's greatest female tennis player – a player, without question, on par with Australia's native son, two-time calendar year grand slam champion, Rod Laver. King fervently believed that center court at the Australian Open should be named after Margaret Court.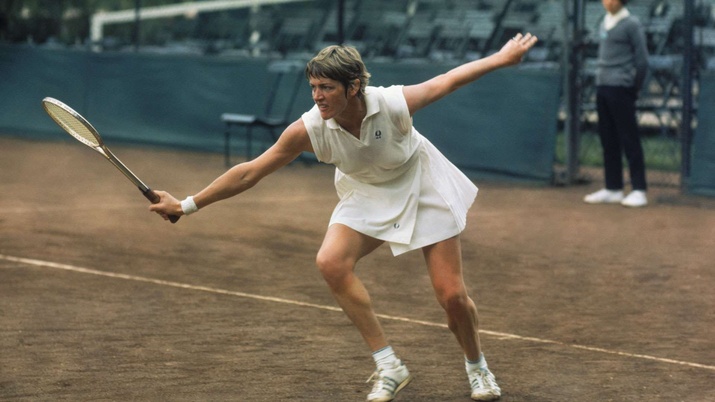 In 2002, her name would be attached to the #3 stadium, even though Court had assumed it was going to be the #2 stadium. King had even campaigned for the main stadium - currently called Rod Laver Arena – to be renamed to include Court's name. She envisioned it as the Laver-Court Arena since both had achieved the sport's greatest accomplishment – the calendar year grand slam.
Court remains an outspoken critic of same-sex marriage and irrefutably, her often provocative comments have ruffled many feathers. Some find it absurdly ironic that the platform she utilizes to voice her controversial opinions is only available because of the persistent efforts of her peers, namely Billie Jean King and Martina Navratilova who made gender equality their mission.
King has said she "respectfully disagrees with Court's position on gay marriage." Navratilova, however, was far from diplomatic when stating that Court's comments were "frightening, as well as damaging."
Australian Prime Minister Malcolm Turnbull refused to join the renaming band wagon: "we are celebrating her remarkable achievements as a tennis player, not her political views on marriage equality and gay rights."
Tennis Australia which operates the Melbourne Park Complex and Margaret Court Arena, said that while they respect her tremendous accomplishments as a tennis player, they do not support her views and remain an organization committed to the promotion of equality, diversity, and inclusion.
Like oil and water, tennis and politics don't mix. Ideally, professional sports should remain above the political fray but that seldom is the case. Margaret Court, like every individual, is entitled to form their own opinion and opinions, like people, are much too numerous to count. All we should hope for and vigorously defend is a safe forum in which to express them.
Margaret Court is one of the greatest tennis players in the history of the sport and for that, she was and always should be honored.