US Open: Sabalenka Defeats Azarenka 3-6, 6-3, 6-4

In their first tour-level match, compatriots and combatants battled for a spot in the second round of the US Open. Victoria Azarenka and Aryna Sabalenka, both from Belarus, sought not only victory but validation.
Azarenka, a former world #1 and two-time Australian Open champion, has struggled to reassert her dominance since returning to the tour following the birth of her son almost three years ago. Since her ranking has dropped to #41, she was unseeded.
Sabalenka, just twenty-one years old, was touted as a front runner at last year's Open but ran into Naomi Osaka in the fourth round. She reached a career-high ranking of #9 this past February and is seeded 9th though her ranking has dipped to #13.
This first round match against a tour veteran and fellow Belarusian is rife with incalculable expectation given the recent ascendance of players not yet out of their teens like Coco Gauff, Anastasia Potapova, Dayana Yastremska and Amanda Anisimova.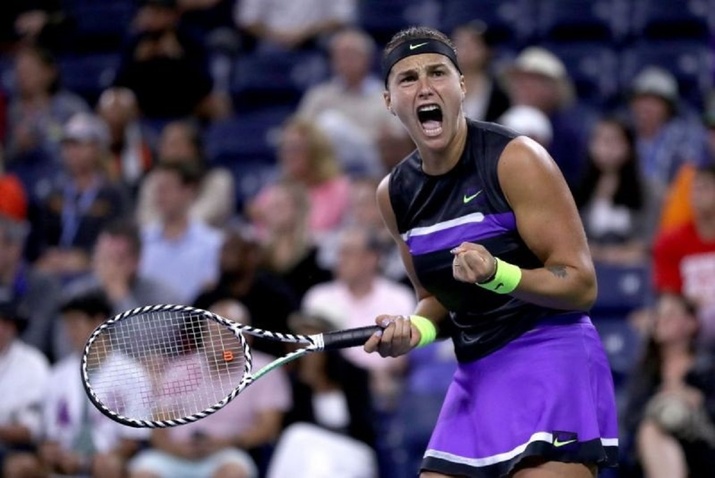 Sabalenka served first and held to 30. Azarenka struggled to hold in her opening service game, missing 4/8 first serves. Level at 1-1, Sabalenka threw in two double faults and faced break points as her cross-court backhand went wide.
Azarenka, gifted with a second serve could not make the return. Although Sabalenka struck a potent first serve, Azarenka crushed the forehand return crosscourt earning a second break point which she converted when her opponent's backhand found the net.
Despite throwing in two double faults in the following game, the two-time US Open finalist (2012, 2013) consolidated the break with a brilliant backhand down the line winner for 3-1.
Although both are 6'0, Sabalenka possesses a more powerful serve and groundstrokes but is prone to double faults. In the fifth game she donated another double fault and survived three deuce points before holding for 2-3.
Azarenka played with urgency and conviction as she struck her first ace of the match to hold for 4-2. Her compatriot returned the favor, striking two aces, one on game point to hold for 3-4.
Serving with new balls, Azarenka maintained her intensity, hitting an overhead smash and her second ace on game point for 5-3.
Sabalenka serving to stay in the set, opened with another double fault and struck another to go down double break and set points. Sabalenka made the first serve but her opponent's return drew the error and she conceded the game and set 3-6.
Azarenka did her best to absorb Sabalenka's power off the ground but as the match progressed, she began to misfire especially on the forehand side. She served first in the second set and held to 30.
Sabalenka opened with an ace out wide but donated two additional double faults and faced break point when Azarenka unfurled a forehand down the line winner. Sabalenka rebounded with a huge serve and a fantastic forehand to level at deuce but dropped serve when she hit the 3rd double fault of the game.
It now appeared that Azarenka would coast to a straight sets victory, but she was unable to consolidate the break as her opponent continued to rip her groundstrokes, forcing multiple errors off the ground and at the net.
Now back on serve, Sabalenka struggled to hold and faced break point as she missed 6/12 first serves. She struck her 9th double fault plus 2 more aces and held with a monstrous inside-out forehand winner.
Serving at 2-2, Azarenka could not buy a first serve as she made just 2/8 and faced break point when her forehand went wide. Sabalenka failed to take advantage and handed the game to her opponent when her backhand found the net.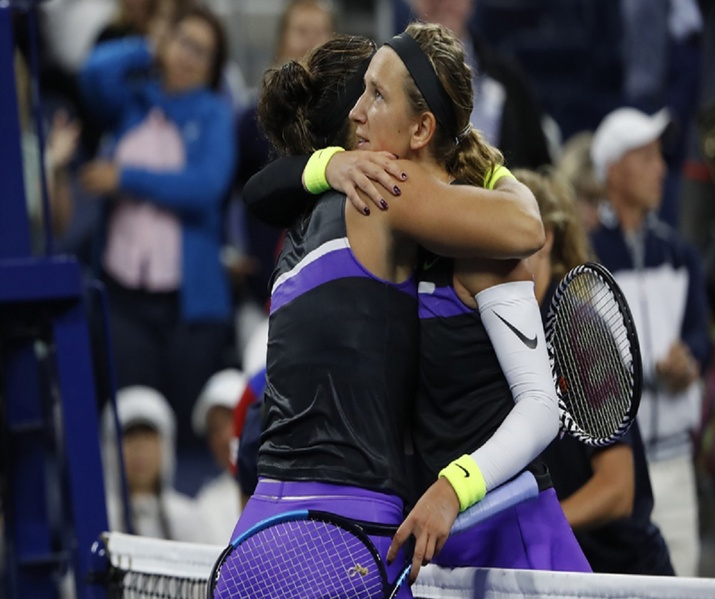 Sabalenka relied on her unreliable serve to hold for 3-3 as she struck an unreturnable down the middle. Azarenka, repeatedly pushed back by her opponent's pace, faced double break point and dropped serve as another Sabalenka forehand zoomed by.
Serving up a break at 4-3, Sabalenka maintained her focus and held to 15 with another formidable forehand crosscourt. Serving to stay in the set, Azarenka opened with a magnificent forehand down the line, but it was all for naught as she faced double break and set points. Sabalenka, a high-risk player, took her chance on a first serve and struck an incredible forehand down the line to earn the break and the second set.
Sabalenka was unable to maintain the momentum as she quickly came under fire in the opening game of the final set. Azarenka continued to strike the ball with authority earning double break point but was unable to convert as her opponent continued to find the corners.
Azarenka held easily to 15, striking an ace out wide and two forehand winners. Level at 1-1, Sabalenka seemed rattled as she threw in another double fault to go down double break point. Azarenka converted with a well-struck return that her opponent dumped in the net.
Serving up a break in the final set, Azarenka felt the pressure and weight of shot of her opponent as they engaged in a riveting slugfest won by Sabalenka with a massive forehand down the line. Facing double break point, Azarenka conceded the game and the advantage when her backhand went wide.
Level at 2-2, Sabalenka opened the fifth game with her 11th double fault. She faced break point at 30-40 but reached deuce with a crosscourt forehand winner. She would face another break point as she donated her 12th double fault. Miraculously, she weathered two deuce and break points to hold when Azarenka's return sailed long.
Despite missing several first serves and a double fault, Azarenka held for 3-3. For Sabalenka, it's perpetually groundhog's day as she struck her 13th double fault yet managed to hold to 15 for 4-3.
Azarenka fought to hold serve in the 8th game despite going up 40-0. Although she struck her 4th double fault, she benefited from Sabalenka's return errors and held for 4-4.
Sabalenka smelled blood as the finish line drew near. She held at love for the first time in the match with massive forehands and her 8th ace.
Azarenka, serving to stay in the match could not draw level as her opponent continued to punish her off the ground. In a blink of an eye she was down double match point and conceded the game and the match when her forehand went wide.
It wasn't always pretty, but it most certainly was enthralling and entertaining. Both finished with more errors than winners and for a high-risk player such as Arnya Sabalenka, that is par for the course. While she is known as a baseline power-player, she was remarkably successful when moving forward winning 15/20 points at the net.
Winning just 41% of second serve points, Sabalenka will need to significantly improve that stat if she hopes to match or exceed her 4th round finish at last year's Open. In the second round she will face another first-time opponent - Yulia Putintseva from Kazakhstan, ranked #39.