US Open: Opelka Defeats Fognini In Four Sets

Fabio Fognini, the #11 seed, was sent packing by American Reilly Opelka, just two days shy of his twenty-second birthday. In just under three hours on a sizzling hot, court 17, the 6'11 Opelka dispatched the always entertaining and unpredictable Italian 6-3, 6-4, 6-7, 6-3. Fognini, a tour veteran at thirty-two years of age, cracked the top ten this season for the first time in his career, winning his first Masters 1000 event in Monte Carlo.
With his incredibly versatile game and formidable two-handed backhand, Fognini knows how to put on a show and stir the pot. This first-round match was no exception; there was ball abuse, racquet abuse and a point penalty! Opelka, despite the distractions, managed his emotions well, riding the inevitable ebbs and flows of a best of five set match.
Opelka, with a career high ranking of #42, served first in their first tour level match and held with a 115mph ace. Fognini, almost a foot shorter than his opponent, returned the favor and held with an ace for 1-1.
In the following game, Opelka faced break point following a double fault. He faced a second break point when his backhand down the line went wide but held despite repeatedly missing on the first serve. On serve thru five games, Fognini faced triple break point following a foot fault and first-class backhands from Opelka who converted his third break point when Fognini's volley sailed long.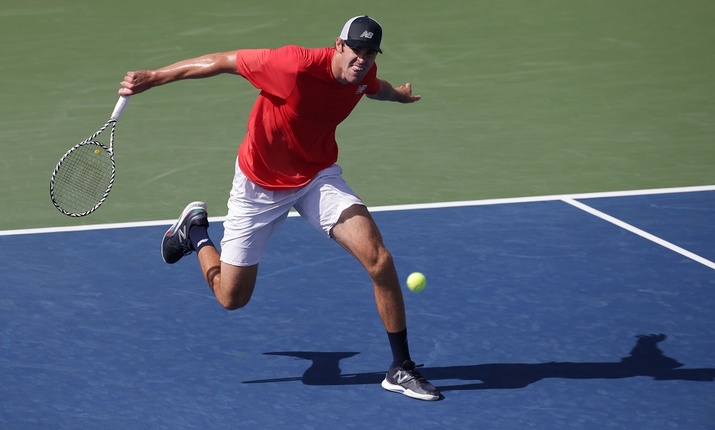 The American consolidated the break and held with an ace for 5-2. Fognini, serving to stay in the first set, opened with a double fault but held despite facing three deuces and two break points. Serving for the set up 5-3, Opelka fired two more aces and closed out the game when Fognini's forehand found the net.
The Italian served first in the second set but immediately came under fire as he faced triple break point. Once again Fognini, like Houdini, managed to escape primarily due to his opponent's unforced errors. They remained on serve thru four games, both holding easily, striking multiple aces per game.
In the following game, however, Fognini failed to make a first serve and he paid the price. Down triple break point, he netted a forehand to drop serve. Opelka consolidated the break with a love hold for 4-2.
Fognini continued to play remarkable defense, often half-volleying his opponent's blistering groundstrokes. Although he was called for another foot fault, the Italian held to 15.
Serving with new balls, Opelka opened with an ace, and held to love with an outstanding forehand down the line. Fognini kept it close, hitting topspin and sliced backhands to hold at love.
Opelka, up 5-4, served for a two-set lead in his first-ever main draw match at the US Open. His crafty opponent made him earn it as they went to deuce three times. The American fought off two break points while Fognini fought with his racquet, earning a code violation for racquet abuse. Opelka secured the second set when Fognini overcooked the return.
It now appeared Opelka would win in straights given Fognini dropped serve to open the third. Seemingly disinterested and flat, the Italian lacked energy and clarity. Opelka continued to move forward, demonstrating nice touch at the net. Hitting two aces, he held at love for 2-0.
Although he threw in another double fault, the Italian closed out the game with a huge serve for 1-2. If you blinked, you would have missed the next game as Opelka struck three consecutive aces to hold at love.
Fognini opened the next game with ace an held for 2-3. With a few more unforced errors off the ground, Opelka struggled to 40-30 but held when his opponent whiffed a forehand.
Serving at 2-4, Fognini, pulled out his impressive bag of tricks; employing the slice off both wings, hitting crisp volleys, and a deft lob that even the 6'11 American could not handle. The Italian held for 3-4 when Opelka's forehand return went wide.
A subtle shift in momentum, barely discernable in the previous game, was now on full display. Opelka faced double break point when he missed a backhand volley. Fognini would not be denied, striking a blistering backhand pass for the break.
Level at 4-4, Fognini consolidated the break with a love hold, hitting an ace on game point. Opelka trailing 4-5, struggled to level the set, hitting too many second serves plus a double fault but held to thirty with an overhead winner.
Sensing he could steal the third set, Fognini succumbed to the pressure, opening with another double fault and a lackluster backhand to face triple break point. The Italian dug in, striking an awesome inside-in forehand winner and a sweet backhand volley to save two break points but could not stave off the inevitable; Opelka hit a text-book lob for the break.
Fognini returned the favor following three unforced errors off the ground from Opelka. Fognini struck a brilliant backhand down the line to break and force the tiebreaker. Opelka consistently serves in the 130s so naturally he'd be favored in a tiebreaker. Today, however, Fognini struck gold despite being on the receiving end of a 139mph serve, down 2-5.
Fognini drew even at 5-5 with a fantastic cross-court forehand winner but Opelka replied with a huge serve to reach match point at 6-5. As the largely partisan crowd prepared to bathe Opelka in resounding applause, Fognini, called for yet another foot fault, swung from the rafters and ripped a forehand cross-court for 6-6.
The Italian went all-in on the forehand and drew the error to reach set point at 7-6 and converted when Opelka's forehand sailed long.
Opelka served first in the fourth and held for 1-0. On serve thru three games, Opelka drew first blood, reaching double break point as the errors off Fognini's racquet continued to mount. Opelka broke with a monstrous forehand down the line for a 3-1 lead and consolidated the break, hitting two aces to hold to 15. Fognini refused to yield as he opened and closed the 6th game with aces for 2-4. In the following game, Opelka hit two overhead winners on consecutive points and held to 15 when Fognini was issued a code violation for ball abuse resulting in a point penalty.
Fognini, blessed with temporary amnesia, opened the 8th game with an ace, and struck three more – one on a second serve – to hold at love for 3-5. The boisterous crowd, hoping to go the distance, lost faith as the young American struck another colossal ace and a forehand volley winner to secure his place in the second round.
Both players had more winners than unforced errors and were quite successful when coming to net. While Opelka struck 10 more aces than Fognini, it was second serve points won and break points converted that told the tale of the tap. Opelka won 58% on second serve points and converted 5/15 break points while Fognini won 49% on second serve points and went 2/7 on break points.