US Open: Monfils Defeats Shapovalov In A Marathon

With more twists and turns but more drama than a daytime soap opera, this third-round night match in Armstrong electrified the crowd for 3 ½ hours. Gael Monfils, the supremely talented and athletic shot-maker from France had his hands full against the lefty from Canada. Denis Shapovalov, just 20 years old, is clawing his way back up the rankings after a disappointing last season.
Shapovalov burst onto the stage in 2017 at the Rogers Cup where he defeated Juan Martin Del Potro and Rafa Nadal en route to the semifinals where he lost to Alexander Zverev. He achieved a career high ranking of #20 and is currently ranked #33 having dropped to #50 at the start of last season.
The thirty-two-year-old Frenchman, despite sustaining an ankle injury earlier this spring, is 28-11 for the season and is currently ranked #13. This 3rd round encounter was their first tour level meeting and it was destined to be memorable.
Shapovalov served first and probably wished he hadn't as he threw in 3 double faults and dropped serve. The Canadian regrouped in the following game earning two break points as he ripped an awesome backhand down the line and converted with a crisp volley winner for 1-1.
Their nerves calmed, they began to consistently strike the ball with variety and authority. They each held their next two service games and were level at 3-3.
Shapovalov, faced break point in the 7th game when Monfils passed him down the line with the forehand and converted with the same shot to take the lead 4-3. Monfils was unable to consolidate the break as Shapovalov returned the favor hitting two fantastic forehands on consecutive points to break back.
They remained on serve to force a tiebreaker though Monfils had a break point to go up 6-5 but his return missed wide. Shapovalov served first in the breaker and continued moving forward, shortening the points with well-struck volleys. Monfils served the only ace in the breaker but it wasn't enough as his opponent uncorked a huge serve out wide to win the tiebreak 7-5.
Although Monfils appeared somewhat deflated at the start of the second set, he held to thirty after Shapovalov whiffed a backhand. They remained on serve thru eight games, each attempting to out do the other with pace, variety and well-placed serves.
At times the young Canadian appeared more aggressive than his opponent, playing with an urgency rarely observed last season. Monfils, standing on the precipice, dangerously close to dropping the second set, was broken in the 9th game following a double fault and an errant backhand on break point.
Shapovalov served for the set a 5-4 but was unable to consolidate the break and dropped serve when Monfils unloaded with the forehand on consecutive points to level the set at 5-5.
They held to 6-6 and played another tiebreaker. Shapovalov maintained his strategy of coming forward and forcing the pass while Monfils went for the serve and forehand both crosscourt and down the line.
Monfils won the breaker 7-4 when Shapovalov netted a volley. Now level at a set apiece, Shapovalov opened the third with two double faults and despite facing multiple break points, held with 3 forehand winners on consecutive points.
Monfils held to 15 for 1-1 while Shapovalov, facing 3 deuce and break points, struggled to hold for 2-1. Monfils, on a roll, held at love with an ace for 2-2. Shapovalov opened the 5th game with 2 consecutive double faults followed by a smashed racquet. He quickly went down triple break point and eventually dropped serve when his crosscourt forehand went wide.
Monfils consolidated the break and held to 15 for 4-2. Shapovalov continued to miss on the first serve but managed to hold to 30 for 3-4. The Frenchman held to 15 as Shapovalov racked up the unforced errors and before he knew it, he was serving to stay in the set.
Undeterred by his opponent's steady level of play, Shapovalov upped the ante, striking a second serve ace and holding at love for 4-5. Monfils hit 3 aces and held at love to secure the third set 6-4.
Shapovalov served first in the 4th and though he faced a break point, held with a crosscourt forehand winner. Monfils continued to return big, forcing weak returns and held to 15 with an outstanding crosscourt backhand half-volley winner.
Level at 1-1, Shapovalov faced triple break point following a slew of unforced errors and dropped serve when he netted a forehand. Monfils consolidated the break with an ace down the middle for 3-1.
Shapovalov continued to play at an insanely fast pace when he should have slowed down given his opponent's level of play and grand slam experience. He quickly faced the gauntlet, going down double break point and dropped serve when he netted a backhand.
Now up a double break, Monfils could taste victory but his opponent begged to differ. As if a light switch had been turned on, Shapovalov woke up and leveled the match at 5-5. The roar of the crowd was deafening as the Canadian served to take the lead. He struck 3 huge serves-two of them aces-and held for 6-5.
Monfils, despite throwing in a double fault, served two aces and held to 30 to force the tiebreaker. Seven points would decide their fate: victory for Monfils or a deciding set.
Shapovalov would not be denied as he quickly jumped out to a 5-2 lead. Monfils, ever so close to victory, reached match point at 6-5 following three unforced errors from his opponent. Shapovalov struck a magnificent forehand down the line winner for 6-6. Monfils' lob sailed long giving Shapovalov a set point which he converted when Monfils double faulted.
The crowd was both shell-shocked and euphoric as the fifth and deciding set commenced. There had been so many shifts in momentum that it was impossible to predict the outcome.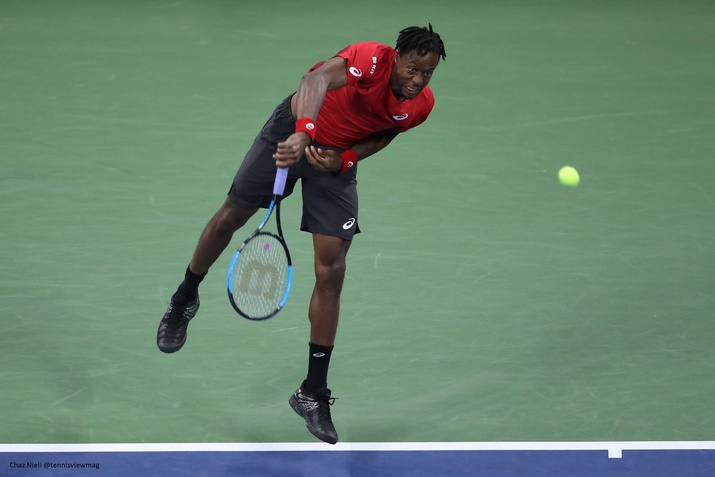 Monfils served first in the fifth and held to 30 with an ace. Shapovalov held to 30 with a forehand winner for 1-1.
While Monfils missed first serves, Shapovalov netted returns. The Frenchman held for 2-1 with an explosive serve on game point. The Canadian once again appeared rushed as he quickly went down triple break point and was broken when his forehand found the net.
Monfils consolidated the break with an ace out wide for 3-1. Shapovalov, back on course, hit multiple winners and extracted errors from his opponent and held for 2-4.
Monfils, applying more pressure, held to 15, hitting an extraordinary sky-hook overhead smash on game point. Shapovalov, down 2-5, served to stay in the match and held despite facing another match point.
Monfils, with laser-like focus, served for the match and converted his 3rd match point when Shapovalov's forehand found the net.
This enthralling and mesmerizing match lived up to its potential as each player weathered the storms and rose to the occasion, bringing out the best in one another.
While Shapovalov hit 6 aces, he donated 11 double faults and was just breaking even on second serve points won. He went 5/11 on break points and hit 75 winners and 64 unforced errors.
Monfils fared better on first serve percentage and first serve points won but was slightly below 50% on second serve points won. In addition, he was less successful than his opponent on break points converted and net points won yet he managed to win 12 more points while hitting 30 fewer unforced errors.
The road to the quarters looks far more promising as he takes on the unseeded Spaniard, Pablo Andujar, currently ranked #70, in the round of sixteen.