US Open: Men's Final Preview

Will it be business as usual or a shocking shake-up? That is the question that will be asked in the Men's Final on Sunday. Roger Federer and Novak Djokovic may be gone, but Rafael Nadal remains an overwhelming favorite to ensure that the stranglehold the Big 3 have held on the majors stays firmly intact. Standing in his way is Daniil Medvedev, a member of the next generation who has really announced himself in a big way in 2019. He has arguably been the hottest player on tour this summer and would dearly love to cap it off with a maiden major title in New York. The stage is set for an intriguing battle of the generations with only time to tell who will ultimately prevail.
Truth be told, it is impossible not to like Nadal as the hands-down favorite to be the one left holding the trophy. He has already pocketed eighteen majors, including three in New York. He owns a game that has proven to be a vexing riddle for many an opponent, and the Russian is unlikely to be an exception. Nadal is best known for his heavy topspin forehand, which he has been effectively using to bully the opposition around the court. His backhand has also been proving plenty lethal, however, able to flatten it out and rip it up the line or cross court with equal aplomb. The real feather in his cap this tournament though has been his beefed up serve, preventing opponents from rarely even getting a sniff at a break. He has looked spectacular all tournament long, and there is no reason to believe he will not have his game in gear for the final.
As intimidating as the Spaniard's game is, however, Medvedev is apt to be feeling plenty confident about his own. At 6'6", he moves exceptionally well for his size, making it difficult to hit through him, and that height also means that he is less likely to be bothered by Nadal's topspin. In fact, it puts him in prime position to tee off on anything that the second seed drops relatively short. He is also a flat striker of the ball, and if firing on all cylinders, that is a style of play that can unsettle Nadal. Furthermore, one of the Russian's favorite shots is the return, and it is going to be imperative that he have that shot clicking to put Nadal under some additional pressure that he has barely felt throughout this event. And lastly, Medvedev has a decent serve, which also has to be working for him. As difficult as he can be to get the better of in the extended rallies, playing that type of tennis is bound to be a losing prospect against Nadal. Medvedev has to be the one looking to be in the driver's seat and taking it to the Spaniard if he wants to improve his odds of pulling off a shocking upset.
Executing his respective strengths is just one part of the equation, however. The more crucial component is the mental fortitude of the man nicknamed the "Bear." There is no doubt he has to be confident about where his game is now. He reached the finals in Washington DC and Montreal, as well as capturing his first Masters Series win in Cincinnati before arriving in New York. He was impressive with the way he handled his first appearance in a major semifinal to get here as well. He also does not seem to mind being the villain, which is a good thing, because the vast majority of the people in the stadium will be firmly in Nadal's corner. Yet for all these positives, there are still questions swirling around the Russian's head. There is nothing like playing in a major final, especially for the first time against one of the greatest legends in the sport. That can lead to playing like the proverbial deer in the headlights. Additionally, his loss in the final of Montreal came to Nadal, and he only managed to scrape together three games. How much he learned from that loss versus how much scar tissue may have accumulated could be a key factor in determining how comfortable he feels when he takes to the court.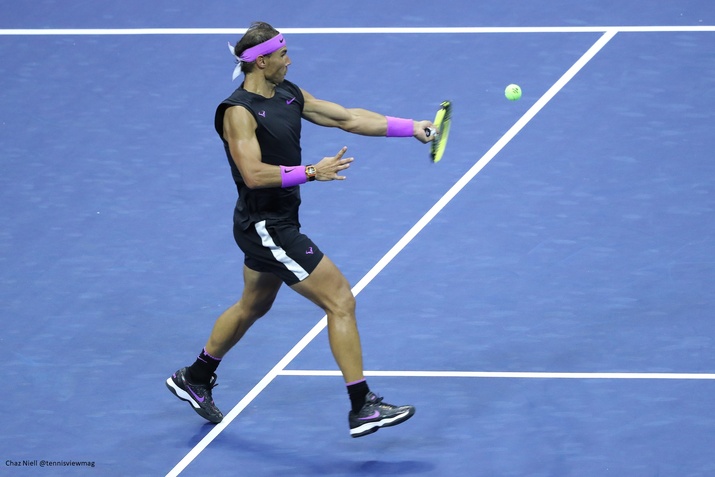 Of course, it perhaps is not fair to assume that Nadal will be feeling comfortable out of the blocks. He nearly squandered a 4-0 lead in the opening set of his quarterfinal match with Diego Schwartzman, and his semifinal victory over Matteo Berrettini, although a routine three sets on paper, was a more competitive affair than most predicted. Some of that was due to the spirited effort of the Italian, but some stemmed from some uncharacteristic unforced errors and nervy play from the second seed. Still, after his emphatic thrashing of the Russian a few weeks ago in Montreal, he has to like his chances. There is also the fact that he has been here so many times before and has already proven eighteen times over that he has what it takes to win a slam. There is absolutely no reason he should not be backing himself as the heavy favorite to win for a fourth time in the Big Apple.
If this match does not end with Nadal securing a fourth US Open crown, it will be a stunner. But that is not to say that Medvedev is not without his chances. He has risen up to Number 5 in the rankings for a reason, and his game has never looked better than it has throughout this summer. He has the requisite weaponry to trouble Nadal if he can execute, and especially if he can find a way to grab the opening set, he definitely has a puncher's chance. Even so, Nadal's game and experience are an exceedingly high hurdle to overcome, particularly for a player trying to capture his first major. Barring a sloppy performance from the Spaniard – a very unlikely scenario – he will be leaving New York one major title richer.